Muslim planned to murder as many Australians as possible for the New Year, say police. Somali. Muslim. Extremist. Named Khalif. His parents are #baffled by this #baffling turn of events.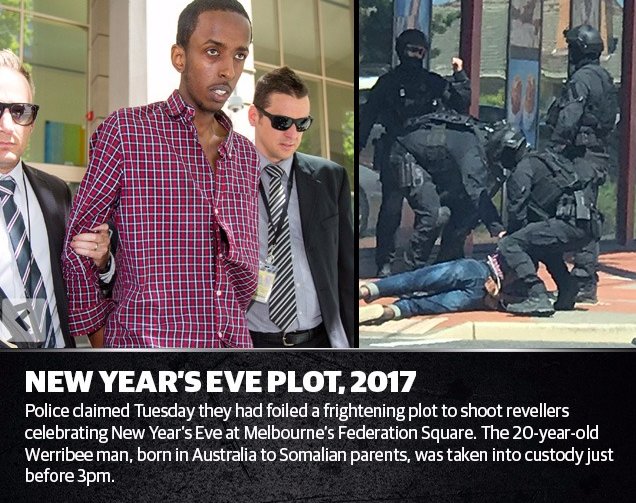 Somali. Muslim. Devout.
Ali Khalif Shire Ali, 20, known to his friends as Ali Shire, faced Melbourne Magistrates' Court charged with preparing to commit a terrorist ­attack and collecting documents to ­facilitate a terrorist act.
Victoria Police, the Australian Federal Police and ASIO, who tracked Mr Shire for much of the past year, say they discovered he planned to shoot "as many people as he could" in a CBD attack.
How can these Western liberals sleep at night when monsters like this walk the streets?
A Syrian Muslim ISIS terrorist is living in the Netherlands with false papers, the Volkskrant reported. He was at a meeting in De Ballie in Amsterdam in September, where activists of civilian colle…
BTNEWS.ONLINE
Obviously,  he's on to something. How come no one seems to have a problem with Muslims calling us infidels "sons of apes & swine" & the "worst of created beings"…..
Martin Strid faces expulsion from the Sweden Democrats (Sverigedemokraterna, SD) after saying that Muslims were "not completely human" during a conference.
THELOCAL.SE
 Yarl's Wood in Bedfordshire, DAILYMAIL.CO.UK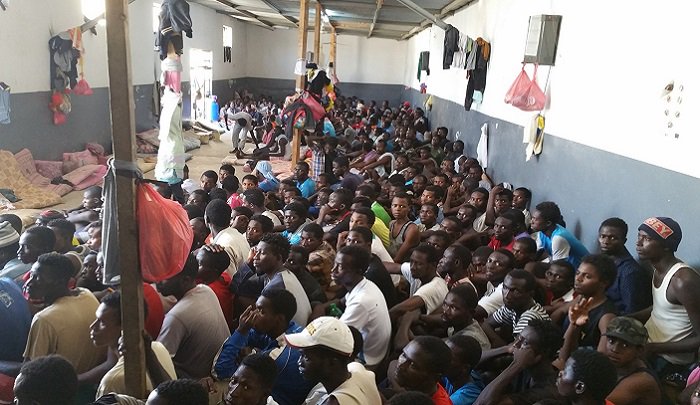 Sure they have a strategy. Its called population replacement.
Moroccans riot in Brussels, destroy Christmas displays – 11 NOV 2017   via @YouTube
MORE  PICTURES OF SLAVE TRADE, TORTURE, KILLINGS IN LIBYA
Zambezi Reporters added 22 new photos — with Orlando Reyes and 120 others.November 24
UN, AU, and ECOWAS are urgently called upon to act and free these young Africans held in 'Slave Markets' in Libya.
.
Recently the footage of live auction in Libya where black youths are presented to North African buyers as potential farmlands and sold off for as little as $400, $500, $600 respectively is disturbing and worrisome.
Merkel pressured to keep open doors for Muslim migrants in order to stay in power
The flip-flopping Merkel has worked herself into a quandary.
A month before the recent German elections, Merkel took a tougher stand on Muslim migrants "in a bid to pull back far-right voters, boost her Bavarian allies and win over a record number of undecideds." On another occasion, when she was losing voter support, she called for a burqa ban, and said the refugee crisis "must never be repeated."
Yet she also once said to "respond to jihad massacres with love and compassion." And in mid-August, she called for more migrants, "echoing her 'wir schaffen das' ['we can do this'] mantra from the beginning of the migrant crisis."
Now Merkel finds herself being pressured to "scrap a proposed cap on immigration to secure her fourth term in office," while at the same time, she is now "struggling to form a new government because potential coalition partners disagree with her plans to put a cap."
Merkel has cared little to nothing about her country's citizens in her quest to stay in power at any cost; now the chickens appear to be coming home to roost as she tries to decide which side to play against the other now.
"Merkel Pressured To Keep Doors Open For Migrants To Stay In Power", by Jacob Bojesson, Daily Caller, November 26, 2017:
German Chancellor Angela Merkel is determined to avoid a snap election by seeking another "grand coalition" with the Social Democrats (SPD), but she might have to scrap a proposed cap on immigration to secure her fourth term in office.
Merkel's decision to open the doors to migrants has shaken up German politics during the fall. Her party, the Christian Democratic Union (CDU), suffered its worst election result since the 1940s in September after some voters turned to anti-immigration party the Alternative for Germany (AfD) in protest of Merkel's migrant policies. The chancellor is now struggling to form a new government because potential coalition partners disagree with her plans to put a cap on the annual immigration level.
CDU agreed to start new talks Sunday with the Social Democrats before it calls a fresh election. The parties have ruled together over the past four years despite disagreements on key issues.
"We have the firm intention of forming an effective government," Daniel Günther, the leader of the state of Schleswig Holstein, told reporters. "We firmly believe that this would not come from a minority government, but instead an alliance with a parliamentary majority. That is a grand coalition."
Immigration is set to take a central role in coalition talks. Merkel wants to cap the annual migrant influx at 200,000, which SPD considers to be a breach of the German constitution…..