For the second time this year, Mohammedans, soldiers of allah, have driven cars into shoppers walking through the centre of Melbourne. On both occasions we have been told that the perps had "mental problems", not  jihad afflictions.
Flinders St attacker Saeed Noori rambled about Allah and the nation's top security agency after mowing down 18 people.
How can Victoria Police dismiss the terror angle before even speaking to the alleged attacker? And, how does the diagnosis of a mental health issue discount the possibility of terrorism?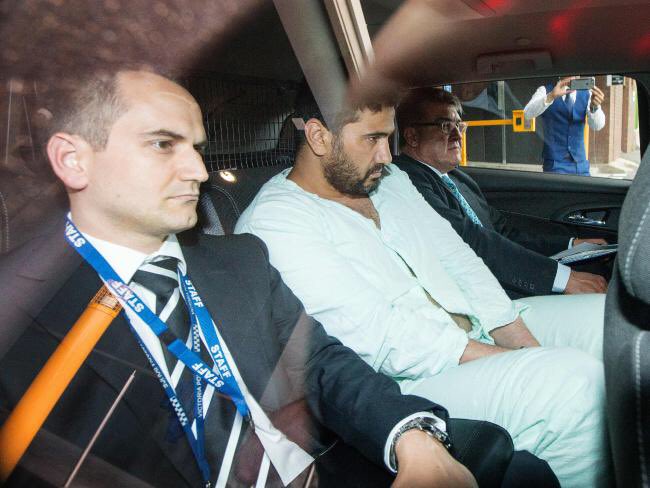 The last four terrorist attacks here have all been by Muslim refugees. Now add this:
Prime Minister Malcolm Turnbull today confirmed that the driver in the Melbourne rampage, Saeed Noori, was a refugee who came through the normal legal process.
The previous terrorist attacks by Muslim refugees:
ASIO boss Duncan Lewis[this year] told a Senate committee on oath: "I have absolutely no evidence to suggest there is a connection between refugees and terrorism."
But last [June], Somali-born Yacqub Khayre became the latest refugee to prove him wrong.
Khayre murdered a worker at a Melbourne apartment block, held a woman hostage and shot three police after telling Channel 7: "This is for IS, this is for al-Qaeda."
That makes four terrorist attacks in a row here by Muslim refugees, after Man Monis killed two people in the Lindt Cafe siege, Farhad Jabar murdered police accountant Curtis Cheng and Numan Haider stabbed two police in Melbourne.
Add the high crime rates by Muslim Lebanese and Sudanese families, many brought out as refugees, and we must ask if our refugee program is remotely sane.
HOW MANY MENTALLY ILL JAPANESE RUN DOWN PEDESTRIANS?
But it's not terrorism
Charles Pier Spectator Australia 22 December 2017
From The Age this morning: The horrific attack on pedestrians at a busy intersection in Melbourne's CBD is not believed to be terror-related, Victoria Police have said. But the man suspected of having carried it out has told investigating officers of voices and dreams and referred to a "perceived mistreatment of Muslims"…
On Thursday afternoon, the driver, a 32-year-old Australian citizen of Afghan descent, was arrested at the scene…
Police investigators were able to speak with the alleged driver from his hospital bed on Thursday night, Victoria Police Acting Chief Commissioner Shane Patton said, where he "made a number of utterances" about dreams, voices, and the "poor treatment of Muslims"…
"At this time we don't have any evidence or intelligence to indicate a connection with terrorism," Mr Patton said…
A 24-year-old man seen filming the crash was also arrested shortly afterward. The man was charged overnight with drugs and weapons offences.
Police said it was probable that he had no links to the incident and said the driver was alone in the car.
No, it's not terrorism. Mark Steyn takes up the story:
The "Australian citizen" (I presume this designation is being used to emphasize that he's entirely eligible to serve in Mr Turnbull's cabinet) did it deliberately, but relax, lighten up, there's no need to worry because, according to Victoria's police commissioner, all this terrifying terror is "not terror-related".
So he's not a crack operative with the Islamic State's Australian branch office, he's just, as The Age's cheery headline writer puts it, "of Afghan descent and mentally ill". A second man, arrested while filming the scene and found to have three knives in his bag, is believed to be nothing to do with the first man. Just another Australian citizen taking his knife collection out for a stroll.
Repeat, not terrorism. Back to The Age:
Victoria Police Chief Commissioner Shane Patton said the man arrested after yesterday's attack had attributed his actions in part to the treatment of Muslims.
"He made a number of utterances in respect to dreams and voices, but also attributing his actions relative to concerns for the treatment of Muslims," he told Channel Seven's Sunrise program.
"We are obviously going to be exploring the entirety of these matters when set against the backdrop of the circumstances I have outlined to see what the actual cause, the motivation of this, is."
Absolutely, definitely not terrorism — despite the clear religious dimensions. Not a lone wolf attack. No, no, no. Keep calm and carry on.
Here are some other comments from Patton from Radio 3AW on his approach to policing and law enforcement from earlier on Thursday.
Victoria Police is not soft, we do use the appropriate force, but we have to balance people's human rights.
Isn't he insulting the mentally ill, violating their rights, by suggesting that they're incapable of carrying out terror attacks? Isn't he insulting our intelligence with his equivocations?
We are obviously going to be exploring the entirety of these matters when set against the backdrop of the circumstances.