Sweden in 1970:
Peaceful
Sweden 2017:
Rape capital of the world
16 bombs in just 1 month
55 no go zones
Massive increase in shootings
Military grade weapons found
Beirut safer than Malmö
Woman, 26, suffers life-changing injuries after acid was thrown in her face in Canary Wharf
Woman, 26, left with life-changing burns after acid attack in east London
It is believed the victim was targeted in Marsh Wall, near South Quay DLR station
Somali children in Norway are sent back to Quran school in Somalia. They are radicalized, taught to pray 'Let the West Burn'.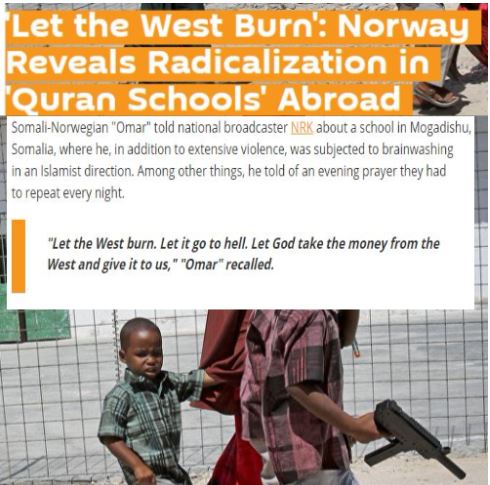 Swedish Gang Rapes: Hundreds Protest After Third Attack In Weeks Leaves 17-Year-Old Hospitalized
Zero Hedge
Hundreds took to the streets in the southern Swedish town of Malmo this week to protest the government's response to a three brutal gang rapes of teenage girls over a three week period – the most recent of which took place in a playground last Saturday and left a 17-year-old girl hospitalized. 
Authorities haven't disclosed the identity of the suspect(s) and have offered scant details of the attack – though it has been described by authorities as particularly brutal, with unconfirmed reports on social media claiming the victim had lighter fluid poured in her vagina and set on fire.
"We have been policemen for a long time, several of us, I have been working for 35 years, and we have not had such a thing before. You've really crossed a border, it's a very unusual treatment, says Inner Police Commander Mats Attin to SVT News Skene. –SVT (translated)
Attin adds that the 17-year-old victim was exposed to a "special ruthlessness," during the violent encounter, however he did not go into further detail. "We have received information from the public that we find very interesting. This is a horrendous crime," said Anders Nilsson who is leading the preliminary investigation.
Police say that there is no obvious connection between the incidents, which all took place between midnight and 3am, at playgrounds, in which the assailants were all young men and unknown to their teenage victims, reports SVT.  The DNA of the perpetrators has been sent off for analysis, with police hoping to receive answers during the Christmas holidays.