via @JordanSchachtel/ Clare Lopez
As the nation reels from the atrocious mass killing of 17 lives, more and more evidence continues to emerge to highlight an entirely broken police department that failed to act in a time of need.
In researching the tenure of Broward County Sheriff Scott Israel, one can find many questionable hiring decisions, prioritization issues, and unsavory partnerships. Residents of the county are rightly infuriated by the cowardice showcased by officers serving under Sheriff Israel, who reportedly failed even to attempt to stop the massacre on February 14 at Marjory Stoneman Douglas High School. It reflected a police department that appeared unready and unwilling to fulfil its duties.
The police department's decision to enter into a partnership with a terrorist-linked organization is perhaps the most distinguishing marker that showcases Sheriff Israel's horrible lack of judgment, one that badly exposes his unfitness for the job. (Continued below the fold.)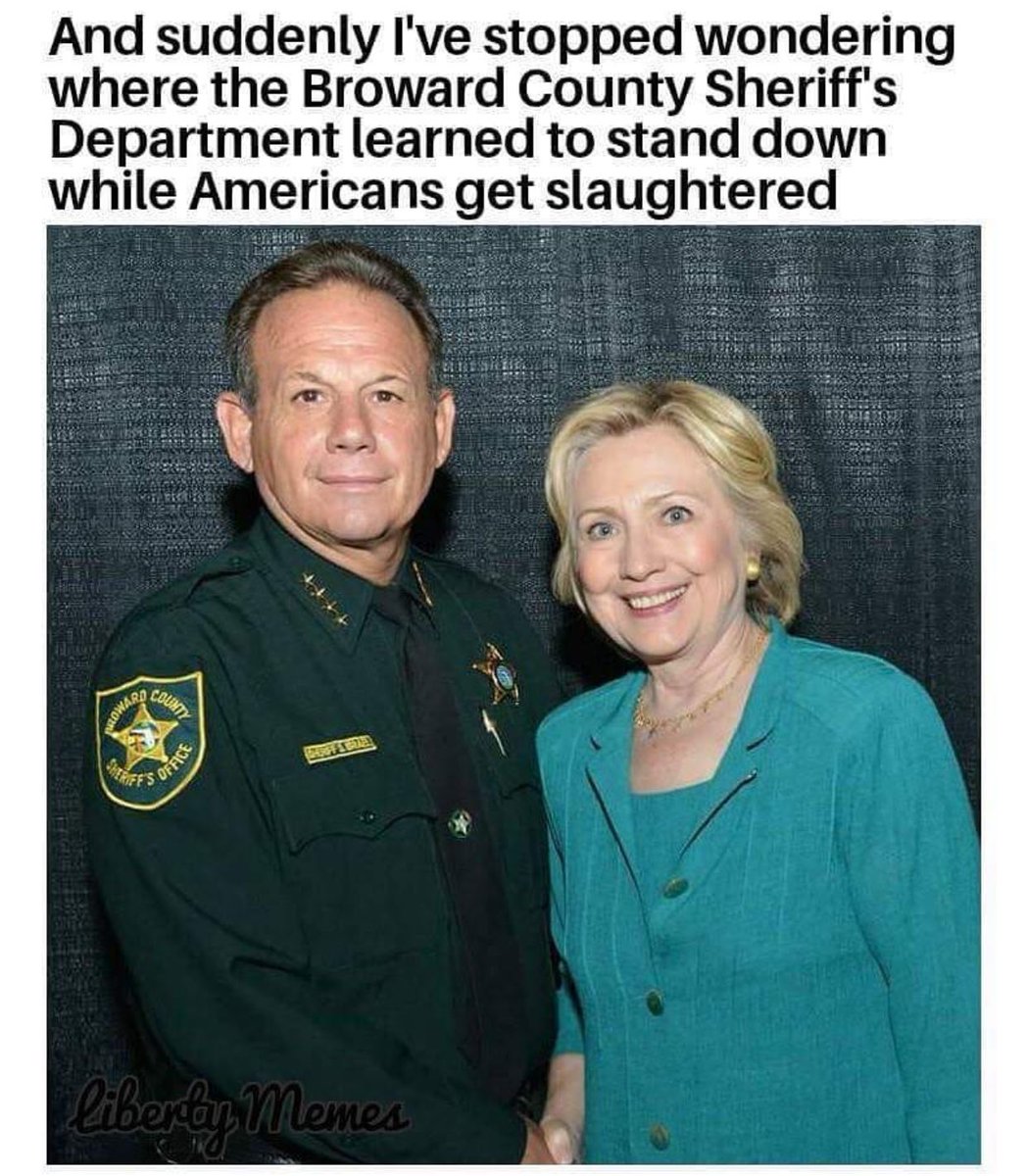 Who is this degenerate?
Sheriff Israel's cops are leaking his written directives to them to stoutly defend his leadership.
Sheriff  Israel supports Islamic savages and corrupt criminals… It's a wonder how a mass shooting against innocent children would be met with his own deputies waiting outside the school until the lunatic stopped. #SheriffIsraelMustResign
It turns out that "doing something" has more to do with demonizing gun ownership, restricting Second Amendment rights and "going after" the hated
National Rifle Association
than grappling with realistic proposals to protect the nation's students from
madmen and terrorists.
Continued:
During his time as county sheriff, Scott Israel has repeatedly cozied up to radical Islamic groups. In a seeming attempt to build bridges, he has elevated several mosques with congregants and leaders who have detailed connections to terrorist organizations. Worse, one of Sheriff Israel's veteran deputies is Nezar Hamze, a top officer at the Council on American Islamic Relations (CAIR).
CAIR was started by members of the Muslim Brotherhood with the goal to raise support and funds for the Hamas terrorist organization that now rules the Gaza Strip. The group was named an unindicted co-conspirator in the largest terrorism financing case in U.S. history.
Hamze has long been simultaneously a top official at CAIR-Florida and a Broward County deputy sheriff. He is currently listed as the group's second in command, but has also served as its executive director. As a Broward County police officer, Hamze often frequents mosques to deliver speeches glorifying the Islamic community. He also trains congregants on active shooter situations.
The current executive director of CAIR-Florida is Hassan Shibly, a bigoted preacher who is known to often target homosexuals. Shibly has refused to categorize Hamas and Hezbollah as terrorist organizations. He has also praised individuals linked to terrorist movements and sometimes takes to social media to bash U.S. soldiers serving overseas.
When radicals in the Florida Islamic community are exposed, Deputy Hamze has been quick to warn of "backlash" against Muslims.
Hamze follows the modus operandi of many CAIR leaders. Instead of committing to reform, CAIR leaders like Hamze focus on the perceived threats to the Muslim community, especially in the wake of an act committed by co-religionists.
CAIR-FL's very own Nezar Hamze interviewed on the growing Islamophobia in the USA. 
In 2011, when two imams were arrested and charged with funding overseas terrorists, Hamze commented: "I'm positive that some of them are scared and won't go to the mosque for a period of time." Any time there's a terror-linked incident in Florida, you can find Hamze in front of a camera warning about the imminent threat to Muslims.
The Florida chapter of the Hamas-tied group has a long history of radical associations. And during Hamze's tenure at CAIR, the chapter has directly associated with a who's who of radical Islamists.
This past year, the CAIR-Florida annual banquet featured Islamist preachers Omar Suleiman and Imam Johari Abdul Malik.
Imam Malik is a top officer at one of the nation's most infamous mosques, the Dar al Hijrah Islamic Center in Northern Virginia. The mosque was once led by Anwar al-Awlaki, the deceased chief recruiter for Al Qaeda. It was also attended by two of the September 11 hijackers. After a mosque attendee was busted for plotting to assassinate former President George W. Bush, Malik cried: "Our whole community is under siege." In 2005, when a Virginia Muslim was found guilty of installing a terrorist network inside the United States, Imam Malik commented, "There is a view many Muslims have when they come to America that you could not be arrested for something you say. But now they have discovered they are not free to speak their minds."
Suleiman, like Imam Malik, is an Islamist preacher who has defended child sex slavery. He also has countless radical associations.
There was no greater indication that Sheriff Israel was not fit to lead than his decision to partner with a group founded to support Islamic terrorism. If the Broward County Sheriff's Department seeks to reform, it should focus on police work and not enter into partnerships that corrupt the legitimacy of law enforcement officers.
Records obtained by CNN show Broward County Sheriff's Office received at least 45 calls for service relating to the Florida school shooter or his brother from 2008 to 2017. The sheriff's office has insisted it received no more than 23 calls http://cnn.it/2HP2U5T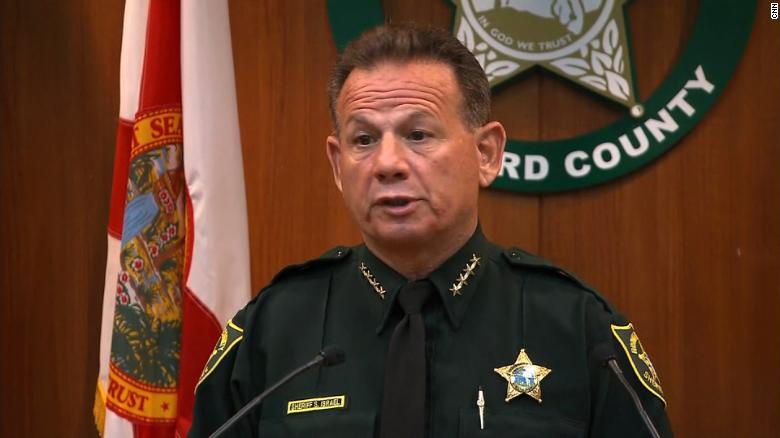 FACT… The founding fathers want the citizens armed.
"The Constitution shall never be construed to prevent the people of the United States who are peaceable citizens from keeping their own arms."
– Samuel Adams, Massachusetts Ratifying Convention, 1788
"A free people ought not only to be armed, but disciplined…"
– George Washington, First Annual Address, to both House of Congress, January 8, 1790
"To preserve liberty, it is essential that the whole body of the people always possess arms, and be taught alike, especially when young, how to use them."
– Richard Henry Lee, Federal Farmer No. 18, January 25, 1788
"Little more can reasonably be aimed at, with respect to the people at large, than to have them properly armed and equipped."
Alexander Hamilton. Federalist, No. 28)
"The Constitution preserves the advantage of being armed, which Americans possess over the people of almost every other nation, where the governments are afraid to trust the people with arms."
James Madison The Federalist, No. 46
In other news from the Religion of Peace:
More from Breitbart: