Update:
AP reporting totally unbiased:
Italians vote in one of the most uncertain elections in years that is being watched to see if "Italy will succumb to the populist, euroskeptic and far-right sentiment."
Ludicrous, but entertaining.
Salvini and Berlusconi have refused to tame their rhetoric. Both have called for the mass deportations of hundreds of thousands of unassimilable Mohammedans & black Africans migrants in the country illegally and Berlusconi has dubbed mass migration a "social bomb ready to explode."
Former Minister lets the cat out of the bag: Italy Must Be Guided in Its 'Change of Population' Due to Immigration
Prior to Italian national elections, the country's first black cabinet minister told Swiss radio that due to massive immigration, Italy needs to be guided in "the change in the composition of the population" that is the fruit of immigration.
An immigrant herself from the African nation of Congo and Italy's former minister for integration, Cécile Kyenge said the present situation in Italy is "surreal" because of the level of hostility toward immigration found among several political parties.
Immigration has become "the sole rallying point" of right-wing Italian parties, she said, which stoke a "climate of fear" by focusing on the lack of stability and security in the country.
So during the electoral campaign, she said, few speak about their political programs but "rather of the malaise of the population or rather of the people's fear and that's not Italy."
Kyenge told Swiss radio that countries like Italy, Spain, and Greece have found themselves facing a migrant crisis by themselves, when they should receive greater support from the European Union (EU).
More below the fold.
Related news:
George Soros is trying to derail Italy's democracy with paid rioters, he wants a left wing EUSSR-friendly party in power in Italy. Soros wants to keep flooding Italy and Europe with unassimilable African & Mohammedan migrants. Unfortunately for Soros the people of Italy want change, and it looks like a right leaning party called the 5 star party are going to get elected. They want to massively reduce immigration and they are not that sold on the European union either.
Update:
Angry, fed-up Italians turn away from mainstream parties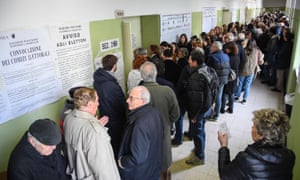 More from the Religion of Peace:
Continued:
She also said that "racism exists" and Italy needs to be "guided in this change, I can say, this change of population, the change in the composition of the population" brought about by immigration.
As Breitbart News reported in July 2017, Italy is indeed undergoing an unprecedented shift in its demographics as a plummeting birthrate and massive immigration combine to make native Italians an increasingly smaller percentage of Italy's overall population.
In a study titled "How immigration is changing Italian demographics," the Centro Machiavelli research institute reported that Italy's fertility rate is less than half of what it was in 1964, dropping from 2.7 children per woman to just 1.5 children per woman, a figure well below the replacement level of roughly 2.1 children per woman.
In 2017, Italy had more than five million foreigners living as residents, a growth of 25 percent above 2012 levels and a remarkable 270 percent above 2002. At that time, foreigners made up just 2.38 percent of the population, while fifteen years later, the figure has nearly trebled to 8.33 percent of the population.
If current trends continue, the report declared, by 2065, first- and second-generation immigrants will exceed 22 million people, or more than 40 percent of Italy's total population.
The high concentration of immigrant populations from just a few countries of origin often results in the formation of "closed, homogeneous communities that fail to integrate with their host society," or "ghettoization," the report stated, a phenomenon that is increasingly visible in Italy.
In recent years, along with record levels of immigration, Italy has also faced a worrisome trend toward higher emigration, especially of its young people.
In 2016, emigration hit a record high of 157,000 people, another new record for the recent era, leading the president of the Italian Bishops Conference (CEI) to denounce the exodus of Italy's best and brightest, warning that the loss of talented Italian citizens was "depleting" the country.
Cardinal Angelo Bagnasco tied the high levels of Italian emigration to an ongoing economic crisis that has dried up the jobs market and left many Italians in dire financial straits.
"The official figures speak for themselves," Bagnasco said, noting Italy's grim economic statistics.
The cardinal said that the worst fallout from the crisis may well be a drain on Italy's most precious resource: its citizens, especially the young.
"We are deeply concerned that the patrimony of skillfulness and ingenuity of our people is being forced to emigrate, thus impoverishing the country," he said.
So whether the immigration issue is being "stoked" by the right or not, it is an objective problem in Italy today, one that weighs heavy in the minds of voters, many of whom do not wish to be "guided" in the transformation of their population.