Thanks to Vlad Tepes:
First, the actual speech, which you didn't get to hear from the live feeds of it for reasons that escape me.
An excellent example of the fine debate style you can expect from muslims when you question their sense of right to rule over you.
This violent head chopper attacked people with a weapon. Why wasn't he arrested?
Breitbart UK article on the event:
LONDON, United Kingdom — Thousands of free speech enthusiasts, alongside a handful of hard-left and Islamist opposition, gathered at Speakers' Corner in London's Hyde Park this afternoon to hear a speech written by Generation Identity's Martin Sellner, delivered by former EDL leader Tommy Robinson.
Sellner was banned from entry by the UK government earlier this month, for daring to lead a right-wing organisation which sheds light on Islamic extremism and mass migration on the continent of Europe.
Robinson — formerly of the Rebel Media — delivered the speech to thousands who gathered in the snow at the historic Speaker's Corner, the home of free speech in London for hundreds of years.
Marx, Lenin, Orwell, and others have famously given speeches at Speaker's Corner, which is what drove Sellner and Robinson to pick the spot to deliver the speech (below).
Thousands listened to the speech live in person, while tens of thousands watched online.
In other news:
Historically, there have been no restrictions on who could speak and what could be said at the famed Speakers' Corner in London's Hyde Park. But that was before Theresa May's government decided to fabricate a terror threat from "right-wing extremists" that is supposedly equivalent to the jihad terror threat. Last week, Tommy Robinson tried to speak at Speakers' Corner but was stopped by police.
Today, he spoke there amid rioting by Muslims determined to silence him. Police, not surprisingly, did little to stop the rioters, focusing more on the Britons who were there to defend the freedom of speech. Robinson read the speech that Martin Sellner, the Austrian free speech activist, had intended to deliver about threats to the freedom of speech, but was banned from entering the country. Britain has recently banned Sellner, Brittany Pettibone, Lauren Southern, and Lutz Bachmann, all for the crime of opposing jihad terror and Sharia oppression, and of course has previously banned Pamela Geller and me for the same offense.
This petty authoritarianism is the act of a society in its death throes. The May government is bowing to the new masters of Britain, who support Sharia blasphemy restrictions, and handing them the leadership of the country. Theresa May will go down in British history, if there are any free Britons in future generations, as the most venal, banal and self-serving of traitors, but a traitor and betrayer of her nation nonetheless.
(Video thanks to the Geller Report)
PEGIDA Founder Lutz Bachmann Banned from UK After Officials Find Speakers' Corner Speech in Baggage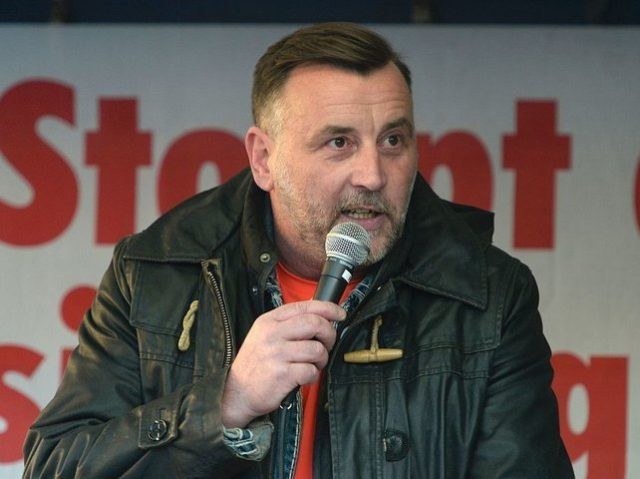 by JACK MONTGOMERY18 Mar 2018
PEGIDA founder Lutz Bachmann has been prevented from entering Britain to deliver a speech at Speakers' Corner, partly on the grounds that he "knows" identitarian activist Martin Sellner.
Bachmann had planned on delivering a speech written by the Generation Identity leader, who was recently detained along with YouTube political pundit Brittany Pettibone and then ejected from the country, partly on the grounds that GI is "viewed in the UK as a right wing organization" and partly on the grounds that Pettibone intended to "interview Tommy Robinson — a far right leader whose materials and speeches incite racial hatred", according to seemingly official documents.  Please click through for the rest.