Moslem Terror in Germany: Soldier of Allah crashes Vehicle into crowd in Munster, three dead &  more than 30 injured
Pamela Geller:
It's everyday news now: another attack corresponding to the jihadist modus operandi, and another enemedia "news" report in which nothing is revealed about the perpetrator. However, in this case German authorities have actually admitted, contrary to the usual practice of authorities in the West, that this was a terror attack.

This report from al BeBeeCeera is typically devoid of any substance. You'll be looking for words like "Muslim", "Islam" or "jihad" in vain.
Several people have been been killed in the city of Muenster, in western Germany after a van drove into pedestrians.
The driver of the vehicle has killed himself, police said.
About 30 people are reported injured in the incident, which occurred near the Kiepenkerl statue in the old town. Some are said to be in a serious condition.
Police have asked people to avoid the city centre.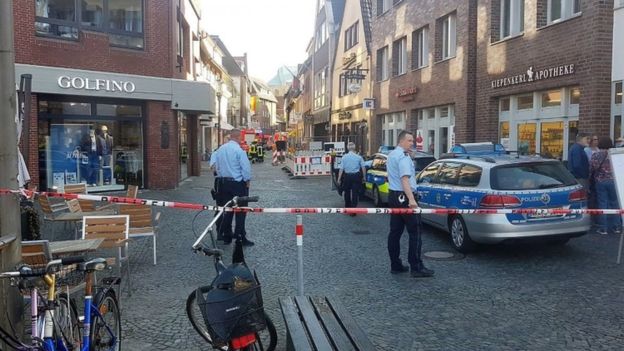 There is a restaurant located in the vicinity of the Kiepenkerl statue and photographs posted on social media showed tables and chairs strewn at the scene.
Ulrike Demmer, the federal government's deputy spokesperson, said the government's thoughts were with the victims and their families.
In December 2016, a lorry ploughed into a crowd at at Christmas market in the German capital, Berlin, killing 12 people.
See? Nothing to do with Islam.
Robert Spencer offers context:
This vehicular attack is unusual in that police are actually acknowledging that it's a terror attack.
Last June, the Islamic State published a poster depicting an SUV driving over a heap of skulls and bearing the legend "Run Over Them Without Mercy."
And the Islamic State issued this call in September 2014:
So O muwahhid, do not let this battle pass you by wherever you may be. You must strike the soldiers, patrons, and troops of the tawaghit. Strike their police, security, and intelligence members, as well as their treacherous agents. Destroy their beds. Embitter their lives for them and busy them with themselves. If you can kill a disbelieving American or European — especially the spiteful and filthy French — or an Australian, or a Canadian, or any other disbeliever from the disbelievers waging war, including the citizens of the countries that entered into a coalition against the Islamic State, then rely upon Allah, and kill him in any manner or way however it may be….If you are not able to find an IED or a bullet, then single out the disbelieving American, Frenchman, or any of their allies. Smash his head with a rock, or slaughter him with a knife, or run him over with your car, or throw him down from a high place, or choke him, or poison him….