Pressure grows on May to tackle "Islamophobia" in Conservative party
"Islamophobia": a propaganda term that is used to intimidate people into thinking it's wrong to oppose jihad mass murder and Sharia oppression of women, non-Muslims, homosexuals, etc.
Tory peer Lord Sheikh calls for an independent inquiry in open letter to the prime minister
The Guardian (of Muslims)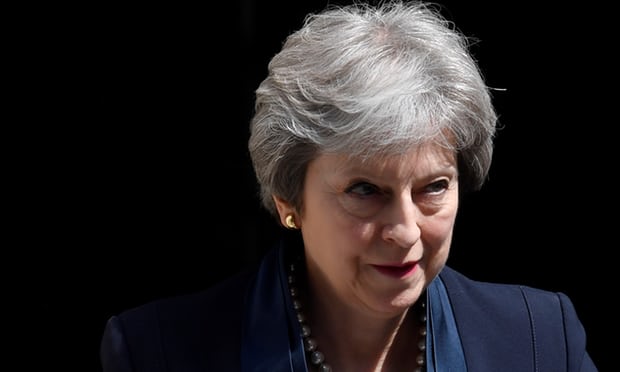 Theresa May is under growing pressure to investigate Islamophobia in the Conservative party after a top Tory peer echoed calls made this week by the Muslim Council of Britain (MCB) and Sayeeda Warsi.
Mohamed Sheikh said an independent inquiry was required to "show we will not tolerate any form of discrimination within our own party".
His call comes after the MCB accused the Tories of failing to take the issue seriously.
Lady Warsi, the party's former chair, has said the failure was "embarrassing" for the party and that her calls over the past two years had gone unheeded.
In an open letter to the prime minister, Lord Sheikh said Muslim voters "cannot bring themselves to vote Conservative because they simply do not believe the Conservative party can and will support Muslims".
His letter highlighted a number of incidents, including the "smear campaign" conducted by Zac Goldsmith against Sadiq Khan before the 2016 London mayoral election.
Goldsmith's decision to label his Labour rival as a "'terrorist sympathiser' was an absolute disgrace, even for the most ardent Conservative supporter – Muslim or not. Such conduct not only embarrassed the party but alienated many Conservative members from the campaign, and voters," Sheikh wrote.
Attempts to raise the issue with Goldsmith, Conservative party chiefs and then prime minister David Cameron were "ignored", he said. The party donor was a top adviser to Cameron and ran the Conservative Muslim Forum.
The MCB said this week that Goldsmith's campaign was evidence of a wider problem of "dog whistle anti-Muslim racism" in the party.
Islam is not a race and skincolor doesn't come into it.
Harun Khan, the head of the MCB, called for a "genuinely independent inquiry" into Islamophobia in the Tory party.
He questioned why no action had been taken against Bob Blackman, the Harrow East MP, after he hosted a hardline Hindu nationalist, Tapan Ghosh, in parliament in October 2017.
In his letter, Sheikh said he had raised the issue with May. "Regrettably, the response fell short of the swift and determined action required," he told the prime minister.
The peer, who entered the Lords in 2006, also said it was a "great disappointment" that Muslims he had recommended as potential Tory candidates in the last general election were not chosen.
The Tories have been contacted for a response to Sheikh's letter.