Toronto Danforth shooting suspect ID'd as Faisal Hussain by police
Fasten your seatbelts, unbelievers, and prepare yourself for an avalanche of stories about "fear of reprisals," "islamophobia," the ever-popular backlash (which never happens), and how Muslims are the true victims of these Islamic attacks. As for the dead children and those suffering in hospitals in Toronto, *crickets chirp* in newsrooms worldwide.
This savage walked casually and deliberately down a Toronto street on a quiet, pleasant Sunday night and opened fire on restaurants — shooting families, friends, children — and stopped to reload.
Wait for Trudeau to make a pilgrimage to a mosque, insisting that more migrants is the answer. (Pamela Geller)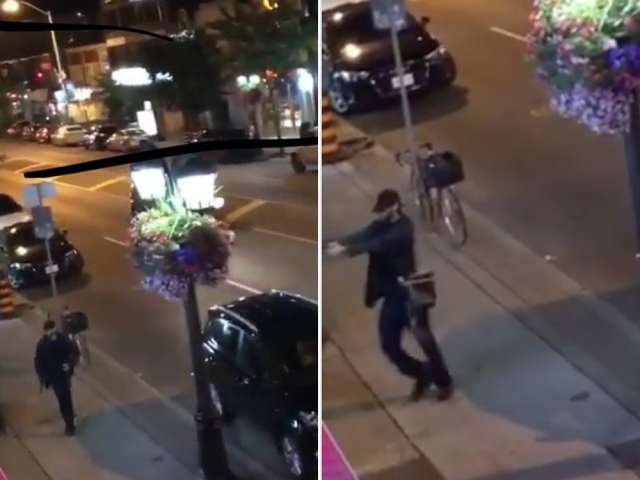 A (Musel-)man armed with a handgun made his way down Danforth Avenue, firing as he went, turning the tranquil scene into one of chaos and horror.
– Two victims are dead: an 18-year-old Reese Fallon and 10-year-old girl. The suspected shooter, Faisal Hussain, is also dead.
– Police say 13 more were injured, six women, seven men.
– The alleged gunman is dead. He was 29.
Police have identified 29-year-old Faisal Hussain as the suspect.
The family blames "mental health". they always do:
"Our son had severe mental health challenges, struggling with psychosis and depression…"
They all do. Its  a condition caused by Islam.
The Islamic State issued this call in September 2014:
So O muwahhid, do not let this battle pass you by wherever you may be. You must strike the soldiers, patrons, and troops of the tawaghit. Strike their police, security, and intelligence members, as well as their treacherous agents. Destroy their beds. Embitter their lives for them and busy them with themselves. If you can kill a disbelieving American or European — especially the spiteful and filthy French — or an Australian, or a Canadian, or any other disbeliever from the disbelievers waging war, including the citizens of the countries that entered into a coalition against the Islamic State, then rely upon Allah, and kill him in any manner or way however it may be….If you are not able to find an IED or a bullet, then single out the disbelieving American, Frenchman, or any of their allies. Smash his head with a rock, or slaughter him with a knife, or run him over with your car, or throw him down from a high place, or choke him, or poison him….
Ezra Levant wonders:
I'm curious how the name of the Toronto shooter was withheld for a day, and the moment it was released, a Muslim reporter at the CBC state broadcaster issues an official statement from "the family" — that he was mentally ill, nothing to do with Islam. It's probably nothing.
Spencer Fernando:
immediately after the Toronto shooting on Danforth, many of the same politicians who said we should avoid jumping to conclusions, hypocritically began talking about guns and subtly demonizing law-abiding Canadian gun owners.