Yasmin Alibhai Brown is an utterly reprehensible creature.  She carries all the hateful mental baggage and the all too common inferior complexes of a schizophrenic Mohammedan. She hates white people and wants them disappeared.  Curiously, here she appears to take the side of white, British victims of Paki grooming gangs. That doesn't redeem her. You won't find words like 'Muslim' or 'Islam' in her writing.  Instead, you'll find a lot of tosh about "racism". "Not all rapists are Pakis', she reminds us, "Jimmy Savile was a lifelong abuser, after all." True to form, Pakis are the real victims: Alibhai  Brown invents a "a Muslim student" who claims "her own brother had been targeted by white thugs in a racist backlash. "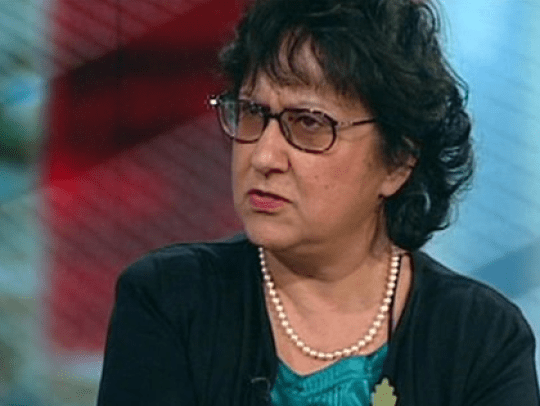 A 'Racist' for Speaking Out Against Grooming Gangs?
YASMIN ALIBHAI-BROWN: If you call Rotherham MP Sarah Champion racist after she spoke out against British-Pakistani grooming gangs then you are complicit in the attack on young girls
Sarah Champion MP said Britain has a problem with Pakistanis rapid white girls
"Rapid white girls?" I suppose that's supposed to mean 'raped' white girls. 
She was referring to grooming gangs luring and attacking girls in northern towns
People called her a racist for singling out one nationality and sent threats
Ms Champion has been put under police protection due to death threats
Alibhai-Brown argues anti-racists should instead side with her
It is a black day for democracy when any Member of Parliament is put under police protection. Yet this is the abysmal position in which Rotherham MP Sarah Champion finds herself.
Her 'crime'? Her courageous decision to speak out about the British-Pakistani grooming gangs who have lured, entrapped and sexually ravaged vulnerable young white girls in northern towns.
So poisonous is the public discourse on this difficult issue that Champion – who has already been forced to resign as Shadow Minister for Women and Equalities – has been accused of 'industrial scale racism'. Some in her constituency want her deselected as MP.
Sarah Champion was accused by activists of 'industrial-scale racism' for highlighting the 'common ethnic heritage' of those involved in Rotherham's sexual abuse scandal
Now, following death threats, Scotland Yard has intervened.
The attacks on her began last year when she dared to write a newspaper article saying that 'Britain has a problem with British Pakistani men raping and exploiting white girls'. 'There, I have said it,' she added. 'Does it make me racist?'
Fear of being  labeled with stupid words like "racist" has destroyed British society.  It is high time that some sanity is restored.
No, it doesn't, is the only reasonable answer. She should, in my view, have expressed herself more moderately, but Champion cannot and must not be condemned for speaking uncomfortable truths.
Instead of vilifying her, we should confront instead the wrong-headed activists who think we can beat racism by burying gruesome secrets.
I know more than most about the vituperative attacks suffered by those who raise their head above the parapet.
Last year I interviewed for this newspaper three wives and a daughter of British-Pakistani men who had been jailed for their part in these evil sex gangs.
How, I wanted to know, did the men treat the women in their family behind closed doors?
Cruelly and oppressively, was the short answer. The men, all husbands and fathers, did not care about consent and sex equality.
The response was as angry as it was irrational. I was mauled for 'inviting people to hate Pakistani men' and for harbouring prejudiced attitudes.
An uncompromising Asian and Muslim anti-racist, I had somehow mutated into a self-loathing bigot.
I was even accused of disloyalty – a charge I freely admit. Loyalty is an oath of silence. I have never taken that oath.
One must be fair and, when necessary, fearlessly critical of oneself, our communities and the nation.
It is true that people of colour suffer and survive discrimination and humiliation. They feel beleaguered. They circle the wagons, watch out constantly for enemies and traitors.
Even so, there is no excuse for the gale of criticism directed at anyone who attempts to shine a light on what is truly going on.
In fact, most Asian feminists I know back Champion and admire her courage. We understand how tough it is for white MPs to comment on or condemn the behaviours of those in minority communities.
Meanwhile, I brace myself every time a new grooming case reaches the courts because I know I will have to endure fresh racial onslaughts.
It was a Muslim Pakistani, Nazir Afzal, who, as one of the lawyers working at the Crown Prosecution Service, got the first prosecutions and convictions of groomers – a breakthrough dramatised in the BBC film, Three Girls.
He, too, was slandered, and labelled a race traitor and stooge. Yet I am confident that there are thousands more unseen and unheard victims. There are hundreds of perpetrators still at it.
The calculated, appalling crimes committed against white girls, often troubled and vulnerable, need to be exposed and the perpetrators punished.
It is they – not those who criticise them – who are to blame if their activities are recruiters for the racist hard Right.
Izar Hussain, 31, one of the alleged members of a Pakistani grooming gang outside Bradford Crown Court earlier this year
Their depravity and their lack of humanity is inexcusable. I would urge British Muslims to care about these white victims as if they were their own daughters. Many do so already.
They are just infidel whores. White meat for the soldiers of allah. Yasmin knows that. None of these "British Muslims" gives a flying f*kc about them.
One Muslim woman who is fostering one of these broken, sexually abused teenagers, told me recently: 'I look at this child and don't even want to pray sometimes. I feel shame for my culture.'
Two conversations with university students, both from Yorkshire, also ring in my ears.
Sandra, a young white woman seethes as she tells me she is thinking of joining the EDL: 'What did we white girls ever do to your guys? Why do the bastards want to rape me?'
They don't, of course. Not all such predators, I reminded her, were Pakistanis. Jimmy Savile was a lifelong abuser, after all.
What a sly, despicable injection. Jimmy Saville didn't believe in Muhammad who raped infidel women after killing their men.
A Muslim student – let's call her Iman – was also incandescent. 'They go out, do what they want to white girls and protect their own,' she raged.
She explains how, following the revelations about the Rotherham grooming gangs, her own brother had been targeted by white thugs in a racist backlash.
'Who suffers? We do – men like my lovely father and two brothers. Those sex beasts are making us not safe. I want them killed.'
Take that with a grain of salt. Iman is not a victim. She is one of Alibhai-Brown's inventions.
Violence is not an answer to violence. But in this way, Iman is right: if these gangs really cared about their faith, their families and communities, they would not give succour to inflammatory groups such as the English Defence League and Britain First.
The appalling racist and sexual crimes of these grooming gangs are wrecking all our futures. Those trying to punish Champion are on the wrong side of history. Genuine anti-racists must support her. So must Muslims who believe in universal human rights.
Right. "…these grooming gangs are wrecking all our futures." That means we don't want these filthy kafirs to wake up and throw us all out before England is conquered.
If we don't, we become complicit in the vilest of crimes against vulnerable girls.
You are complicit, Alibhai-Brown.
The growing number of towns where children were preyed upon
The grooming gang in Oxford follow similar scandals in other towns and cities around the UK.
Rotherham – The issue of child abuse in the town first came to light in 2010 when five Asian men were jailed for sexual offences against under-age girls.
A 2014 inquiry found there were more than 1,400 victims of grooming and sex exploitation in Rotherham between 1997 and 2013.
Rochdale – The trial of nine men for grooming young white girls for sex attracted widespread public outrage and sparked a national debate when they were convicted in 2012.
The gang received jail sentences of between four and 19 years for offences committed against five girls – aged between 13 and 15 – in and around Rochdale between 2008 and 2010.
The case returned to the public consciousness earlier this year when the BBC broadcast its Three Girls drama based on the experiences of some of the victims.
Shabir Ahmed, convicted of 30 child rape charges in Rochdale
Newcastle – A total of 17 men and one woman were convicted of, or admitted, charges including rape, supplying drugs and inciting prostitution, in Newcastle last year.
Older men preyed on immature teenagers who were plied with cocaine, cannabis, alcohol or mephedrone (M-Cat), then raped or persuaded into having sexual activity at parties known as 'sessions'.
The case raised huge controversy after a convicted rapist was paid almost £10,000 of taxpayers' money to spy on parties where under-age girls were intoxicated and sexually abused.
Northumbria Police launched a major investigation after receiving information from social workers and initially spoke to 108 potential victims.
Over the course of four trials, 20 young women gave evidence covering a period from 2011 to 2014.
Bristol – Some 13 Somali men were jailed for more than a total of more than 100 years after they were convicted in 2014 of running an inner city sex ring.
Victims as young as 13 were preyed upon, sexually abused and trafficked across Bristol to be passed around the men's friends for money.
Aylesbury – Six men were jailed in 2015 for grooming vulnerable under-age white girls between 2006 and 2012.
The Old Bailey heard victims would be plied with alcohol and forced to perform sex acts for as little as 'the price of a McDonalds'.
Peterborough – A total of 10 men were convicted of child sex crimes in the town, including 'predatory' restaurant boss Mohammed Khubaib.
He was jailed for 13 years at the Old Bailey in 2015, after he was found guilty of forcing a 14-year-old girl to perform a sex act on him and nine counts of trafficking for sexual exploitation, involving girls aged from 12 to 15, between 2010 and 2013.