Tim Blair:
Herald Sun cartoonist Mark Knight deserves to win multiple awards for his brilliant depiction of the Victorian government's warped priorities.
Instead, genial Mark has become today's outrage target for Twitter hatebabies who believe comparing him to Bill Leak is a crushing insult instead of the very highest praise:
"If you've been wondering where Australia will get its fix of deeply racist cartoons now that Bill Leak has gone, turns out Mark Knight has stepped up to the plate".
"Australian national newspaper @theheraldsun prints a cartoon like this. This is fucking shameful. Australia is so out of touch it makes me sick to my stomach."
"Wait. Is Mark Knight suggesting that the Transport Minister… ban Sudanese people from using public transport? Is that what he's getting at here? In 2018?"
These people are out of their minds.
Don't take my word for it. Click on the link & take a look!
Update:
Teen rampage was just 'kids being stupid'
Tessa Akerman The Australian August 12, 2018
The group of up to 100 Sudanese youths who damaged property and threw rocks at police cars in Melbourne's northwest this week were acting like other Australian kids, a community leader says.
Police were forced to call the riot squad and the air wing to a park in Taylors Hill as a planned fight over a failed relationship escalated into violence on Wednesday evening.
Residents say they were called "white trash" and threatened, and that police told them to "stay inside and lock the doors".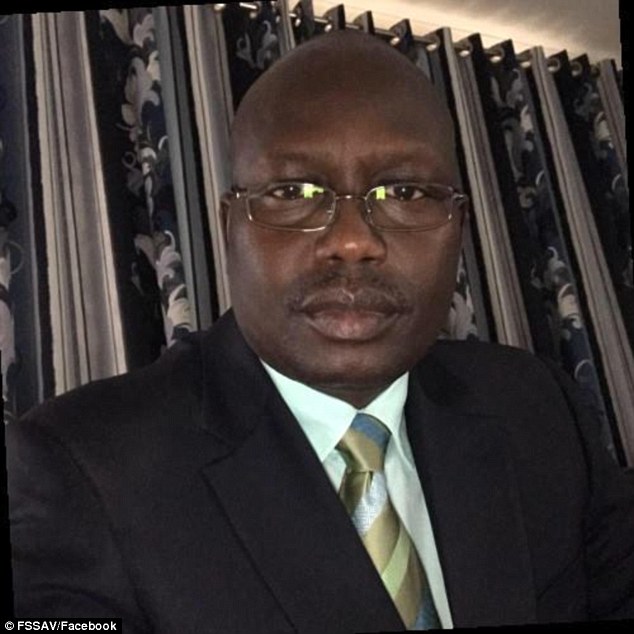 Any mudsharks in the market for this "chairman?"
Federation of South Sudanese Associations chairman Kenyatta Dei Wal said the youths' behaviour was "the kind of thing that most young people do".
"(It was) young people who are just behaving as young people and making stupid choices," he said. "There's nothing significant about it."
Mr Wal said the role of police was to ensure everyone's safety and he praised their handling of the situation. "They responded on time and managed to disperse (the youths)," he said.
The rocks thrown might not have been intended for the police and it was important to wait for the results of the police investigation. "I don't think there was intent to damage police cars, but let's wait for the investigation," he said.
However, Victoria Police has been criticised for not making any arrests on the night. It said investigators were pursuing some suspects.
Former Victoria Police inspector John Thexton said recent crimes and incidents involving Sudanese youths echoed earlier concern about Maori and Pacific Islander youths. "Some people will tell you they're different kids … but I reckon that's a load of bloody bullshit," he said.
He said police on the ground had engaged with youths across a range of different initiatives but were not being supported by police command.
"It's how you tackle these things and it's all about building respect and building the self-­esteem of these young people by showing them they can achieve," he said.
Victoria Police said youths from opposite sides of Melbourne had met on Wednesday afternoon at a Taylors Lakes shopping centre to fight about tensions over a relationship.
Police moved them on and tracked them as they made their way to Lonzo Park in Taylors Hill.
The youths taunted police, yelling, "the police can't touch us, they can't do anything".
Police cited the youth crime strategy that gives priority to moving the crowd on over making arrests at the scene.
Mr Thexton is a member of the Community Advocacy Alliance chaired by former Victoria Police chief commissioner Kel Glare.
Mr Glare said police should have made arrests on the night. "If you go after them on the spot, you know who the offenders are and that's when you can take proper action," he said on Thursday.
Mr Thexton said he agreed with his former colleague's comments. "If a crime is committed, then you need to prosecute the people involved," he said.
Victorian Multicultural Commission chair Helen Kapalos said it was important to address the causes of youth crime.
"African Australians are Australians. Full stop," she said. "Addressing causal factors is a lot more productive to achieving social cohesion than racialising crime."
● An AK-47 assault rifle and a batch of imitation firearms were seized during the arrest of a gang of teens in Melbourne's southeastern suburbs after a slew of violent carjackings and attempted robberies across the city.
Fourteen suspects have been arrested, some as young as 14. The AK-47 was found in a bedroom during a raid on a family home.
Police told the Herald Sun the group, almost all from migrant families of Asian, Middle Eastern and African backgrounds, met through school and sports groups.