Al BeBeeCeera reports about the "Far-Right" protesters, never mind the murdered Germans…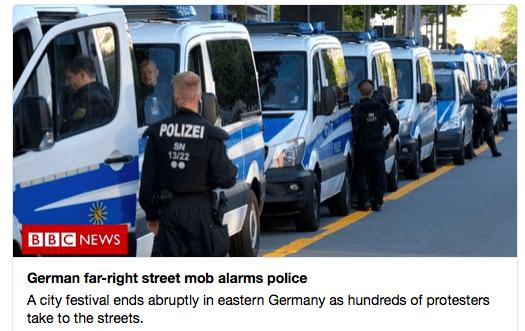 German man is stabbed to death by an Iraqi & Syrian. Merkel condemns people protesting, yet silence on the savages. AfD MP tweeted: If the state is no longer protecting citizens then people take to the streets & protect themselves. It's as simple as that!
Germany migrants: Merkel condemns 'vigilantes' after Chemnitz murder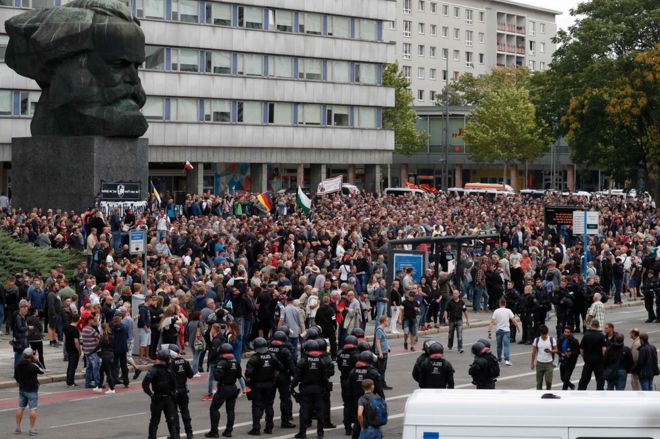 German Chancellor Angela Merkel has said "vigilante justice" will not be tolerated after far-right unrest over a murder in the eastern city of Chemnitz.
Scuffles have broken out during two days of protests by hundreds of people in the city centre since a German was stabbed to death early on Sunday.
A Syrian man and an Iraqi man have been arrested on suspicion of murder.
Continued below the fold.
In other news:
Ashura in Fishwick, UK

The procession in 2017 included colourful effigies Pic: Sonia Bashir
Roads in Fishwick are to be closed during Sunday afternoon for a Muslim procession.
The annual religious procession marks the first month of the Islamic calendar for Shia Muslims.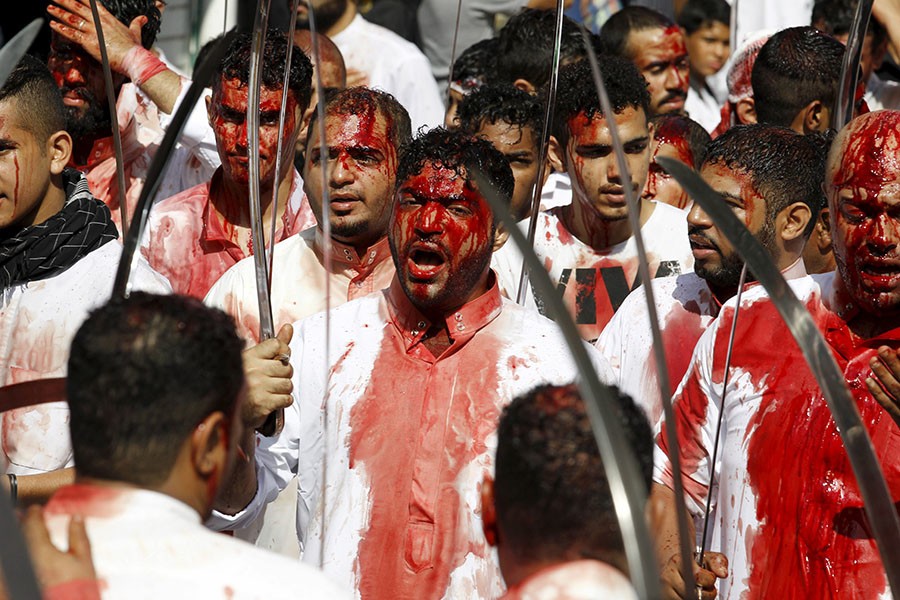 The procession sees men strip topless, and can feature flagellation, and follow the procession route to the mosque for Muharram.
Germany, continued:
Police were still out in strength on Monday evening, braced for new demonstrations by both right and left.
They are also investigating alleged assaults on an Afghan, a Syrian and a Bulgarian during the unrest.
Reports have spoken of aggressive protesters chasing foreigners, though there are few details, and police have appealed for witnesses to the assaults to hand over any video they may have recorded.
A far-right football fan group called Kaotic Chemnitz had earlier called out supporters to show "who is in charge", while protesters on Sunday could be seen chanting "We are the people!" and "This is our city!".
Bottles were thrown on Sunday by protesters at police, who were reinforced by officers from other cities.
What happened?
It is unclear what triggered a fight which reportedly preceded the stabbing, at about 03:15 (01:15 GMT) on Sunday, on the sidelines of a street festival, which has now been cancelled.
The victim, a carpenter aged 35, was mortally wounded and died in hospital.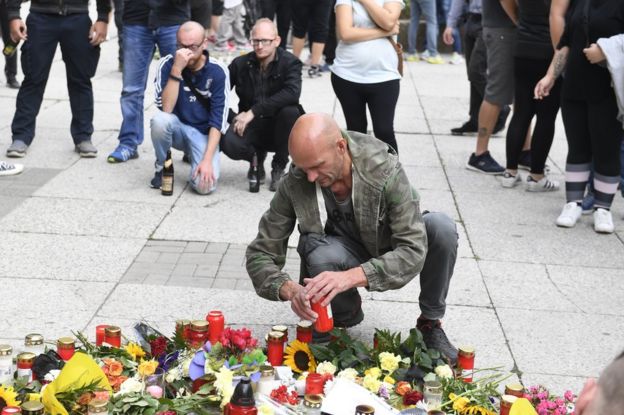 Two other German men with him, aged 33 and 38, were seriously hurt, police say.
The Syrian detainee is 23 and the Iraqi 22.
Police have denied rumours on social media that the fight was linked to the sexual harassment of a woman.
How did protests spread?
Initially, about 100 people gathered on Sunday for a rally which passed off without incident, AFP news agency reports.
However, some 800 people later gathered at the Karl Marx monument, a focal point in the centre of Chemnitz.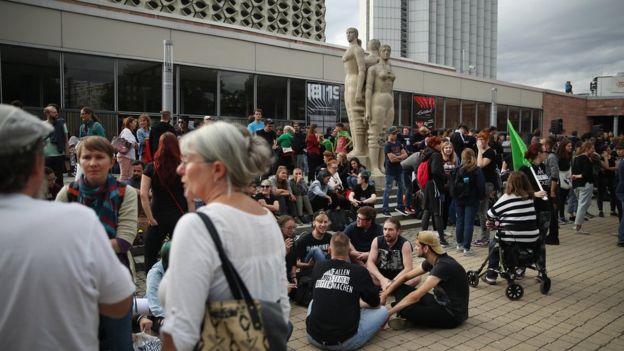 The monument is a throwback to the city's days as a model socialist city in the former German Democratic Republic, when it was renamed Karl-Marx-Stadt.
It appears that such a large, angry demonstration took police by surprise.
Freelance journalist Johannes Grunert told Spiegel Online he had witnessed some protesters using bottles to attack people "who did not look German".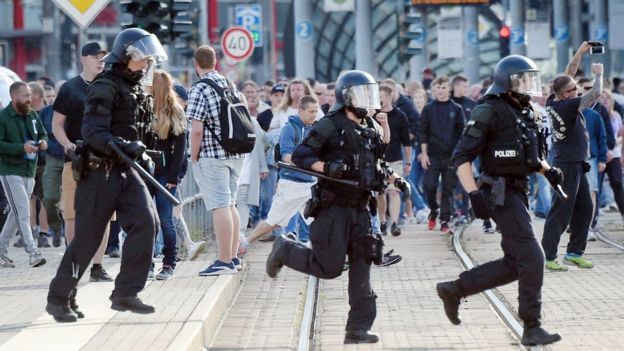 Pegida, the far-right street movement, called for a new demonstration on Monday afternoon, while an MP from the far-right political party AfD, Markus Frohnmaier, tweeted: "If the state is no longer to protect citizens then people take to the streets and protect themselves. It's as simple as that!"
"Today it's a citizen's duty to stop the lethal 'knife migration'!" he wrote, alluding to the influx of migrants in recent years. "It could have targeted your father, son or brother!"
People could be seen milling around the centre on Monday afternoon, German media report, as the heap of wreaths and candles at the spot where the murder occurred grew.
---
Read more on similar topics:
---
What did Merkel's office say exactly?
"We don't tolerate such unlawful assemblies and the hounding of people who look different or have different origins and attempts to spread hatred on the streets," Mrs Merkel's spokesman, Steffen Seibert, told journalists.
"That has no place in our cities and we, as the German government, condemn it in the strongest terms. Our basic message for Chemnitz and beyond is that there is no place in Germany for vigilante justice, for groups that want to spread hatred on the streets, for intolerance and for extremism."
Martina Renner, an MP for the radical Left party, accused the far right of seeking to exploit the murder for political ends.
"A terrible murder, the background to which is still unclear, is being instrumentalised in the most repugnant way for racist riots in Chemnitz," she said in a tweet.

Why is the migrant issue so thorny?
In 2015, Angela Merkel decided to let in around 1.3 million undocumented migrants and refugees, mainly from parts of the Middle East like Syria and Iraq.
She and her allies were punished by voters at last year's general election when the anti-immigrant AfD entered parliament for the first time, winning 12.6% of the vote and more than 90 seats.
Chemnitz is in Saxony, a region where AfD and Pegida are particularly strong.