'voices are being destroyed' – 'we won't let that happen'
TRUMP GOES OFF On Social Media 'Censorship' and 'Discrimination' Against Conservative Voices Twitter is in a full on Censorship against conservative voices.
They have been Shadowbaning almost all conservative accounts.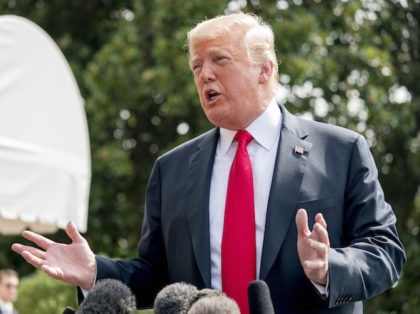 "Social Media is totally discriminating against Republican/Conservative voices," Trump wrote on Twitter. "Speaking loudly and clearly for the Trump Administration, we won't let that happen."
President Donald Trump said Friday he will continue fighting with Turkey about its decision to detain Pastor Andrew Brunson, threatening additional action against the country.
"Turkey has been a problem for a long time," Trump said to reporters as he left the White House. "They have not acted as a friend."
Tommy Robinson questions Daily Mail "journalist" James King about his bias and lies
The Daily Mail is the worst paper in the Western world. The Guardian, the Independent, the New York Times, the Washington Post — those are obvious propaganda sheets for the hard-Left. But the Daily Mail actually reports with general accuracy on the jihad threat. Then it turns around and savages those who oppose jihad mass murder and Sharia oppression of women, gays, and others.
It is good to see one of the Daily Mail's craven, ignorant, self-righteous, dishonest "journalists" get confronted on his lies and distortions. All establishment media "journalists" should be questioned in this way.
Note that King admits that he knows nothing about Islam and jihad, and then proceeds on the assumption that he knows everything about them.
Lack of Integration of Migrant Children Sees German School Standards Decline
A new report has revealed that the standards of the German school system are in decline as teachers struggle with many migrant children who speak poor, and sometimes no, German.
EU is terrified of Italy's "right-wing populist" government, says ruling party member
European Union leaders are afraid of Italy's Eurosceptic government, according to a senior aide to Rome's Prime Minister.
Giancarlo Giorgetti believes Brussels is desperate to "abort" the fiercely Eurosceptic Italian ruling coalition. According to the Lega politician, the European Union chiefs are worried that Italy will spark a populist uprising across the bloc.
"The old ruling class in Italy and Europe want to abort this government. The EU fears that if we succeed in Italy, other countries will follow us. They don't want to feed other populist movements.
"Everything we say is exploited against us." He expects speculators to attack Italian financial markets next month.
In an interview with the Italian newspaper Libero, Prime Minister Conte's top advisor said: "I expect an attack in August. The markets are populated by hungry speculative funds that choose their prey and pounce."
"In the summer the market volumes are small, you can lay the groundwork for aggressive initiatives against countries. Look at Turkey." Markets in Turkey dropped last week over growing worry over the country's economy and political leadership.
Italian assets have been strained in recent weeks over concerns Rome's government may tear up the EU's fiscal rules. Mr. Giorgetti insists the country has the resources to defend itself.
"If the market storm comes, we will open our umbrella. Giancarlo said. "Italy is a big country and has the resources to react, thanks in part to its large amount of private savings."
Lega's chief economist Claudio Borghi raised concerns over the stability of the Eurozone, warning that plans by the European Central Bank to finish its stimulus programme could prove highly damaging to Italy.
"We should worry about the euro, not celebrate its presumed stability." Mr Borghi tells La Verita.
"Either a new market guarantee is put in place, or we need to prepare for a plan B. We already have a trade surplus. The moment we have our own currency, we will have a super surplus."