Make of it what you will, to us infidels it makes no difference whatsoever under what name or flag jihadists wage war against us. The jihad is permanent & relentless. Al Qaeda is just one of a multitude of groups who are willing to kill & die to make Islam the dominant power in the world.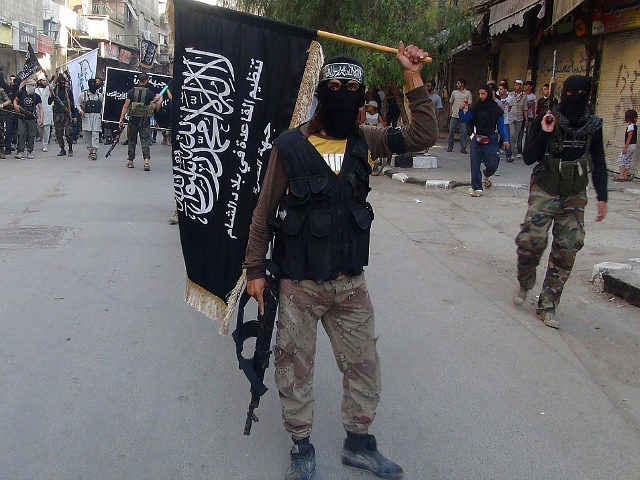 Seventeen years after it perpetrated the September 11 terrorist attack, al-Qaeda is arguably stronger and better-positioned than ever.
The consensus on al-Qaeda's strength among terrorism experts is a sobering rebuke to the notion that al-Qaeda was dealt a mortal wound when its founder Osama bin Laden was killed in May 2011.
Al-Qaeda's health is measured by three vital statistics: its military strength, its ideological strength, and the size of its sphere of influence. All three of those metrics were unfortunately boosted as an inevitable side effect of the Western war against al-Qaeda's chief rival, the Islamic State. Al-Qaeda picked up recruits, forged new alliances, and won its ideological argument with its rabid ISIS offshoot as the Islamic State "caliphate" was destroyed.
Al-Qaeda made sure it was perfectly positioned to pick up the pieces after the ISIS caliphate exploded. It exploited the dramatic discrediting of the Islamic State, which advocated seizing and holding vast amounts of territory to forge an apocalyptic Islamist nation-state that could be targeted and destroyed by mighty Western military forces – not to mention various other, much more well-established Islamist nation-states threatened by the Islamic State's existence, such as Iran.
An assessment at the Sydney Morning Herald on Tuesday found al-Qaeda boasting the "largest fighting force in its existence."
"Estimates say it may have more than 20,000 militants in Syria and Yemen alone. It boasts affiliates across North Africa, the Levant (including Iraq, Jordan, Israel, Lebanon) and parts of Asia, and it remains strong around the Afghanistan-Pakistan border," the SMH reported.
Al-Qaeda has done fairly well for itself in Syria, amassing weapons and trained fighters through its network of allies, exploiting both the war against the Islamic State and the bloody chaos of the horrendous Syrian civil war.
At the peak of its power in 2015, al-Qaeda was able to instantly dismantle and disarm the absurdly small "moderate" rebel force President Barack Obama sent into Syria with American training and weapons. Times are harder for al-Qaeda franchisees in Syria these days, but the international organization got what it wanted from the conflict and continues ruthlessly exploiting the ugly truth that it was always one of the few enemies of dictator Bashar Assad's regime with significant battlefield power. Assad and his allies routinely accuse the West of aiding and abetting terrorists by prolonging the insurrection and dismiss all enemies of the regime as "terrorists."
Al-Qaeda is very strong in Yemen and Libya – strong enough in Yemen to convince the Saudi-led coalition fighting the Iran-backed Houthi insurgency to pay off al-Qaeda fighters instead of engaging them in combat. Here again, al-Qaeda has cunningly positioned itself as the lesser of two evils, and perhaps even an ally of the United States and its coalition against a more pressing military threat.
"Elements of the U.S. military are clearly aware that much of what the U.S. is doing in Yemen is aiding AQAP and there is much angst about that. However, supporting the UAE and the Kingdom of Saudi Arabia against what the U.S. views as Iranian expansionism takes priority over battling AQAP and even stabilizing Yemen," Jamestown Foundation fellow Michael Horton told the Associated Press in August.
The AP noted that al-Qaeda forces that struck deals with the advancing Saudi coalition have been allowed to fall back with "weapons, equipment, and wads of looted cash." Some al-Qaeda fighters have been actively recruited by the anti-Houthi operation, according to the AP's sources. Such arrangements risk providing al-Qaeda with even more valuable military training, and possibly hardware, not to mention mixing subversive elements into Arab military units.
In Libya, al-Qaeda swiftly exploited the chaos unleashed by President Barack Obama's invasion and the fall of dictator Moammar Qaddafi – who was, despite his many, many flaws, a critic of Osama bin Laden and paranoid about the threat jihadi groups like al-Qaeda posed to his power.
The U.S. military has been working with the internationally-recognized government of Libya – which controls only a portion of the country – to conduct airstrikes against al-Qaeda targets.
The Islamist contagion from Libya has been spreading across Africa, prompting an American response described as a "shadow war" largely invisible to the public until U.S. troops were killed in a terrorist ambush in Niger.
Al-Qaeda's splinter group Jamaat Nusrat al-Islam wal-Muslimin (literally, "The Group to Support Islam and Muslims") is one of the major regional threats. It was officially designated a foreign terrorist organization by the U.S. government last week. The huge new American drone base under construction in Niger will be capable of launching strikes into Libya against al-Qaeda and other jihadi groups.
Al-Qaeda retains a dangerous presence in Iraq, thanks in part to a political strategy similar to the one it followed in Yemen and Libya, presenting itself to locals and government officials as an alternative to ISIS and Iran-backed Shiite militia. Constant ISIS threats to reorganize in Syria and Iraq help to drag the spotlight away from al-Qaeda's stealthier activities. It is not easy to tell where ISIS ends and al-Qaeda begins in Iraq, which was the scene of the al-Qaeda schism that created the Islamic State.
The al-Qaeda network even has tentacles in Iran, where some of the group's leaders fled after the Taliban lost control of Afghanistan. Questions about how much help the Iranian government gave al-Qaeda or whether Tehran actively cooperates with the terrorist network are hotly debated.
Al-Qaeda's strategic alliances have proven more useful and durable than the Islamic State's frenzied efforts to pressure jihadi groups into pledging allegiance. The most infamous of these allies, the Taliban of Afghanistan, have endured 17 years of U.S. and allied military operations and currently control at least a quarter of the country.
The Taliban is very close to achieving one of its major objectives: direct talks with the U.S. government. It is difficult to imagine a negotiated peace with the Taliban that would not infuse the Afghan constitution with their ideology and put Taliban members in top government and military positions, which are both highly desirable outcomes for al-Qaeda. A United Nations panel confirmed in June that al-Qaeda remains closely allied with the Taliban. The Afghan group's stubborn refusal to abandon al-Qaeda under decades of immense Western military pressure greatly enhances the prestige of the international terrorist organization.
Al-Qaeda's allies in Somalia, al-Shabaab, are such an active threat that American forces have been obliged to bomb them as well. Over twenty U.S. airstrikes have been conductedagainst al-Shabaab in Somalia this year, a significant increase in operational tempo since the end of the Obama administration. Somalia is one of the few African theaters where the Trump administration openly plans to maintain a U.S. military presence.
Al-Qaeda's ideological threat is the most difficult aspect of the group's persistence for Western analysts and policymakers to discuss. Simply put, the past 17 years have conclusively disproved the old bromide that al-Qaeda and its allies were a "tiny minority of extremists" that "hijacked" the religion of Islam. We may hope they remain a minority and they certainly are extreme, but they definitely are not "tiny."
The Taliban's persistence is an instructive example of the strength of al-Qaeda's religious ideology. The Taliban have been fighting a brutal war of attrition against Afghan security forces and American troops for almost two decades. They usually suffer at least as many casualties as they inflict, but they have no difficulty recruiting fresh troops. It is likewise difficult to point to an area where al-Qaeda is having trouble replenishing its manpower.
In other theaters, al-Qaeda appears to be enjoying considerable success at recruiting former members of the Islamic State and its allied organizations, themselves persistent despite defeats in Syria and Iraq that would seem to demolish their claim to preside over a caliphate.
There is little evidence that jihadi groups activated by bin Laden's network are growing discouraged and giving up the fight; instead, they look for better leadership when their old gang is beaten. Al-Qaeda's growing influence in Asia is grim evidence that their appeal extends beyond Arabs. Conventional wisdom in the West now holds that "nation-building" is sheer folly in any theater where al-Qaeda or its offshoots have a strong presence – which is another way of conceding that its jihad ideology is too popular to extinguish by defeating its armed forces or killing its leaders, and it is too strong for moderate Muslim political leaders to overwhelm.
If there is any good news in this grim picture of al-Qaeda's strength in 2018, it is that Osama bin Laden's terrorist network has endured and prospered largely by abandoning flashy big-ticket terrorist attacks like 9/11. Analysts routinely credit al-Qaeda's relative subtlety, its interest in developing political strength, and long-term alliances instead of drawing attention to itself as ISIS does for its survival.
The question is how long al-Qaeda will be content to fight its adversaries in the Middle East and Asia instead of slaughtering American and European civilians. The United Nations warned in August that al-Qaeda, under the leadership of Osama bin Laden's vengeful son Hamza, could become a more active global threat as ISIS fades and its fighters migrate back to their parent organization. Al-Qaeda does hold territory in places like Libya and Yemen, giving it the kind of money, recruiting appeal, and striking power that made ISIS so dangerous.
An Arab News assessment on Monday of the strategic threat posed by al-Qaeda pointed out that al-Qaeda could be waiting for some of the Islamic State's key allies in Africa, Egypt, and Pakistan to switch allegiance back to them before making big global moves:
It is obvious that Al-Qaeda has been largely left alone in recent years, as global and regional powers vented their anger against Daesh, which was undoubtedly a bigger and more immediate threat. But the situation could change if Al-Qaeda is able to undertake new attacks, particularly against the US and its Western allies. That it has failed to do so until now was primarily due to its declining power and failure to attract more recruits
Al-Qaeda's strength and sophistication are undeniable. They are playing a much longer game than the Islamic State, and they have learned to play it carefully – but eventually, they will make more aggressive moves, because they still believe making war against the West is necessary.
Seventeen years after 9/11, America endures. So does the enemy.