French President Macron: "No such thing as a true Dane, true Frenchman"
Back in March, legendary Hollywood actress Brigitte Bardot did not mince words about the Islamization of France when she declared: "I did not fight against French Algeria to accept an Algerian France, I do not touch the culture, the identity and the customs of others, let's not touch mine."
Her words about culture and national identity were in stark contrast to those of French President Emmanuel Macron, who enraged his own country's politicians when he asserted that "'true' Frenchmen and Danes 'do not exist', and attacked the people he rules over as stubbornly resistant to change while on an official visit to Denmark." Macron also believes that "he has succeeded in provoking 'cultural change' in the native since his election last year."
Macron is an open borders globalist whose country has flagged "more than 78,000 people" as jihadist security threats in 2017, even more than there are in Germany and the UK. Christine Tasin, the President of "the French anti-Islamization movement," Résistance Républicaine, gave three reasons: "there are more Muslims, more criminal Muslims and the Muslim Brotherhood has more influence in France than in any other EU state." This is thanks to Macron, who, like other globalist leaders, pays no attention to these warnings and exposes his citizens to danger.
Very much like Trudeau in Canada & Merkel in Germany.
In other news:
France condemns US aid cut to UN Pali terrorists
France studying 'new possibilities' of financial support to UNRWA, particularly for actions in favor of education
Macron Slams Swedish Populist Leader Days Before Election
"Macron Tells Denmark 'No Such Thing as a True Dane, True Frenchman'", Virginia Hale, Breitbart, August 30, 2018:
French politicians have reacted with anger after Emmanuel Macron asserted that "true" Frenchmen and Danes "do not exist", and attacked the people he rules over as stubbornly resistant to change while on an official visit to Denmark.
The French president made the remarks while on a three-day tour of Denmark and Finland, where he is hoping to establish a "progressive arc" of nations supporting his vision of a globalised EU superstate, which would revolve around a liberal conception of human rights, ahead of European Parliament elections next year.
Speaking before a gala lobster dinner on Wednesday, at which Denmark's Queen Margaret was in attendance, Macron praised the Scandinavian nation as one which is "completely open to the rest of the world" compared with a France whose people he said showed a "Gaulish stubborn resistance to change".
France has a "deep and complex identity, which has always been thought of as universalism", the former investment banker said, before stating he believes he has succeeded in provoking "cultural change" in the native since his election last year.
"People are changing their minds, they are much more open to risk," he told the event, which was broadcast on Danish television.
"You will see France transformed by its people."
Asked by a Danish student about the future of national identities in Europe, Macron said that "the 'true Dane' does not exist…..
Macron's Partition of France?
by Yves Mamou  •  August 25, 2018 at 5:00 am
The first legislative rider abolished the obligation of religious associations to declare themselves as lobbying groups — a measure that clearly opens the way for entities such as the Muslim Brotherhood to lobby Members of Parliament without leaving a trace.
Is it, however, the business of the secular State of France to organize Muslims and train "republican" imams?
The tradition in France ever since the 1905 secularism law — one accepted by all religions except Islam — is that religion may not to impose its rules on secular society. Now it is France that must adapt to Islam.
The big question is: Who will be heading and managing this new framework? Will it be the Muslim Brotherhood, the most powerful organization, which controls more than 2,000 mosques in France? Or a young guard of Muslim technocrats close to the president but with no ties to mosques, imams and the organized Muslim community in general?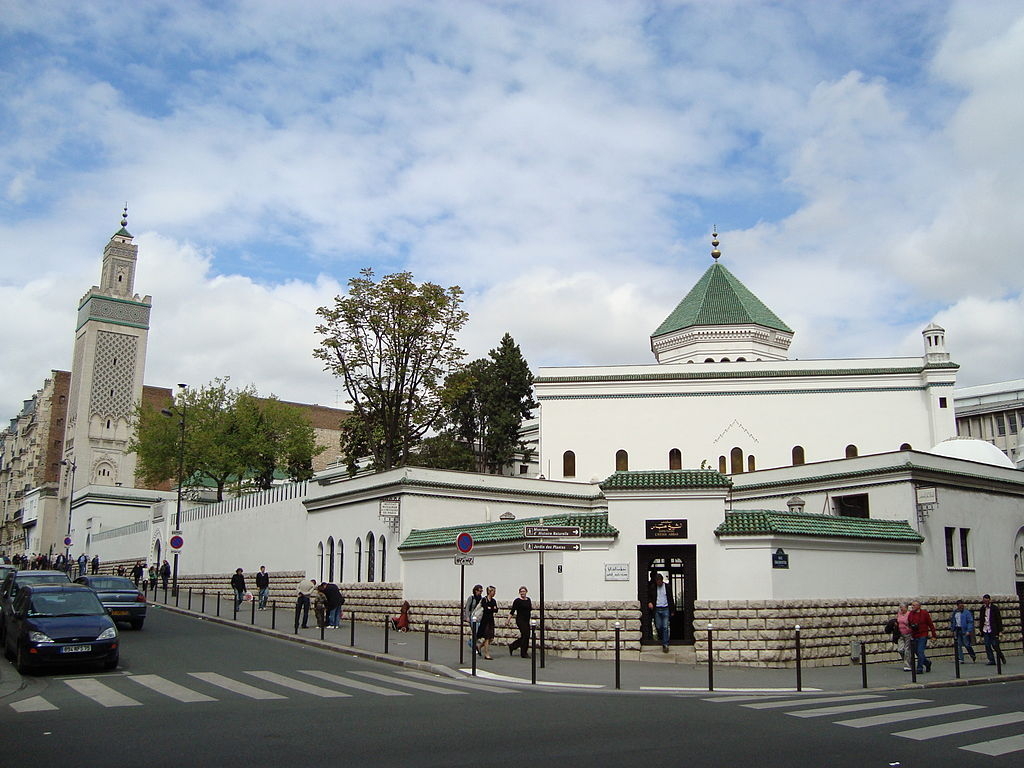 The Grand Mosque of Paris.
.
In a confessional book, "A President Shouldn't Say That…", published in 2016, a few months before the 2017 French presidential election, France's then President François Hollande admitted that France has "a problem with Islam. No one doubts it," he wrote. He wrote as well that France has a problem with veiled women in public and with mass immigration. Then he added: "How can one avoid a partition? Because that is still what is happening: a partition".
The "partition" about which Hollande was talking was the partition of France — one part for Muslims and another for non-Muslims.
Continue Reading Article