Chinese State Media: Muslim Uighur Internment Camps Promote 'Interfaith Harmony'
Interesting that the muslims are objecting to the strong arm tactics that were used to convert them in the first place.
Correction: the muslim conquerors didn't offer re-education camps, they presented the choice of convert or die.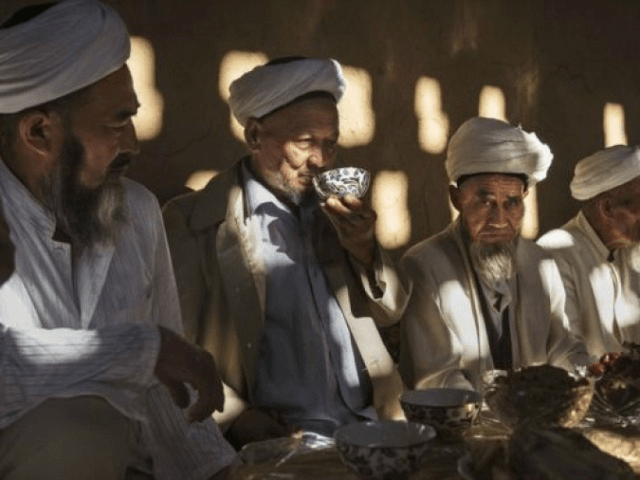 The Chinese state-owned Global Times suggested this week that the internment camps established by Beijing to torture, harass, and imprison hundreds of thousands of members of the Asian country's Uighur Muslim actually encourage "interfaith harmony."
Citing the CPC-affiliated Qiushi Journal, the Global Times argued on Wednesday that the internment camps, also known as re-education centers, are trying to preserve the "interfaith harmony" that "has been the mainstream between different religions" in the Muslim Uighur (or Uyghur)-majority Xinjiang region, the largest province in China.
The state media outlet noted:
A commentary published in the Qiushi Journal, which is affiliated to the CPC Central Committee, on Monday said multiple regions and ethnic groups have co-existed in Xinjiang's history, with one or two major religions, but others existed simultaneously…However, "three forces" have come and denied the situation, insisting that the Uyghur people only should believe in Islam, not other religions, the article said.
Early this month, communist China enacted a law formally allowing officials in Xinjiang region to establish internment camps to combat the "three evil forces of separatism, extremism, and terrorism," the Global Times reported.
"Xinjiang's regional government last week revised its anti-extremism regulation to allow local governments to set up institutions to provide people affected by extremist thoughts with vocational skills training and psychological counseling," it explained.
Beijing has registered many of the re-education camps as "career development centers" to avoid backlash, according to the State Department.
Jihadis based in Xinjiang, which borders war-ravaged Afghanistan and Pakistan-controlled Kashmir, have carried out attacks inside of China.
Many human rights groups have accused Beijing of employing oppressive tactics against Uighur Muslims under the guise of counterterrorism efforts.
In May, the U.S. State Department acknowledged that Beijing has forced "hundreds of thousands" of Muslims, and to a lesser extent Christians, into the internment camps for practicing their faith outside of the control of the communist party.
China is subjecting faith-adherents to "transformation through re-education" inside camps where authorities force them to listen to propaganda, all intended to ensure the worshippers remain loyal to the Communist Party, the State Department revealed.