Robert Spencer
As Hugh Fitzgerald has often noted, Islam attracts the psychically marginal, for it provides a total explanation of the universe, taking away the difficult necessity of making moral decisions on one's own. Islamic apologists often criticize Christianity for offering only "vague moral precepts," comparing it unfavorably to Islam, which has a rule for everything that human beings can imagine doing. It is understandable that this total regulation of life would appeal to someone who has suffered from mental problems, as Sinead O'Connor has so publicly. That makes this a sad story. It is not, as O'Connor, aka Shuhada' Davitt, "the natural conclusion of any intelligent theologian's journey"; if that were the case, there would be a steady stream of intelligent theologians converting to Islam, and it has yet to be proven that Sinead O'Connor is either intelligent or a theologian. It is much more obviously the ruthless exploitation of an emotionally unstable woman, and that is a shame.
"Sinead O'Connor converts to Islam, changes name to Shuhada' Davitt," by Debbie McGoldrick, IrishCentral, October 25, 2018:
We'll always know her best as Sinead O'Connor, but now she's got yet another new name, Shuhada' Davitt, and a new religion, Islam.
Shuhada', also previously known as Magda, revealed on Twitter last week that she's ditched the Catholic Church for good.  You'll remember many moons ago that she was an ordained priest in a breakaway Catholic sect and used to walk around in a priestly collar, but no more.
"This is to announce that I am proud to have become a Muslim. This is the natural conclusion of any intelligent theologian's journey. All scripture study leads to Islam. Which makes all other scriptures redundant. I will be given (another) new name. It will be Shuhada'," Sine…sorry, Shuhada', tweeted.
Pamela Geller:
Shuhada', who underwent intensive mental health treatment in the U.S. last year with help from Dr. Phil, posted a video of herself singing the Azan, the Muslim call to prayer. Her voice is still in fine form, but she lamented her performance.
"Here is my 1st attempt at singing the Azan. I got some pronouncition (sic) wrong because emotions took me from my page… but there'll be hundreds of others onstage to come …," she wrote.  "When I've practiced it 30 times i'm Gonna make the world stop turning."
She's rocking some Muslim garb too as you can see from the photo. "My best friend, Elaine just gave me my 1st Hijab and she got chills all over her body when I put it on. Not gonna post a photo because is intensely personal. And I'm an ugly old hag. But I'm a very, very, very happy old hag," Shuhada' proclaimed….
Delingpole: Sinead O'Connor – Nothing Compares 2 Allah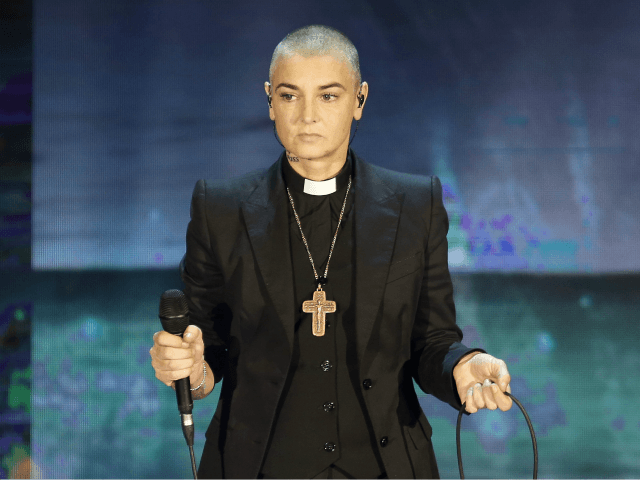 Sinead O'Connor, the bald Irish chanteuse best known for her Prince cover "Nothing Compares 2U", has converted to Islam.
What conclusions can we draw from this?
No more pop hits.
The tragic precedent was set by pop's previous most famous Muslim convert, Yusuf Islam — the artiste formerly known as Cat Stevens. When Cat was Cat, the hits kept rolling — "Morning Has Broken", "Wild World", "Father and Son". His album Tea for the Tillerman has sold three million copies; "Sitting" (from Catch Bull at Four) was nearly used as the theme tune to The Office till Ricky Gervais changed his mind. But after he became Yusuf — zip, nada. Partly, he was creatively spent, but partly he'd been told by some Muslims that music was haram. So he stopped making music for thirty years. In the 2000s, he resumed his career, but it was never quite the same.
No more suicidal depression.
Well, let's hope so. Last year, as Breitbart reported, O'Connor said in a heartrending Facebook video that she was mentally ill and close to suicide. She would certainly not be the first troubled kufar to seek solace in the bracing rigours of Islam. Daniel Pipes has been keeping a list. It even includes the unlikely figure of actress, model, businesswoman, whatever Lindsay Lohan.
No more religious conversions
Born a Roman Catholic and educated by nuns, in the late nineties O'Connor was ordained as a priest in the Irish Orthodox Catholic and Apostolic Church (an independent Catholic group not in communion with the Catholic Church).
In 2007, she was still claiming to be a Christian, telling one interviewer: "I think God saves everybody whether they want to be saved or not. So when we die, we're all going home… I don't think God judges anybody. He loves everybody equally."
She describes her conversion to Islam as "the natural conclusion of any intelligent theologian's journey." Which it is, almost by definition. Once you've converted to Islam that's the end of the religious road: it doesn't look kindly on apostates…
No more jokes
Well, not unless you're braver than I am…