As you can imagine, his former leftist comrades are up in arms and will do anything to discredit him with the usual smears. Chris Bowen already had a go at him this morning on the ABC, calling Latham "a bit of a joke". You wonder if Chris ever looks in a mirror.
Former Labor leader Mark Latham has joined One Nation and confirmed he will lead the minor party in NSW as he seeks to enter the upper house at the upcoming state election.
Declaring the stakes were "too high" for him to stay on the sidelines, Mr Latham announced the move on Alan Jones' 2GB radio program on Wednesday morning flanked by federal One Nation leader Pauline Hanson.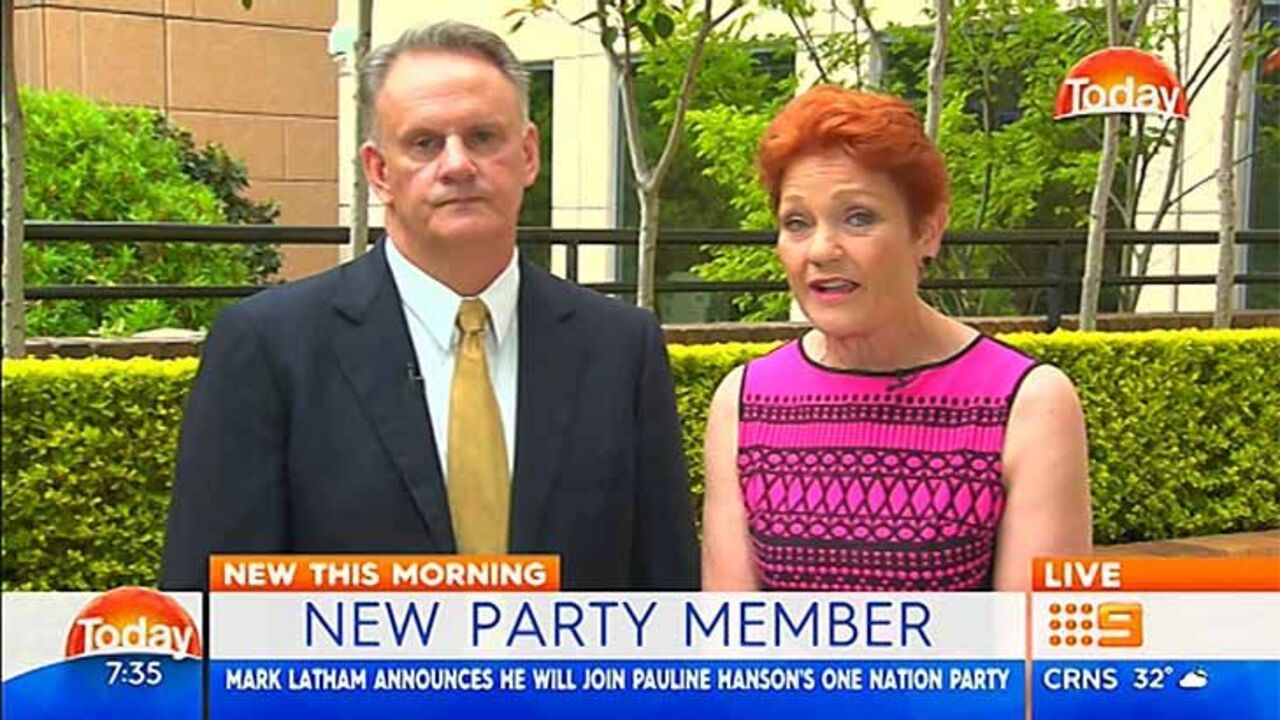 .
"This is a fight for our civilisational values. For free speech, for merit selection, resilience, love of country – all of them under siege from the left, and a lot of it is happening in state politics as much as federal," Mr Latham said.
"I'm in a position and a stage in life where I just can't stand on the sideline talking about it, I want to get stuck in and play a role as a legislator."
Senator Hanson said she had invited the former Labor leader to lead the One Nation party in NSW and he would be at the top of the Legislative Council ticket at the March state election. If successful, Mr Latham would enjoy an eight-year tenure in the NSW upper house.
Her right-hand man James Ashby has previously named Mr Latham as a potential future leader of One Nation federally.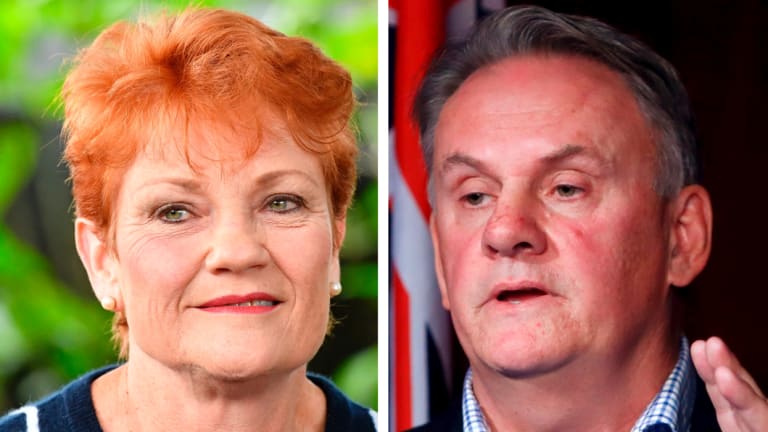 Mr Latham led federal Labor to a bruising defeat to John Howard in 2004 and has since gravitated towards more conservative political circles, including a brief fling with David Leyonhjelm's Liberal Democrats.
He stressed he wanted to focus on "practical" solutions to problems in NSW, including the key issues of immigration, congestion and overdevelopment in Sydney.
The city had become "unliveable and dysfunctional", Mr Latham told the Today program, and called for an end to urban sprawl and the "rows of apartment towers clogging up our city".
Mr Latham also said he wanted to fix "the failings of the education system", political correctness, identity politics and rising electricity prices.
He said voters once dismissed political correctness as a "novelty" or something amusing, but "now they can see this is a real attempt to march through our institutions, to control our language, our feelings, our behaviour, to fundamentally change the nature of Australia".
"I want to provide people with a third choice to say you can vote One Nation and have practical, commonsense solutions to these big issue in our state," Mr Latham said.
He also slammed "divisive employment quotas", which he said "discriminated against Christians, against white people, against men and boys".
RELATED ARTICLE
NSW Labor leader Luke Foley immediately ruled out any preference deal with One Nation at next year's state election.
"NSW Labor will not do any preference deals with One Nation. We will not preference One Nation candidates anywhere in NSW. I challenge the Liberals & the Nationals to make the same commitment," Mr Foley tweeted.
Since leaving federal politics, Mr Latham has also had numerous stints as a media commentator for various outlets, but each one ended in unfortunate circumstances.
He fell out with former Spectator magazine editor Tom Switzer, lost a column with Fairfax Media's Australian Financial Review after being outed for abusing domestic violence campaigner Rosie Batty online and was sacked by Sky News for speculating on the air about a schoolboy's sexuality.
On Wednesday, a congratulatory Jones said most of the criticism directed at Mr Latham was "based on jealousy".
Senator Hanson said she was "so proud" Mr Latham had joined the party.
"It's going to be so beneficial to the people of NSW to have him [as] state leader here," she said.
"These major political parties here won't have their own way. We need policies that are driven with ideas and driven by good policies, and to get the state moving."
The Labor Party has failed, not Mark Latham
Andrew Bolt, Herald Sun November 7, 2018
Yes, I've called Mark Latham a "misfit", "bully", "menace", "brutal" and "erratic". But I'm so glad the former Labor leader is back in politics. And Labor is so wrong to dismiss their former boss as a rat for yesterday joining Pauline Hanson's One Nation. No, Latham's not the rat, but the Labor Party he once led. Latham may have changed a bit and for the better, but Labor has changed most and for the worse. It's Labor that has ratted on the battlers it once represented.
So when Labor's treasury spokesman, Chris Bowen, yesterday sneered that "Pauline Hanson and Mark Latham deserve each other", he should realise that's a truth that damns Labor, not Latham.
Yes, Hanson's One Nation now better represents many of the poorer and more marginalised Australians who so inspired Latham to first join Labor.
Latham will now lead One Nation in NSW and stand for a seat in the state's upper house in next year's election. That should be a doddle, given he needs only 4.55 per cent of the vote, after preferences. Parked in NSW until his kids get older, he will also keep out of the hair of the equally strong-minded Hanson, up in the federal parliament, until she decides to hand over her party to him.
This is a win-win for both, who on most key social issues are on exactly the same page.
But let me explain what may seem my hypocrisy in cheering Latham today when I smashed him back in 2003. That abuse in my first paragraph all dates from a column I wrote on the day after Latham was elected Labor leader, in which I explained why he and Labor would crash and burn.
They did, of course, but in that same column I also noted Latham's virtues, ones which help make him a perfect match for One Nation.
"(Latham) does at least understand that Labor must be more practical and patriotic and more appealing to voters with dreams of getting rich," I wrote.
"He signalled that again in his post-vote press conference, repeatedly praising 'hard work' …
"He's also recently argued for tax cuts for everyone and last year wrote a scathing letter to a leading Labor campaigner for asylum seekers, accusing activists like him of having an open-door policy on immigration.
"Too many Labor people were 'now willing to excuse or rationalise away bad behaviour, such as juvenile crime, welfare fraud and illegal immigration,' he raged."
So who has changed most? Latham — or Labor? Yes, Latham now thinks a bit more before lashing out and has woken up to the menace of identity politics — the new racism of the Left.
But even in his first speech in parliament 24 years ago, he warned that the working classes of Sydney's western suburbs were being ignored by the elites and feeling the squeeze of "rapid population growth".
All this is consistent with what he yesterday said he'd fight against as a One Nation politician — overpopulation, high electricity prices, political correctness and identity politics.
And it's totally consistent with what he said yesterday he'd fight for: "… our civilisational values, for free speech, for merit selection, resilience, love of country."
It is sick and sorry that Labor now sees that agenda as so threatening that yesterday it said its former leader would never get its preferences.
That's a measure of how much Labor has rotted in the 14 years since Latham last led it. Latham summed up that change yesterday by defending NSW Labor leader Luke Foley in a way Foley can't even defend himself.
Six months ago Foley noted that our recklessly high immigration was causing a "white flight" in many middle-ring suburbs of Sydney as "many Anglo families" — more established residents — were replaced with newcomers.
That is indeed happening and not just in Sydney. We have ethnic or religious colonies forming in Melbourne, too.
But Foley was forced by Labor to apologise for saying what many working-class voters know damn well is the truth.
As Latham said yesterday, Foley had been "humiliated" — "banned by his own political party from saying two words about a reality, white flight, that is reflected in his own electorate".
That's Labor today: anti-free speech and wilfully deaf to the battlers who must pay for its new-class obsessions with mass immigration, race politics and global warming.
Thank heavens that Latham will now, with luck, become one of the shamefully few politicians who dare at least to speak.
1/ Mark Latham will lead One Nation in NSW. Picture: AAP