News updates:
Germany's biggest airports are on alert after four suspected terrorists were spotted staking out Stuttgart airport.
Stockholm "Not Keeping Track" of ISIS Returnees…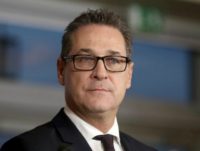 Austrian Vice Chancellor and leader of the populist Freedom Party (FPÖ) Heinz-Christian Strache has proposed halting all citizenship applications for Turks after a court ruling refused to let the government strip the citizenship of dual nationals.
Mr Strache said that due to the lack of cooperation from the Turkish government in identifying which Austrian residents also held Turkish citizenship, the Austrian government would be looking to halt all new citizenship ceremonies for Turks, Kronen Zeitung reports.
The move comes after a court ruling earlier this month which sided with a plaintiff who was set to have his Austrian citizenship revoked after being found on a Turkish electoral list which implied he was still a Turkish citizen.
The grooming gangs scandal is one of the most shameful episodes in modern British history.
This is real rape culture in the West: gangs of predatory men preying upon vulnerable victims while authorities looked the other way.
Hundreds of girls, some as young as 11, have been repeatedly raped, beaten and trafficked by groups of men who saw them as nothing more than pieces of meat.
For years, the systematic abuse went unchecked because authorities were too frightened to act, given the offenders were from immigrant communities, mainly British Pakistani Muslims.
Crippled by political correctness, police and child-protection services allowed the abuse of poor, marginalised girls and women to occur under their noses.
The Rotherham scandal was exposed in 2014, after an inquiry found more than 1400 children were subjected to repeated sexual and physical abuse for more than a decade, including gang rapes, forced prostitution, and beatings.
It revealed not only the depths of the perversity of the offenders but the cowardice of authorities who all but ignored victims' pleas for help.
Decency and the rule of law were sacrificed for "community cohesion" and "cultural sensitivity".
Those in positions of power allowed fears about appearing racist or insensitive to cultural differences to trump the protection of at-risk girls, so much so that when a Rotherham council employee attempted to raise the alarm, she was disciplined and sent to an "ethnicity and diversity course" and told she must "never, ever" again refer to the ethnic background of the perpetrators.
We've since learnt that the grooming gangs were not limited to Rotherham.
The same phenomenon of mostly Pakistani men victimising mostly poor white girls has occurred in other parts of the country, including Oxford, Peterborough, Aylesbury, Bristol, Rochdale, Telford, Halifax, Keighley, Banbury, Newcastle and Derby.
In Newcastle, a case review identified more than 700 potential victims of grooming gangs, including a 12-year-old girl who fell pregnant.
It's feared the sexual exploitation extends to boys. Male victims are even less likely to report the abuse.
One of the Newcastle gang to be convicted, Badrul Hussain, summed up the attitude of the offenders when he told a female ticket inspector: "All white women are only good for one thing — for men like me to f— and use like trash. That's all women like you are worth."
The latest lot to be convicted were 20 members of a grooming gang from Huddersfield who committed more than 100 offences, including raping girls as young as 11, in a campaign of "rape and abuse" that authorities believe involved many other perpetrators who have not yet been brought to justice.
Details of the three trials became public last month after a judge partially lifted reporting restrictions, following a challenge from the media.
Judge Geoffrey Marson, QC, described the offending as at "the top of the scale" and noted that "none of you has expressed any remorse for what you did".
"You treated them as commodities to be passed around for your own sexual gratification and the gratification of others," he said.
"The extent and gravity of your offending far exceeds anything which I have previously encountered."
It was reported that one girl aged just 12 was forcibly removed from her care home by one of the men, who brazenly told staff: "I want to f— her", while other under-age girls were picked up from school and then drugged and raped.
The offenders had got away with it for so long that they no longer feared the West Yorkshire police or social workers.
The court heard that repeated complaints to authorities from victims and their families had fallen on deaf ears.
Even now that we are learning the full horror of the abuse, there is no groundswell of condemnation from the commentariat, particularly the feminists of the #MeToo movement.
Showing the same cowardice that crippled authorities for so long, the "chattering classes" would rather look the other way than examine how such wide-scale abuse was allowed to occur.
Indeed, not only are many ignoring the grooming gang crisis, but they are lashing out at those who dare state uncomfortable truths.