Last year President Emmanuel Macron, a climate zealot, urged warmists to come fight in France after the US junked the Paris deal on global warming:

French President Emmanuel Macron blasted President Trump Thursday for pulling the U.S. out of the Paris climate agreement and offered a "second homeland" to those who are disappointed by the decision…
"To all scientists, engineers, entrepreneurs, responsible citizens who were disappointed by the decision of the president of the United States, I want to say that they will find in France a second homeland," Macron said. "I call on them, come and work here with us to work together on concrete solutions for our climate, our environment. I can assure you France will not give up the fight."
He was right to say the French would not give up the fight.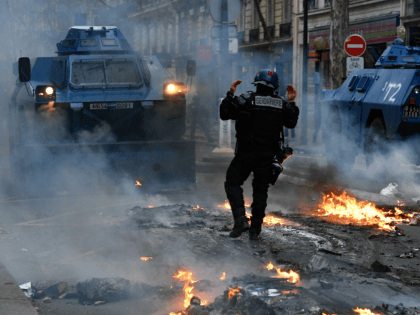 But the people who responded to his call have turned up to fight againstMacron's "concrete solutions for our climate" and not for them:
Rioters torched cars and buildings in central Paris… following… weeks of protests caused partly by higher fuel taxes which Macron says are needed to fight climate change.
Nearly 1,000 people, 100 of them minors and most without police records, are being held in custody after weekend protests in the French capital turned violent.