SOMETHING ELSE, POSSIBLY A BOOK, MIGHT BE THE CAUSE
An interesting theory on jihadist creation. "Isolation" is apparently the new "mental illness":
I daresay these researchers are mental flatliners.
International studies of young Muslim men show that radicalisation follows a sense of isolation from society
.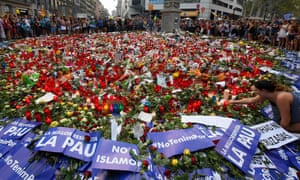 You know, sometimes it's almost as though they're searching for excuses.
In other news:
"Out of context"
Canada: Muslim cleric who said wishing people Merry Christmas is worse than murder says he was taken out of context
Muslim spokesturds constantly claim that their words have been taken out of context, whenever they're caught out expressing Islamic supremacism and contempt for non-Muslims (or jihadist sentiments). Establishment media journalists never have the wit or interest to ask them to explain exactly what context renders their words benign.
"Canadian cleric says 'Merry Christmas' is worse than murder remarks were taken out of context," by Cillian O'Brien, CTVNews, January 7, 2019:
A Muslim cleric who said wishing someone Merry Christmas is a sin worse than murder claims his comments were taken out of context.
During a sermon on December 23, Sheikh Younus Kathrada, a preacher in Victoria, B.C., said that Muslims must be offended when people worship Jesus.
Sheikh Kathrada can be seen addressing worshippers in a video titled 'Greeting Non-Muslims On Their Holidays,' published to YouTube by Muslim Youth of Victoria.
"If a person were to commit every major sin, murder, committing adultery, dealing with interest, all of these sins, if a person were to do all of those major sins, they are nothing compared to the sin of congratulating and greeting the non-Muslims on their false festivals," he said.
"It is not possible that a true believer will allow himself or herself to congratulate people, we have no shame."
By the end of the sermon, Sheikh Kathrada stressed that he never calls for the killing of non-Muslims, who should be treated justly.
In a follow-up video posted on January 5, he accused media outlets of stirring up trouble by selectively cutting and pasting parts of his speech to boost sales.
"Tonight's session is neither a retraction nor an apology," he said in the video posted to the Muslim Youth of Victoria Facebook page.
"I stand by what I said and I will not retract unless I am proven to be wrong. What you see is what you get, unedited, uncut."…
"We cannot simply get emotional and take words that people who are out to cause trouble put out there out of context," he said….