Latest update:
French 'Yellow Vests' gather in Paris for tenth weekend of protests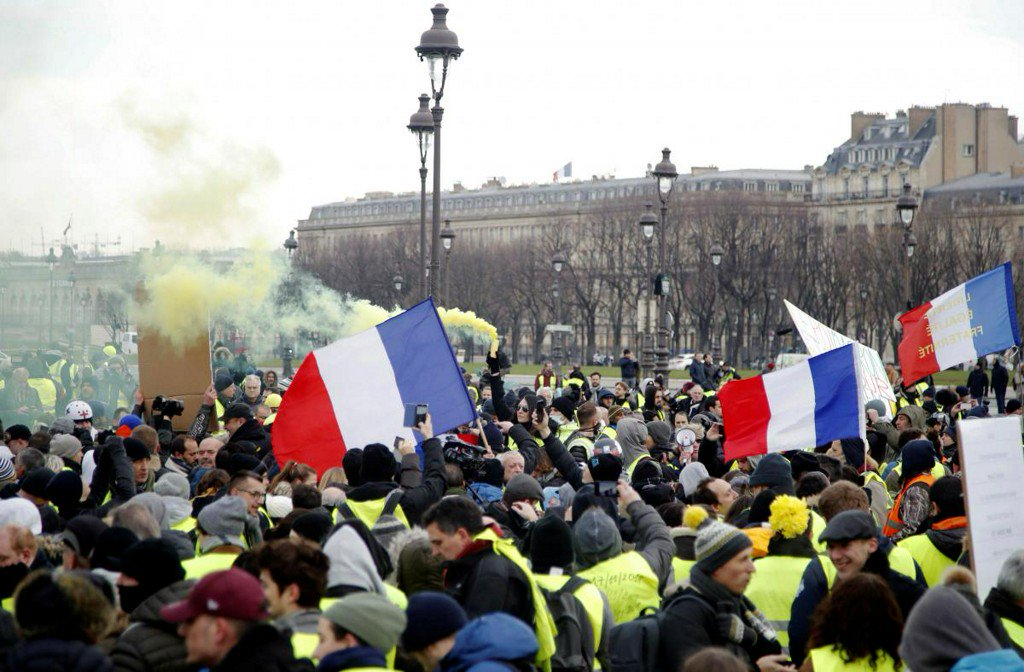 Protesters started to assemble by the Champs Elysees and the Invalides esplanade near the Assemblee Nationale lower house of parliament and the Eiffel Tower, with their numbers expected to increase during the day.
Emmanuel Macron vs. the Yellow Vests
According to the latest polls, the Yellow Vest movement enjoys the support of 70% of the French people. Meanwhile, asylum claims in France have risen by 22% since Emmanuel Macron took office.
Thanks to Vlad Tepes  we have  two videos about the ongoing political crisis in France centred around the Yellow Vest movement and the presidency of Emmanuel "Toy Boy" Macron.
In the first video Mr. Macron lectures his fellow citizens on their duties to the state:
Later Mr. Macron descended on the town of Grand Bourgtheroulde in Normandy for what was billed as a "National Debate". Hundreds of Yellow Vests converged on Bourgtheroulde, but the president was not willing to meet with them or debate them:
More on the National Debate in Grand Bourgtheroulde: France24
More from Galliawatch:
Below, January 5, Paris.
Below, January 12, Toulon.
Below, January 12, Bar-le-Duc.
Below, January 12, Nîmes.
A lot has happened in France since Saturday January 5, when the Gilets Jaunes were out in force for Act VIII of their weekly protest. Yesterday, January 12, they were out again for Act IX.

The first video above shows what many regard as proof of police brutality. It took place on January 5 in Toulon. A policeman (who they say is set to receive the legion d'honneur) is seen punching a man (an African) in the face. Later he is seen attacking GJ protesters. The African appears to be a passer-by since he is not wearing a yellow vest. In these demonstrations it is often hard to know with certainty what is going on. But we do see police spraying tear gas.

The second video above shows the protest in Paris on January 12. In the lower right a GJ leader explains that Macron has to leave, that France is in a dictatorship, that the national debate is of no interest because nothing will come of it, that every five years there's a debate and nothing ever changes. In this video the police are accused of excessive use of rubber bullets (flashballs).

The third video is really a work of art. The smoky, foggy background, the determined confident people of a small city, the music (added, I believe, by the producer) are enough to make one feel like jumping in and protesting with them. From January 12, Bar-le-Duc, department of la Meuse, eastern France.

The fourth video shows the city of Nîmes where storefronts, including banks, were smashed. January 12, Nîmes.
Below, Dr. Steve Turley reveals the unraveling of Macron's closest circle of advisers and the inevitable end of his concept of a global Europe.

Below, a 17-minute discussion from The Duran, a group headed by Alexander Mercouris, of whom I know very little. He is a debarred attorney who was involved in a scandal in England. For this reason, you may feel he is not reliable, but what he has to say seems to be accurate and plausible – if you can put up with his pompous style of speech. In this video he explains why the arrest of Éric Drouet, one of the Gilets Jaunes leaders, was a fatal mistake on Macron's part, and emphasizes the amateurish nature of Macron's leadership. He predicts bigger and more violent protests to come. And he stresses that the future of the EU project depends to a great deal on what happens in France, citing the nationalism of men like Orban and Salvini as the EU's greatest fear. (Note: there is a minor flaw in the audio at about 11:58.)
Below, Éric Drouet, mentioned in the video above, was arrested by Macron in December. Obviously, he is now out of custody and back on the front lines. He has become a high-profile superstar of the Gilets Jaunes movement, something that could backfire, if he allows his fame to blind him to what is at stake in these demonstrations. A Communist politician, the flamboyant Jean-Luc Mélenchon, has expressed interest in Drouet. Let's hope Drouet has no reciprocal interest in Mélenchon. I have read that some fear Communist infiltration into the Gilets Jaunes movement has already taken place, a very real possibility considering that the extreme left never misses a chance to disrupt and subvert any effort geared to nationalism, patriotism, and tradition.