Sculpture Celebrating Saudi Arabia Emblazoned with Inscription of Shahada Erected on Ground Zero
Gateway Pundit
NEVER FORGET!? NYC Spits on the Victims of 9/11 9 Foot Statue celebrating S. Arabia emblazoned with the Islamic creed, the Shahada, "There is no god but Allah, & Mohammed is the prophet," was erected on Ground Zero last week 15 of 19 hijackers were Saudi
Americans were outraged after a nine-foot tall statue celebrating Saudi Arabia emblazoned with the Islamic creed, the Shahada, "There is no god but Allah, and Mohammed is the prophet," was erected on Ground Zero last week.
The shape of the sculpture is made to resemble a piece of candy and depicts Saudi Arabia's green flag, the Islamic 'sword' and the Muslim conversion prayer.
This is all just a hop, skip and a jump away from where thousands of Americans were killed by Saudi terrorists who flew airplanes into the Twin Towers on September 11th, 2001.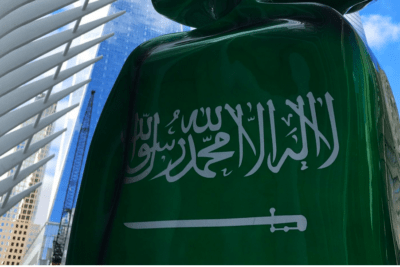 "Jaw Dropping!" "Take it down!" and "This is a slap in the face to Americans" were other responses from people who were outraged by the installation.
The nearly 3,000 people who were killed by Saudi terrorists on 9/11 were unavailable for comment.
Muslims previously tried to build a huge 13-story mosque on Ground Zero and thanks to the hard work of Pamela Geller and other brave Americans, the Ground Zero mosque was defeated in September of 2015.
Pam Geller wrote in 2015 that throughout history, Muslims have built 'triumphal mosques' on sites of conquered lands and jihadi attacks:
The Ground Zero Mosque project was a middle finger to the American people. There has never been a mosque of reconciliation and healing built on the site of a jihadi attack. Ever. It is, on the other hand, an Islamic pattern to build triumphal mosques on the cherished sites of conquered lands. History is riddled with triumphal mosques built on the sites of jihad attacks or appropriated from other religions: the Dome of the Rock and the al-Aqsa Mosque on the site of the Jewish Temple in Jerusalem, the Hagia Sophia in Istanbul, the Umayyad Mosque in Damascus, and innumerable mosques built on the sites of Hindu temples that were demolished by Muslims all attest to that.
This Saudi sculpture erected on Ground Zero may not be as imposing as a 13- story mosque, however it is still despicable that Port Authority approved of the installation.