The UN is now totally in the hands of the the OIC. Its only purpose is to destroy civilised nations and to make the world Islamic.  "Open Society" engineers like George Soros are rubbing their grubby fingers while many nations surrender under this kind of asymmetric warfare.
Amanda Hodge The Australian January 28, 2019
Turning back asylum boats at sea "puts lives at risk", and the UNHCR will continue to lobby to end the practice and for Canberra to lift its restrictions on refugee resettlements out of Indonesia, regardless of who wins the election. The UN refugee agency's Indonesia chief, Thomas Vargas, told The Australian that turn-back policies such as those used by Australia's Border Force to prevent boatloads of asylum-seekers reaching Australia "just don't work". "If you turn someone back or push them away, you risk pushing them into harm's way — and that's what is so terrible about these types of policies — rather than rescuing them, bringing them to safety and then figuring out how best they can be helped," Mr Vargas said.
"One country might say 'Yes, it's working for us', but that leaves other countries to deal with the situation and inevitably we are all in this together."
Indonesians involved in the people-smuggling trade have told The Australian they are closely monitoring federal election campaigning and say they are ready to kickstart their trade if a new government weakens the nation's tough border policies. Indonesian authorities have said they, too, are following the debate and bracing for a possible change in policy that could lead to a resumption of boats.
The Weekend Australian reported on Saturday that a boat carrying up to 200 asylum-­seekers had left India this month and could be headed for New Zealand but may plan stops in Indonesia or Malaysia.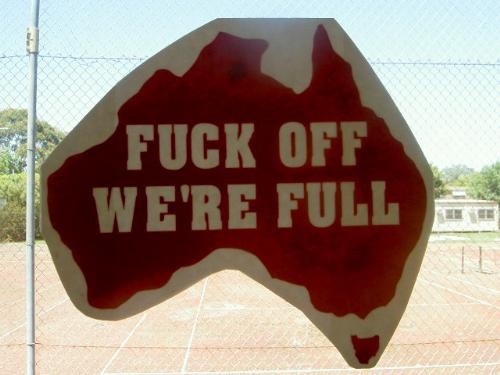 Refugee resettlements out of Indonesia have slowed dramatically in recent years as traditional resettlement countries such as Australia have increased restrictions on intakes and shifted their priorities to allow more refugees from war-torn Syria. The US has slashed its intake to a quarter of its former annual resettlement quota.
Last year just 509 of an estimated 14,000 refugees were resettled out of Indonesia, compared with 763 in 2017, and 1271 in 2016, and the refugee population has been told to expect possible waits of a decade or more.
The message prompted 455 refugees to leave Indonesia and return to their home countries last year, many of those to Afghanistan where the Taliban now holds more ground than at any time since before 2001 and civilian casualties are at a record high.
People-smugglers in Indonesia are counting on the rise in violence in Afghanistan, combined with the resettlement slowdown, to convince more refugees to chance their luck with a possible new Australian government.
Chairul Anwar, one of Indonesia's most senior bureaucrats dealing with refugees and people-smuggling, told The Australian boat turnbacks had so far been effective in ending the people-smuggling trade out of Indonesia.
"But if the resettlement process is unclear, the queue is long, and refugees have to wait years without any certainty, then they will become desperate," Brigadier General Anwar said, adding it would be "good news" if Australia was willing to take more refugees, especially out of Indonesia. "People-smuggling and irregular migration depends very largely on the stability of their original countries. The problem is we haven't seen these countries regaining stability. The Rohingyas, the Afghans, they will continue to seek asylum as long as there is not stability in their countries."
The UNHCR has been critical of Australia's ban on accepting refugees who arrived in Indonesia after July 2014 and of its boat turn-back policy, which it says endangers lives and flouts international law-of-the-sea conventions.
Mr Vargas told The Australian the UNHCR position was that "countries work together to rescue any boats in distress" and to ensure anyone in distress made it safely to the nearest port of entry.
"One way or another, governments have to find ways to work together to make sure those two things can happen and that not any one government is saddled with finding the solution and no one else is helping,'' he said.
"If you have a situation where people are not safe in their own country, and their lives are at risk if they do not leave, you can try to deter them all you want but there will be people that will risk their lives to try and save their lives and those of their families.
"So unless these wars stop, a pushback policy is ultimately not going to work.
We are not responsible for Mohammedan wars and we're not in a position to stop them.
"As long as there are push factors the boats will continue." Australian authorities say turning back asylum boats saves lives by robbing the people-smuggling industry of its main incentive, and that the policy has brought the asylum boat trade to an effective halt.
With a May federal election looming, political sparring between the Morrison government and the opposition has escalated in recent weeks over which party has the toughest and most effective immigration policies. Opposition Leader Bill Shorten has vowed to continue offshore processing of asylum-seekers and boat turnbacks if Labor is elected to government.
He has also promised an additional $500 million over five years for the UNHCR, and to accept more refugees by increasing the Community Sponsored Refugee Scheme from 1000 places to 5000.
Additional reporting: Nivell Rayda
UNHCR representative in Indonesia Thomas Vargas. Picture: ABC NEWS
Amanda Hodge, Nivell Rayda The Australian January 19, 2019
Indonesian fishermen who have previously smuggled asylum-seekers to Australia are closely monitoring federal election campaigning and say they are ready to restart their trade if Bill Shorten is elected and weakens the nation's tough border regime. Fisherman Amin Tagana, who was paid Rp50 million ($5000) to ferry asylum-seekers to Christmas Island in 2014, told The Weekend Australian that smuggling bosses were "still active and monitoring the Australian election" in the hope a new government would ease the crackdown.
"People around here say this year Australia will have a new prime minister so we should just wait," Mr Tagana said.
"They say they are getting that information from their bosses. Everyone is talking about it.
"I am very excited about that. Even though I will be putting my life on the line, for the right opportunity I would do it again."
The Weekend Australian has spent the past week at the southern tip of East Nusa Tenggara — Indonesia's closest land mass to Australia and one of the country's most impoverished provinces — where people-smuggling networks once plied a brisk, lucrative trade and where hundreds of people are still based hoping to settle in Australia one day.
East Nusa Tenggara senior water police commissioner Dwi Suseno said that, although the asylum boats had all but stopped in the past few years, he, too, was bracing for a possible change in Australian policy.
"We are monitoring Australian politics and policy closely," he said this week.
"Right now we are grateful for the current policy because it's proven effective as a deterrent, but if the policy changes we might have to anticipate an increase in people-smuggling cases."
As the main people-smuggling route into Australian waters, this part of East Nusa Tenggara has been a special focus for Australian Federal Police officers, who in the past have closely co-operated with the Anti-People Smuggling Taskforce based in the province's capital Kupang.
The unit's local enforcement chief, Jafar Sahroni, said that was no longer the case and the unit did not have the resources to monitor people-smugglers.
"Before, there was more intelligence sharing, joint investigations," Captain Sahroni said.
"They (AFP) sent instructors here. But the intensity of people-smuggling syndicates have greatly reduced since 2015 and the capacity of national police has also improved.
"Ideally we would still be keeping an eye on people-­smugglers after they're released from jail here but we simply don't have the resources to do so. In fact for every case we handle, we have to request funding from the national police."
There were only two asylum boats intercepted in these waters last year, and two the year before, though several boats turned back by Australian navy authorities have washed up in the Rote strait.
Labor denies its policies would soften border protection, although the party is promising to abolish temporary protection visas and endorse doctor-ordered medical evacuations off Manus Island and Nauru.
Home Affairs Minister Peter Dutton said people-smugglers were "praying for a Labor government" and labelled Mr Shorten's policy "Operation Sovereign Borders-lite".
"This is not the first time (people-smugglers) have confirmed they will restart boats if Bill Shorten is elected prime minister," Mr Dutton said.
Opposition immigration spokesman Shayne Neumann said people-smugglers had been encouraged by Mr Dutton "lying" about Labor's "strong border protection policies".
"It is disgusting Peter Dutton has encouraged criminal people-smugglers to prey on vulnerable people and he should be ashamed of himself," Mr Neumann said.
The refugee community in Kupang is watching the debate in Australia for signs a new government may ease Operation Sovereign Borders.
At a community refugee house in Kupang, young Afghans spoke of their frustration at a slowdown in UN High Commissioner for Refugees resettlement to third countries of asylum-seekers in Indonesia, and their fears that the provincial governor would act on his threat to move the entire community to an isolated island at the southern tip of the country.
"Everybody looks at us as though we are criminals," a young Hazara man, Sultan, said of the Kupang community where resentment towards refugees is growing.
"If the process stays like this we will move by boat because we have no choice."
Subsistence fishing communities in this part of East Nusa Tenggara have long been a favoured recruitment ground for people-smugglers seeking crews who have fished in border waters around Ashmore reef for generations and know how to steer vessels into Australian territory.
The first time Mr Tagana did so in 2014 he used the Rp50 million pay cheque — more than he could earn in a year of fishing — to build a concrete house to replace the wooden lean-to with damp floors and leaking roof that had brought constant illness to his wife and children. He returned after three months in immigration detention on Christmas Island with high hopes of making another run but a crackdown by Australian immigration authorities, which included a policy of turning intercepted asylum boats back to Indonesia, all but ended the trade.
Now that the Australian election was months away, he said many fishermen in his village of Tablolong — a tiny hamlet which looks out onto the Timor Sea and the Australian maritime border — were hoping a new Australian government would ease the crackdown.
Mr Tagana already knows what he would do with a second smuggling pay cheque; he would start a small village shop or buy a motorbike.
"On a fisherman's salary I can't do that, so of course I want to try again," he said. "If I had the opportunity I would do it because we have been fishing our whole lives near Australian waters anyway."
Of the dozens of fishermen in Tablolong, at least 20 have played the odds in the past and ferried asylum-seekers into Australian waters.
"It made our lives better," Mr Tagana said of the people-smuggling trade.
"The reason why many people from Tablolong ended up involved with syndicates is because of economics. We know we risk getting captured or drowning at sea but it's so lucrative."
On neighbouring Rote, a remote island made infamous by the number of juvenile Indonesian asylum-boat crews wrongly imprisoned in adult Australian jails, some fishermen also cautiously await good news.
In Papela village, fishing rights activist Sadli Hudari Ardani estimates at least half of the 400-odd fishermen have crewed people-smuggling boats in the past — often to extinguish debts after their boats were confiscated by Australian authorities. But they want proof the way is open before attempting another crossing.
Iskandar Gafur, a wiry fisherman who has been arrested by Australian authorities 11 times — 10 for illegal fishing — said: "I'm sure the syndicates are watching what's happening in Australia but for us, we want to see proof. If one boat gets into Australia without being turned back to Indonesia then it's possible there will be an opportunity for us but until that happens what's the point?
"The last time I was arrested (in 2012) I signed a document acknowledging that if I got caught (people-smuggling) again I face a minimum five years in prison. Probably my wife would divorce me. That's already happened once," he laughed.
Demand among refugees for asylum boats also remains largely linked to proof they will not be wasting their dwindling resources — and their place in the formal refugee queue — on a boat that will be turned back to Indonesia.
At the Lavender Hotel, a converted refugee centre in Kupang, a 2015 Australian Department of Immigration and Border Protection fact sheet taped to the wall in a communal loungeroom warns that a recent change of prime minister "does not change Australia's policy to safely turn back boats or send people to another country for processing and resettlement".
Yet the young Afghans living here are picking up a different message from Australia right now and say they are ready to go at the first opportunity.
"Everybody came here in the hope of going to Australia," says Musa, a former journalist from the minority Hazara region of Bamiyan who fled to Indonesia in 2014.
"Everybody wishes for a change of policy and that they open the way for asylum-seekers."
The desire to leave Indonesia is made more urgent by growing resentment among Kupang residents who believe the refugees here, living in converted hotels and receiving three meals a day, enjoy a better standard of living than most locals.
The provincial governor has made it clear he would be only too happy to see them go.
Last October, when dozens of asylum-seekers were granted UNHCR refugee status and released into the community from Kupang immigration detention centre, governor Victor Laeskodat proposed shipping all 293 refugees living in the city to Ndana Island, a tiny land mass off the southern tip of Rote Island and the last Indonesian territory before Australian waters.
Though immigration officials have warned the move would cause more problems than it would solve — the island is home to a military base but has no fresh water reserves — Mr Laeskodat insists the plan is still on the table. "We understand asylum-­seekers are protected by international law … but they have been here for years, and for years they have been getting money for doing nothing," he said.
"It sets a bad example. I don't want local people here to think 'maybe I should be an asylum-seeker too'. That would be a huge problem for Australia."
1/ Former asylum-seeker boat captain Amin Tagana in Kupang, Indonesia, this week. Picture: Ed Wray