The word "racism" has devolved into a two-bit bully tactic for silencing white people.
Newsflash: my ancestors fought for free speech.
I will not be silent.
What really happened at the St Kilda Anti-Immigration Rally
The truth is a long way from where the mainstream media want you to think it is.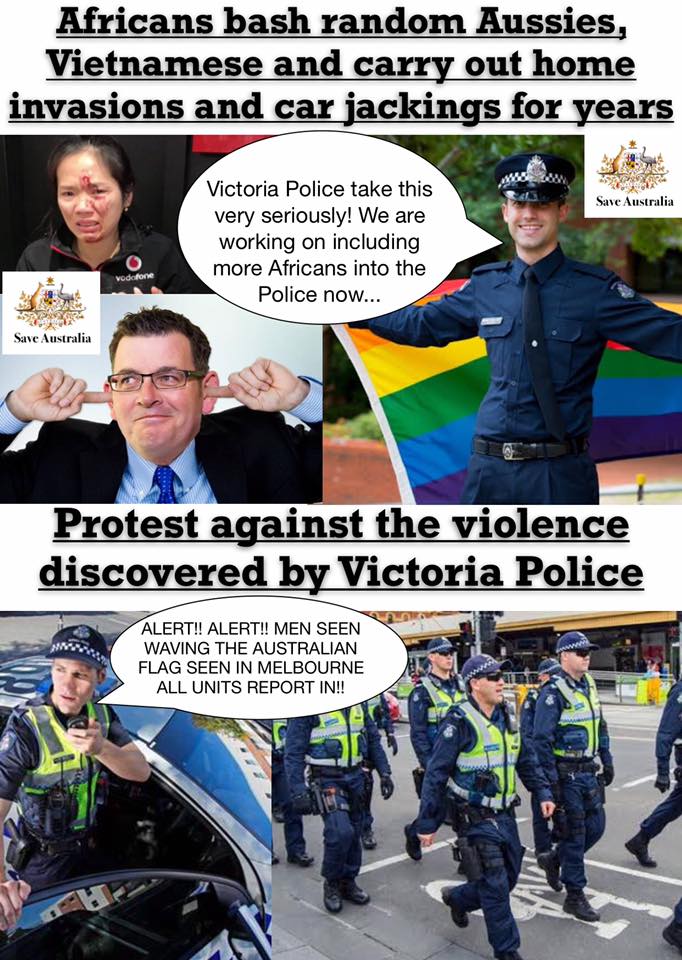 There has been a lot of Fake News regarding Neil Erikson's and Blair Cottrell's rally on Saturday 5th of January, but this vlog is here to set the record straight.
The truth is a long way from where the mainstream media want you to think it is.
Watch this vlog and please share it so we can counter the dishonest narrative of the MSM.
'This country is under attack': Alt-right activists doing Nazi salutes call on Australians to 'rise without fear' as they clash with anti-racism protesters as police try to avoid another 'Cronulla Riot'
Throngs of police have flooded to St Kilda beach to break up violent protesters 
Right-wing activists rallied to discuss African gang crime on the foreshore
Left-wing protesters, calling their counterparts 'fascists' also went to the beach 
Prominent alt-right head Blair Cottrell demanded answers on African gang crime
The scene dissolved into ugly violence when the two sides clashed afterwards 
Ateenager has been arrested and a car's windshield smashed in as far-right extremists and left-wing protesters clashed in Melbourne.
Right-wing figureheads Blair Cottrell and Neil Erikson demanded answers at St Kilda beach in Melbourne's south-east on Saturday afternoon, questioning why African gang crime rates are through the roof and claiming little is being done about it.
Roaring crowds from each side were separated by a wall of armed police officers, mounted police and the riot squad, who attended the 'peaceful discussion'.
But despite best efforts, three arrests were made, capsicum spray was used to break up fights and patches of ugly brawling and verbal abuse occurred.
Patches of verbal abuse between the two conflicting sides was broken up by capsicum spray
Protesters and counter-protesters have clashed with riot police, mounted officers and the dog squad (pictured)
Scores of riot police (pictured) were dispatched to St Kilda beach to break up any conflicts
With the police helicopter circling overhead, mounted officers were forced to intervene when shouting between two men escalated to physical blows.
A right-wing aligned rally-goer was pinned to the ground and led away by police after clashing with a counterpart.
Earlier, an attendee was seen pushing against police, trying to charge at left-wing protesters who were shouting 'your families are immigrants'.
Sure. We're immigrants. We came legally. We were properly vetted. And we came from Europe, not from Africa.
Cottrell, who was seen with Senator Fraser Anning, countered the chanting by leading a chorus of 'Aussie, Aussie, Aussie, oi oi oi' before he addressed the crowd.
'We want to know what's been done about this crime,' Cottrell told hundreds of rowdy Melburnians.
'Africans are 77 times more likely to commit home invasion … That's not racism, that's a fact!' he said, alluding to left-wing activists labelling him as a 'Nazi'.
'Rise without fear.
 This event has been taken over by racist twats
But many locals were frustrated by the turn of events. Melbourne local Iren Cutler said the African community weren't solely responsible for neighbourhood violence.
'This has been taken over by racist twats,' Ms Cutler said of the event as like-minded people around her chanted: 'No racism, no fear, Nazis are not welcome here.'
'The majority of people don't want this, we live in a diverse community, different kinds of people breaking in smashing windows stealing, as soon as someone of a different shade does they make it a problem.'
Three arrests were made, capsicum spray was used to break up fights and patches of ugly brawling and verbal abuse occurred
As crowds clashed a short distance from the foreshore, mounted officers separated the groups
But Cottrell persisted despite many sharing Ms Cutler's sentiments.
'It is our duty as Australians, we are prepared to give everything for our country. This is Australian workers united against our plight, a problem.
'All of you here know this country is under attack, we feel it when going to work.
'Immigrants live in smaller places, work for less, won't complain, they're here to replace you, but you will complain. You demand higher state of living.
'Don't be ashamed of who you are.'
While dozens of locals joined in another round of 'Aussie Aussie Aussie, oi oi oi', scores of police armed with riot shields stood between the two groups as tensions rose.
Campaign Against Racism and Fascism spokeswoman Tess Dimos said African youths are systematically targeted.
'There is no credibility to the gang violence, it's all a hyped-up image showing crime from African youths.'
These communist ratbags are liars.