Macron: France Could Ban Hate Speech Convicts From All Social Media For Life
Proclaiming those who disagree, as Criminals.
– It's what these Leftist Dictators do.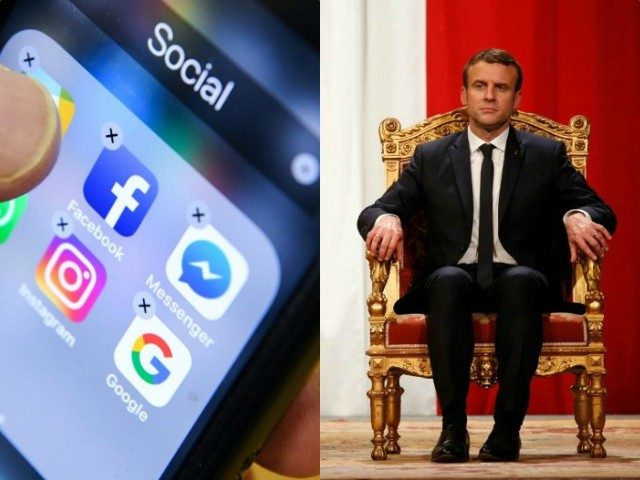 l'état, c'est moi
Who does he think he is, this parvenu? Louis XIV?
French President Emmanuel Macron has floated the idea that those convicted for crimes of hate speech could be banned from social media networks permanently.
President Macron floated the idea at the annual dinner of the Representative Council of Jewish Institutions in France (CRIR) saying that a new bill to fight against hate speech online was being tabled for May of this year broadcaster BFMTV reports.
While the bill is being floated at a time where Jews are facing rising levels of real-life anti-Semitic attacks driving whole communities out of French cities, the proposal to stifle speech online comes as President Macron faces unprecedented levels of criticism from the anti-government Yellow Vest movement. The French state has cracked down hard on Yellow Vest activists, arresting 8,400 protestors in just a matter of months.
Marine Le Pen on Muslim Jew-Hatred in France
Thanks to GoV & Vlad Tepes
In the following video, Marine Le Pen, the leader of Rassemblement National (National Rally, formerly Front National), discusses the recent increase of Jew-hatred in France, and the fact that it correlates precisely with the increase in the Muslim population.
She also points out what should have been obvious to anyone who's been paying attention: the Jew-haters of the traditional far right consider her their enemy, presumably because she doesn't blame the Jews for everything that's wrong with France.
Many thanks to Ava Lon for the translation, and to Vlad Tepes for the subtitling:
Video transcript:
In other news:
Maher: Trump Is Inspiring Terrorism with His 'Malignant Narcissistic Personality Disorder'
Trump Derangement Syndrome.
Maher is uninspiring. He's also a bit dumb. Remember when he gave Hussein Obama a million dollars for his reelection?
From the Religion of Peace: