Australia
Leftist morons in Australia are as ignorant as Leftist morons in New Zealand. The usual idiots scream: "Muslims are welcome here!"
Independent senator Fraser Anning has been censured by parliament for "shameful and pathetic" comments linking the Christchurch terror attacks to Muslim immigration. #9News
Pauline Hanson misses Anning censure motion to have surgery–See More
A bunch of tearful, pathetic wankers went against a single truthteller. This is bad news for Australia.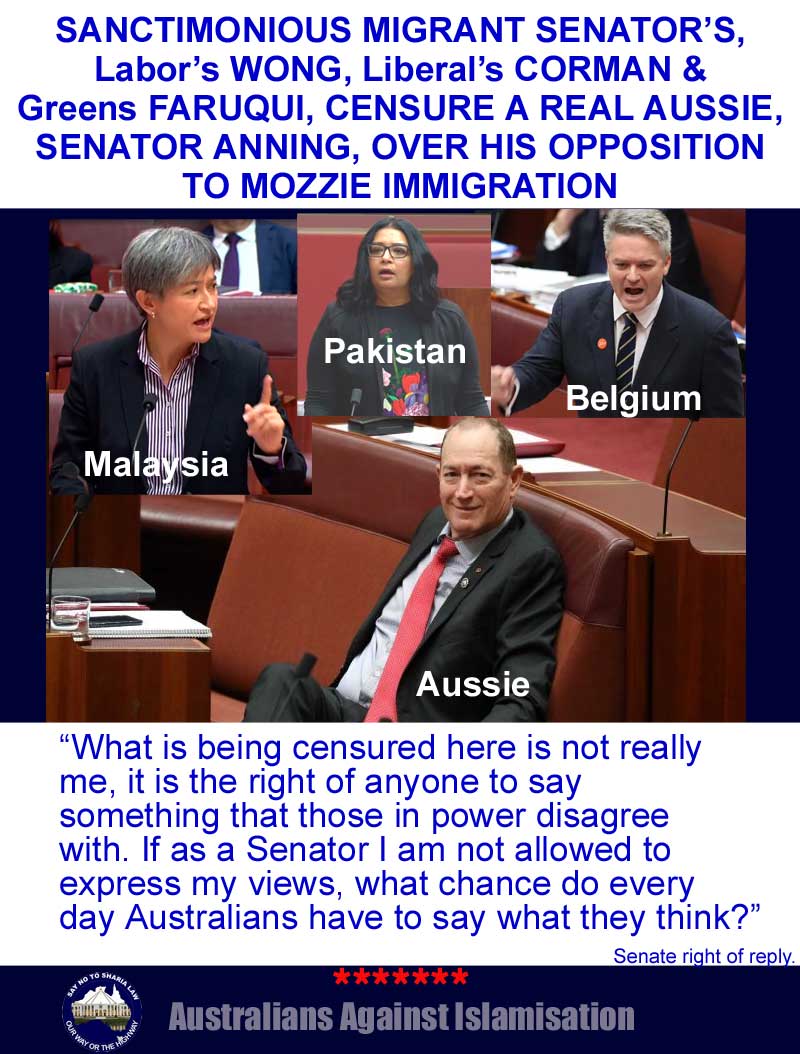 New Zealand Deputy PM under fire for saying in 2005 that Muslim communities in NZ have "militant underbelly"
The Christchurch mosque massacres are being used to shut down any negative word related to Islam, including opposition to jihad mass murder and Sharia oppression. There could be jihad activity in New Zealand; what would be preventing it? Jihad against unbelievers is taught in the Qur'ans they read in New Zealand as much as it is in the Qur'ans they read everywhere else. So what did Winston Peters say — 14 years ago — that was false? The very fact that he is being made to answer for these statements now is a manifestation of the witch-hunt, Cultural Revolution collective hysteria that is currently gripping the public square.
"Winston Peters won't apologise for Muslim comments," RNZ, April 1, 2019
.
A COUNTER-terrorism training facility that will teach tactical police how to respond to a terrorist attack in Queensland is a step closer to completion.
The $46 million project including two firearms ranges and a scenario village will built by Queensland company FKG Group and is expected to open next year, Police Minister Mark Ryan announced on Sunday.
Without Islam, we wouldn't need any of this. When will the government share with us the stats showing the % of right, left and muslims on the terror watch list?
Let it all hang out. Why pretend you disagree? The resistance is melting away already:
Brunei is simply implementing Sharia. Doesn't Michelle Bachelet know that Saudi Arabia and Iran and other Sharia states put homosexuals to death and amputate hands for theft? Will the OIC condemn her "Islamophobia," or bide its time, preferring to continue to fool Western leaders, who are so very eager to be fooled….
Meet Mehdi Hasan – CNN's newest "expert" (PuffHo writer too)
Hasan, CNN's Supremacist, can be seen ranting & preaching that non-Muslims, unbelievers and atheists live like cattle & animals.
He equates homosexuals with pedophiles & sexual-deviants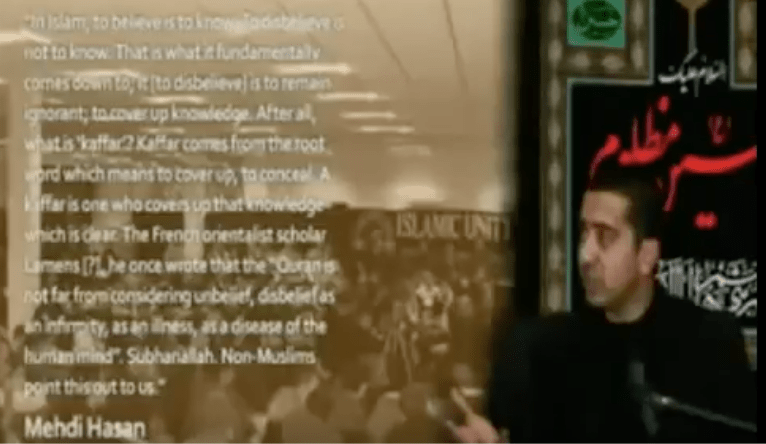 VID: https://archive.org/details/MehdiHasan_201601 …
Brunei: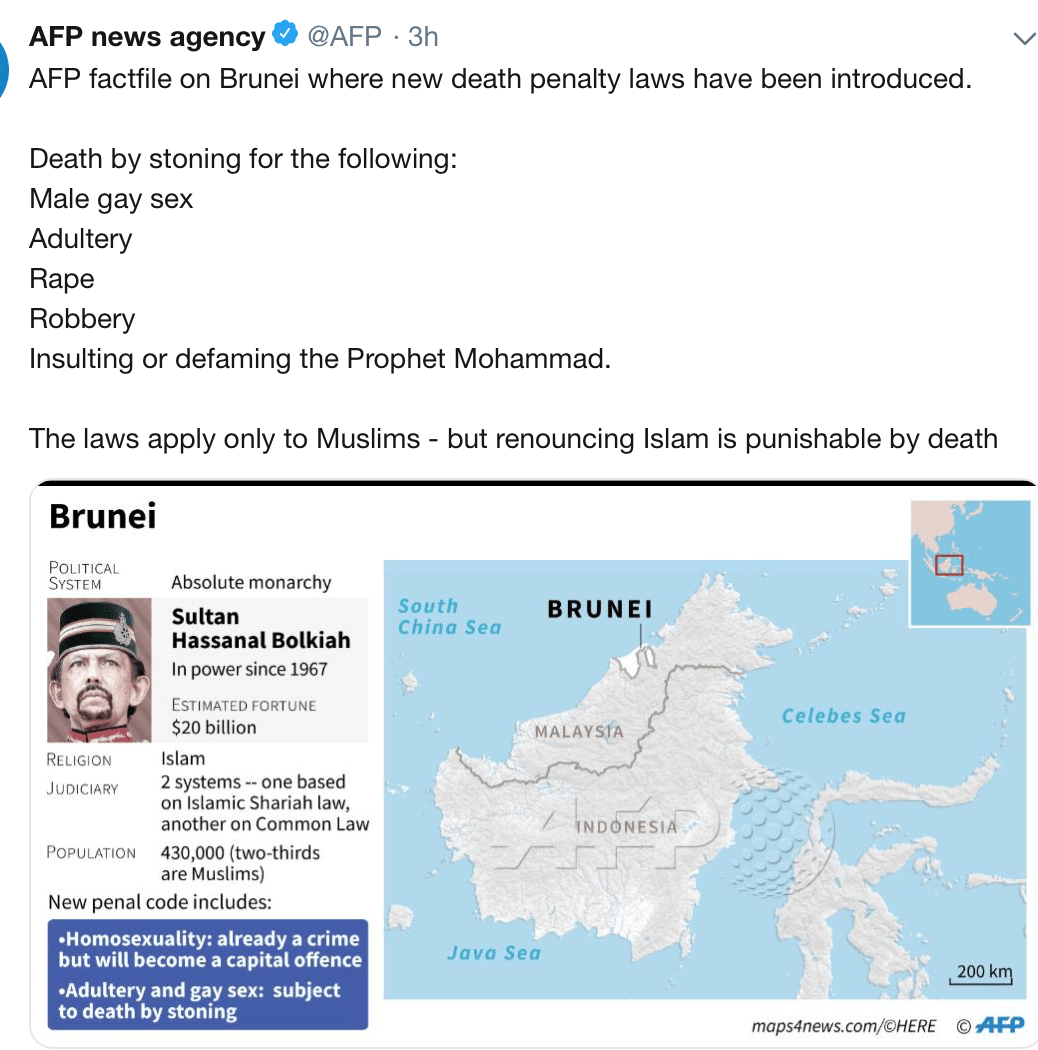 Christchurch-based Super Rugby team the Crusaders is considering changing its name and branding in response to a terrorist attack in the city:
Für Merkel is das Volk der Feind.
For Merkel, the people are the enemy.
Diese Stasi Schrulle hat Deutschland mehr Schaden zugefügt als die Nazis.
This Stasi hag has done more damage to Germany  than the Nazis.
"Freedom of Speech Must Be Strictly Regulated"
Bundeskanzlerin Angela Merkel fordert engere Grenzen bei der Meinungsfreiheit in Deutschland.