"Migrants are those who always bring us riches. Europe itself was made by migrants! The barbarians, the Celts…," he said. "All these came from the north and brought their cultures with them. Europe grew in this way, with the contrast of cultures."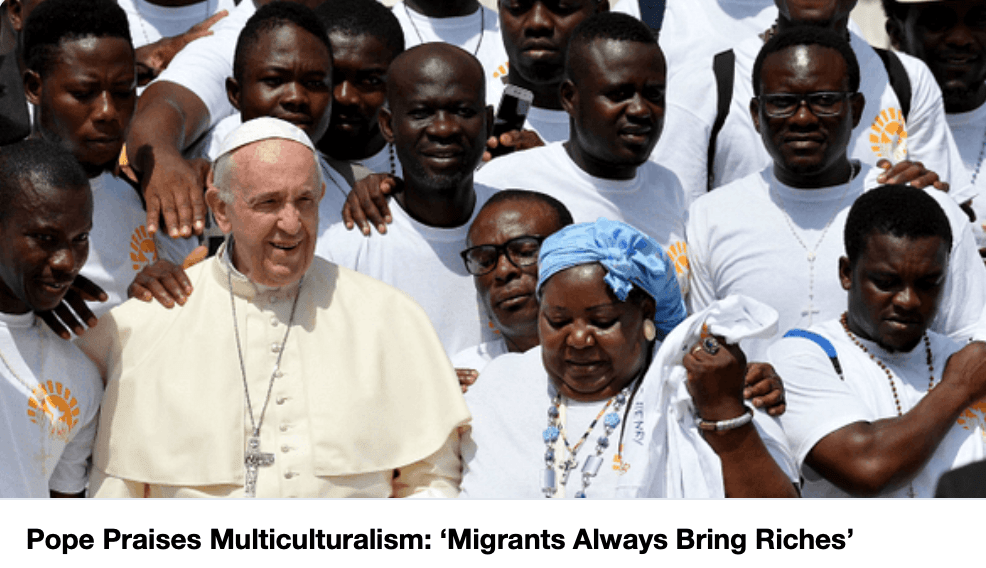 Pope Francis continued his immigration crusade this weekend, saying that migrants bring with them the wealth of a multicultural and multi-ethnic world.
"Let us thank God for a multi-ethnic and multicultural society," the pope told students and faculty of the San Carlo school of Milan gathered in the Vatican Saturday, "because dialogue among cultures, persons, and ethnicities is richness."
"We must not be afraid of the water of life, of this multiethnicity, of this multiculturalism," Francis said, "and here I touch on a sore topic: don't be afraid of migrants."–More below the fold.
21 Weeks of Massive Yellow Vest Demonstrations Against Macron
The outstanding moral courage of the French puts the rest of Europe to shame. Defiant. Resilient. Tenacious. Bloodied but never beaten.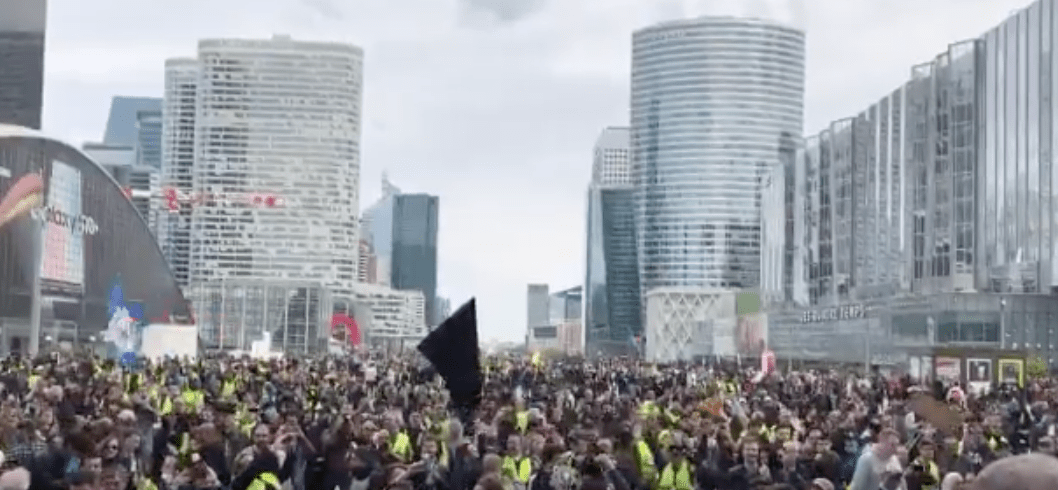 Massive Yellow Vests protests against @EmmanuelMacron continue in the French capital for the 21st consecutive week. The tide is turning across the continent, the peoples of Europe are fed up, and EU puppets like Macron are on the way out!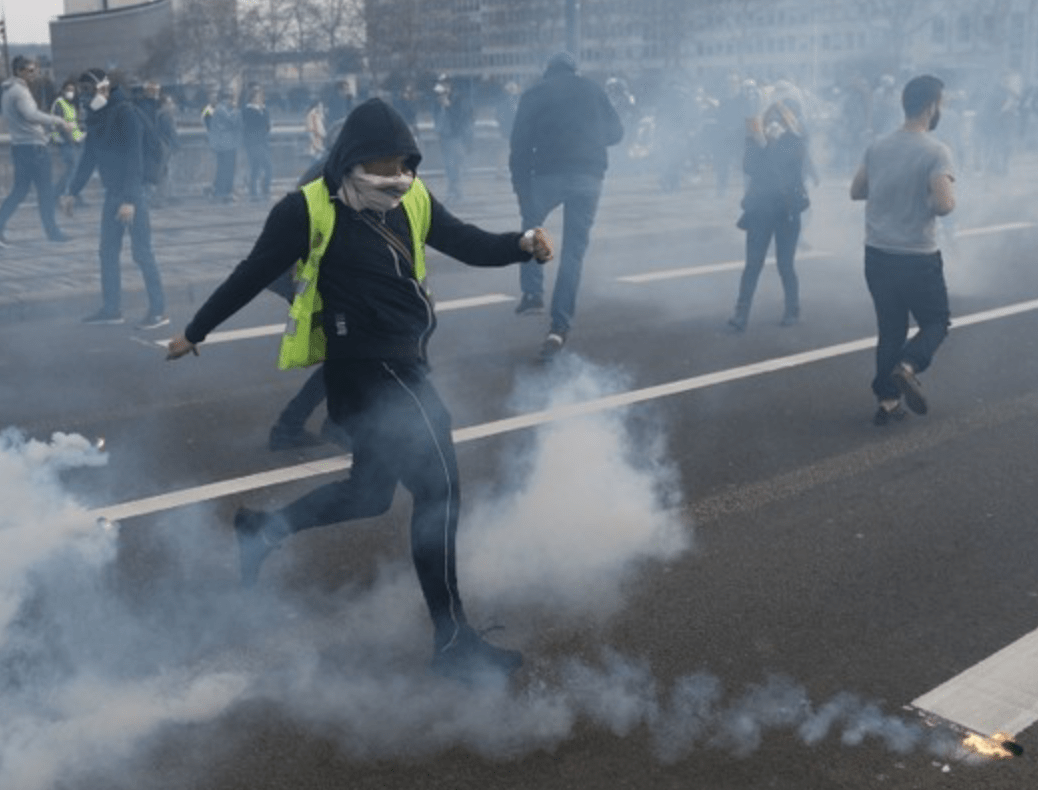 The yellow vest protests, which left 11 dead, 2,000 injured and 8,400 arrested, enter 21st week as French police continue violent crackdown on demonstrators
21 weeks in a row the Yellow Vests have marched against Emmanuel Macron, and they seem to be bigger each week. No wonder the world's globalists — including here in Canada, and in the UK — fear their symbolic uniform.
Fear of  Islam is NOT "Islamophobia".
Amanda Vanstone writes… "Islamophobia is not, "rooted in racism".
The spread of Islamic extremism  Islam and terror is the main cause of concern.
People are understandably appalled at the idea of others, let alone themselves, being beheaded or mowed down by a truck or blown to bits.
The problem we all face is not knowing who is and who is not an Islamic terrorist.
How Qatar infiltrated The New York Times
Last weekend, Israel was attacked in a new way. No, I'm not referring to the horrific onslaught of rockets Hamas launched into Israel that left two children hospitalized and five others injured; the tens of thousands of rioters who tried to breach the Gaza border fence; or the three Palestinian youths who were killed.
I'm talking about an outlandish article published in The New York Times Magazine about the Boycott, Divestment and Sanctions (BDS) movement that evokes age-old anti-Semitic tropes to accuse prominent Jewish philanthropists, like Haim Saban, of holding the Democratic Party hostage on Israel — authored by a man with ties to one of the world's biggest sponsors of terrorism.
Many rushed to shame the Times for welcoming  writer Nathan Thrall's "propaganda." But it isn't just the propaganda or anti-Semitism that should concern Jews everywhere – it's Nathan Thrall himself and his alarming ties to Qatar. A deep dive by the Free Beacon revealed that Thrall is employed by an organization that receives funding from the Qatari government and has ties to several anti-Israel and anti-Semitic activists.
In his off-the-cuff address, the pope seemed to continue a discussion from last week in which he attacked U.S. President Donald Trump over his proposed border wall. Asked by a reporter what he thought of Trump's wall, the pope warned that "builders of walls, whether they are of razor-wire or brick, will become prisoners of the walls they build. That's history."
We need bridges and "we feel pain when we see people who prefer to build walls," he said.
Continuing in the same vein, the pope told the teachers and schoolchildren Saturday to beware of those who build walls.
"Today there is the temptation to make a culture of walls, to erect walls, walls in the heart, walls in the earth to prevent an encounter with other cultures, with other people," the pope said. "And whoever erects a wall, whoever builds a wall will end up as a slave inside the walls he built, without horizons. Because he lacks this otherness."
Addressing the hypothetical question of whether all migrants should be welcomed, the pope said the first thing was to keep an open heart.
"If I have a racist heart, I have to examine why and convert," Francis said. "Migrants must be received, accompanied, integrated. Let them receive our values and let us receive theirs, an exchange of values."
"This is the beauty of human generosity," he concluded. "We grow richer by welcoming others. Richer in culture, richer in growth."
"But building walls is useless," he said.
What we need is "an open culture that allows us to look at the foreigner, the migrant, the member of another culture like a subject worth listening to, considering, and appreciating," he said.