"The Easter attackers are 'not Muslims'. This is not Islam"
(Pull my other leg.)
The bodies of 15 people, including six children, were discovered at the site of a fierce firefight at a home on the east coast of Sri Lanka after suicide bombers targeted approaching security forces.
A police spokesman on Saturday said three suspected suicide attackers were among the 15 dead in the shootout, which came six days after the killing of 253 people on Easter Sunday.
The three men set off explosives, also killing three women, inside what was believed to a safe-house near the eastern town of Kalmunai on Friday night.
Sri Lanka suicide bombers 'blew their wives and children up' during raid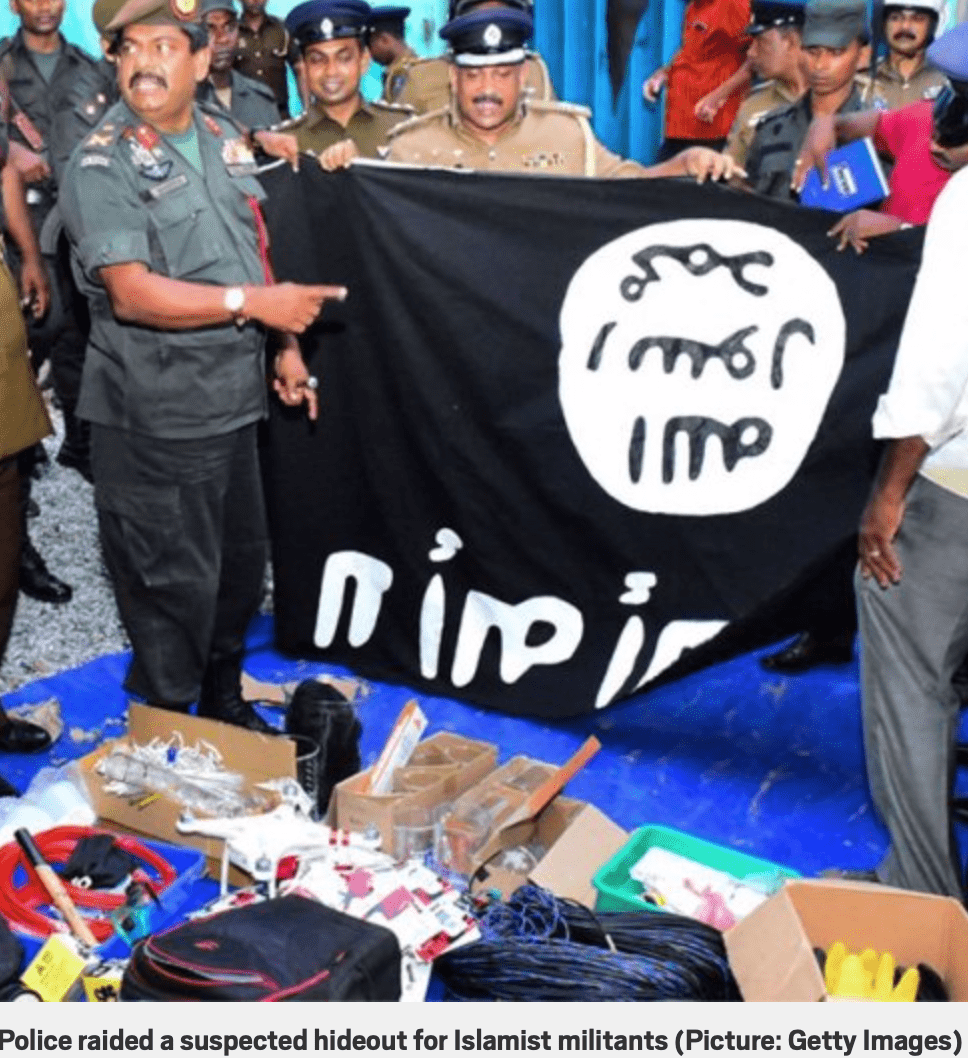 Police raided a suspected hideout for Islamist militants (Picture: Getty Images) Sri Lankan security forces have discovered 15 bodies after an explosion and gun battle at a hideout for suspected Islamist militants linked to the Easter bombings. The dead included six children and three women believed to be family members of the suspected militants, police said. The battle started on Friday night after police tipped off soldiers to a suspected safe house near the town of Sammanthurai, where authorities said the militants detonated three explosions and opened fire. At least three others were wounded in the attack, said police spokesman Ruwan Gunasekara. He said that some of the dead likely were militants who blew themselves up in suicide bombings. Earlier, the military said at least one civilian had been killed in the attack.
Continued below the fold.
(Because) it was Easter Sunday their teacher asked them, "How many of you are willing to die for Christ?"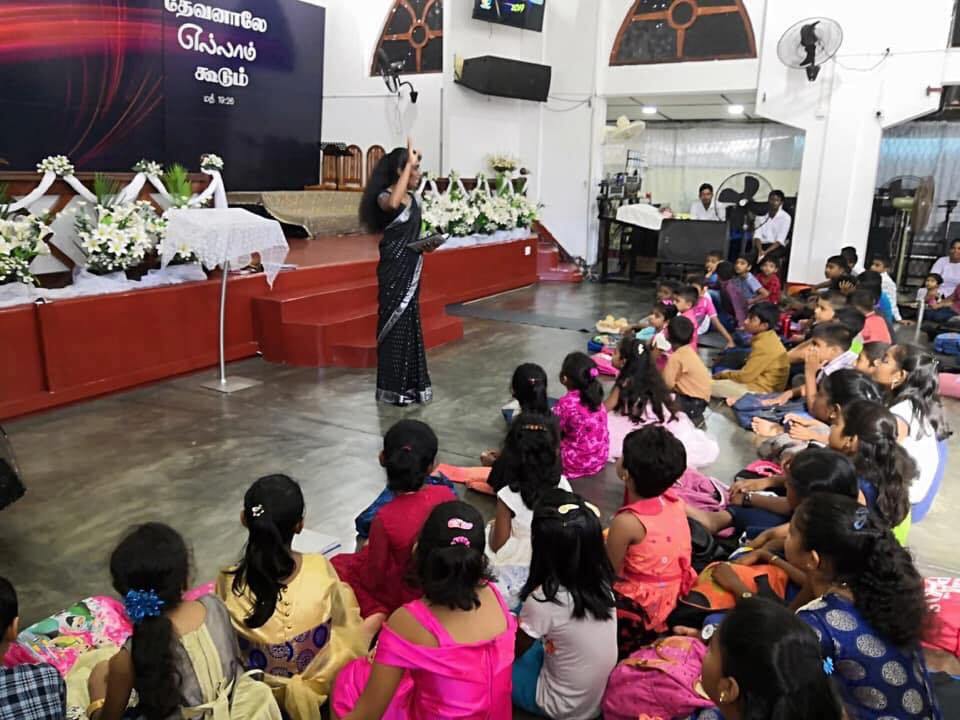 According to a teacher who survived what was about to happen, all the children put their hands up. They then spilled out into the church grounds to play.
Sri Lanka is under siege. The jihadis are active and are successfully "casting terror into the hearts of disbelievers" (Qur'an 8:60), who are now being subverted. "Sri Lanka deployed thousands of security forces on Friday to protect mosques." That's because Sri Lanka is worried about retaliatory attacks. One can understand this, but rather than protect the churches from further jihad attacks, Sri Lankan authorities have "ordered the country's religious leaders to keep all Catholic churches closed and not to hold prayer services" until further notice. Then why not order the same closure for mosques?
More below the fold.
Sri Lanka bombers 'hated Christians'
Mohammedans  must hate all disbelievers. That's what the religion demands. It just so happens that the Christians are the easiest target in Sri Lanka. And we all know they're too meek to fight back. Candlelight vigils, singsong & prayers will not change that.
Mohammedans hate everyone who is not part of their religion. Why is that not better understood. Why are we not reading their books?
'Slate' Not Sure About Blaming ISIS For Sri Lanka Attack
Left-wing website Slate, which said "all white Australians" were implicated in the New Zealand mosque massacre, isn't sure whether to blame ISIS for the Sri Lanka terror attacks.
Following the Sri Lanka terror attacks, which targeted Catholic churches and were carried out by extremist Muslims, Slate ran with the somewhat more cautious headline 'ISIS Claims Responsibility For Sri Lanka Attacks, Should We Believe Them?'
Raids and police curfews shut down areas of eastern Sri Lanka as Catholic leaders cancelled Sunday Masses indefinitely. Donald Trump branded 'threat to world order' after pulling out of Arms Trade Treaty Officials also urged Muslims to stay home for prayers in an unusual call by the clergy to curtail worship as fear of more attacks plagued the island nation. Major General Aruna Jayasekara, the local military commander, said soldiers and police waited until daylight on Saturday to carry out further raids in Eastern Province given houses being built so close together. Meanwhile, the military said security forces had recovered explosives, detonators, 'suicide kits', military uniforms and Islamic State group flags in the ongoing raids. In the same area, Mr Gunasekara said officers acting on information from intelligence officials found 150 sticks of blasting gelatin and 100,000 small metal balls, as well as a van and clothing suspected to be used by those involved in the Easter attack. Officials from the police to the prime minister say militants remain on the loose and have access to explosives, which has led to increased security at shrines, churches, temples and mosques across the multi-ethnic country of 21 million off the southern coast of India.
Cardinal Malcolm Ranjith, who is the archbishop of Colombo, told journalists on Friday that church officials had seen a leaked security document describing Roman Catholic churches and other denominations as a major target and asked the faithful across Sri Lanka to stay home for their own safety. He said: 'We don't want repetitions.' Giovanni Maria Vian, a church historian and emeritus editor of the Vatican newspaper, said he believed it was the first time the church had cancelled Masses across a country for security reasons. The US Embassy in Sri Lanka has warned the public to stay away from places of worship over the weekend, a stark alert underlining that authorities believe that attackers remain at large. Earlier on Friday, police confirmed the militant group's leader, Mohamed Zahran, died in the suicide bombing at the Shangri-La Hotel, one of six hotels and churches attacked. Zahran appeared in an Islamic State video claiming responsibility for the coordinated assault, and authorities in both Sri Lanka and Australia confirmed links between Isis and the attack.
Continued from above:
Sri Lanka protects mosques:
One must also remember that "Indian intelligence officials warned their Sri Lankan counterparts of the attack just hours before the first bomb was detonated, but the Sri Lankans failed to act," and they continue to fail the country's Christians. Also, the Sri Lankan archbishop Malcolm Ranjithbelieved Muslim envoys from jihad sponsoring states who assured him that the jihad bombings had "no connection to Islam." How shameful that Ranjith would believe this, given the pervasiveness of Christian persecution in Islamic nations.
Israel has issued a warning to Israelis to get out of Sri Lanka and told those planning trips there to cancel them, because the jihad threat continues. No country is more aware of the jihad daily. This warning should be heeded by all foreign Christians as well, particularly given the failure of Sri Lanka to protect its peaceful Christians when the government knew attacks were imminent; and also given the appalling followup by the Sri Lankan government and the Sri Lankan archbishop.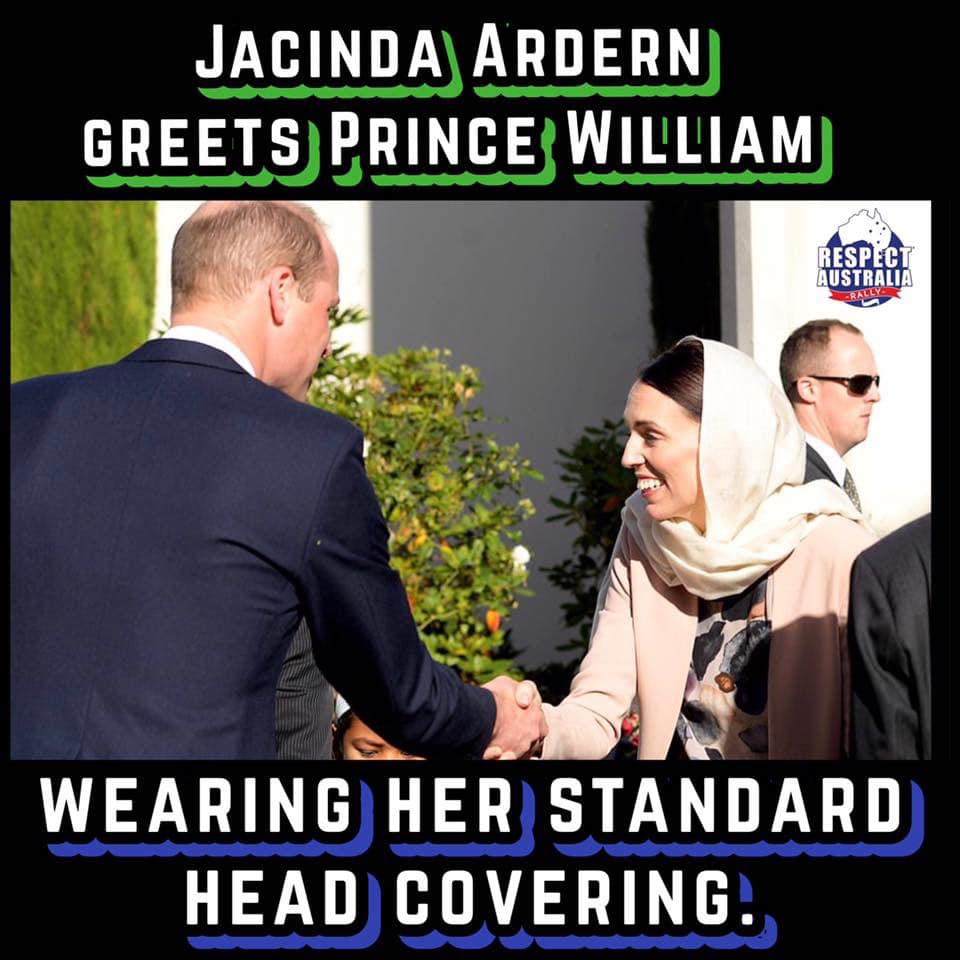 This (Jihad) Won't Stop
The town is to the south of Batticaloa, a site of one of last Sunday's blasts that targeted three churches and four luxury hotels.
Military spokesman Sumith Atapattu said as troops headed towards the home, three explosions were triggered and gunfire began.
"Troops retaliated and raided the safe-house where a large cache of explosives had been stored," he said in a statement.
He said the fighters were suspected members of the domestic group, National Thowheed Jamath (NTJ), which has been blamed for last Sunday's attacks.
'This won't stop'
Police spokesman Ruwan Gunasekara said bomb-making materials, "suicide kits", 150 sticks of blasting gelatin, and tens of thousands of small metal balls were found. Suicide bomb vests often are packed with such balls to increase the shrapnel in the explosion, making them even deadlier.
The wife and a daughter of the suspected mastermind of Easter Sunday's suicide attacks were among the wounded in the gun battle.
"Yes, the wife and daughter were injured in the attack," said Mohamed Hashim Mathaniya, sister of the alleged ringleader Mohamed Zahran. "I was asked to come to identify them but I am not sure I can go, " she told Reuters news agency.
Police officials also said the injured were believed to be Zahran's relatives. Police on Friday confirmed Zahran died in the suicide bombing at the Shangri-La Hotel.
Major-General Aruna Jayasekera, eastern commander of the Sri Lanka Army, vowed to hunt down anyone linked to the attacks. "This won't stop so we won't stop either," he said.
Reporting from the capital Colombo, Al Jazeera's Florence Looi said the operation by security forces was one of many conducted across the island over the past week.
"It turned into a gun battle and went on for more than an hour. Search operations are still under way for more gunmen," she said.
The government said nine homegrown, well-educated suicide bombers carried out the Easter Sunday attacks, eight of whom had been identified. One was a woman.
Police said on Friday they were trying to track down about 70 people they believe have links with Islamic State of Iraq and the Levant (ISIL or ISIS), which claimed responsibility for the suicide bombings.
Sri Lanka's security personnel hold up an ISIL flag discovered in a safe-house in the eastern town of Kalmunai [AFP]
Muslim fears
ISIL provided no evidence to back its claim that it was behind the attacks. If true, it would be one of the worst acts of violence carried out by the armed group outside Iraqand Syria.
This is typical al Jizz propaganda. To lie, to obfuscate, to deny the closeness of these jihad organisations is farcical.
The group released a video on Tuesday showing eight men, all but one with their faces covered, standing under a black ISIL flag and declaring their loyalty to its leader, Abu Bakr al-Baghdadi.
Fears of retaliatory sectarian violence have caused Muslim communities to flee their homes amid bomb scares, lockdowns and security sweeps.
Poor widdle wuslims!
Despite warnings against it, several mosques held services anyway on Friday.
They don't respect the infidel government and it's laws. They did that knowing that they wouldn't be prevented.
At a mosque in Colombo, police armed with Kalashnikov assault rifles stood guard outside for hundreds of worshippers.
The Easter attackers are "not Muslims. This is not Islam. This is an animal", said Akurana Muhandramlage Jamaldeen Mohamed Jayfer, the chairman of the mosque.
Yeah. We've heard that kind of crapola time and time again. We know what's in your dirty books. We know what Mohammedans believe. Stop the lies!
"We don't have a word [strong enough] to curse them," he said.
Pull my other leg!
There were also reports by some Muslims of harassment because of their religion.
A local television channel showed people on a bus asking a Muslim woman wearing a headscarf to either remove it or leave the bus. She later left the bus.
Good.
Abdul Azeez Abdul Sattar, 63, an auto-rickshaw driver, said a man in his neighbourhood refused to hire him, telling him, "You are a terrorist; you have a bomb. I won't take your auto."
It's wise to refuse their services.
Foreign warnings
The United States embassy in Sri Lanka urged its citizens to avoid places of worship over the weekend after authorities reported there could be more attacks targeting religious centres.
Archbishop of Colombo Cardinal Malcolm Ranjith told reporters he had seen a leaked internal security document warning of further attacks on churches, and there would be no Catholic masses on Sunday anywhere on the island.
Nearly 10,000 soldiers were deployed across the Indian Ocean island state to carry out searches and provide security for religious centres, the military said.
Authorities have so far focused their investigations on international links to two domestic groups they believe carried out the attacks, NTJ and Jammiyathul Millathu Ibrahim. Both organisations were banned by the government on Saturday.
Yashwant Kumar Singh, 23, a worker from India, said he wants to go back to his homeland because he fears another attack. "If it only happened on one day, then that wouldn't have been so difficult, but bombs are going off here every day. That is why there is an atmosphere of fear. We are feeling very scared," he said.
Intelligence failure
Officials have acknowledged a major lapse in not widely sharing intelligence warnings from India of possible attacks.
President Maithripala Sirisena said on Friday that top defence and police chiefs had not shared information with him about the impending attacks.
He blamed Prime Minister Ranil Wickremesinghe's government for weakening the intelligence system by focusing on the prosecution of military officers over alleged war crimes during a decades-long civil war with Tamil separatists that ended in 2009.
Sirisena fired Wickremesinghe in October over political differences, only to reinstate him weeks later under pressure from the Supreme Court.
Opposing factions aligned to Wickremesinghe and Sirisena have often refused to communicate with each other and blame any setbacks on their opponents, government sources say.
The Easter Sunday bombings shattered the relative calm that had existed in Buddhist-majority Sri Lanka since the civil war against mostly Hindu ethnic Tamil separatists ended.
Sri Lanka's 22 million people include minority Christians, Muslims and Hindus. Until now, Christians had largely managed to avoid the worst of the island's conflict and communal tensions.
Most of the victims were Sri Lankans, although authorities said at least 40 foreigners were also killed, many of them tourists sitting down to breakfast at top-end hotels when the bombers struck.
They included British, US, Australian, Turkish, Indian, Chinese, Danish, Dutch and Portuguese nationals. Britain warned its nationals this week to avoid Sri Lanka unless it was absolutely necessary.