Mohammedan taqiyya gigolos & appeasers of all shades are crawling out of their respective swamps to make sure there is no "backlash" to the horrific terror in Sri Lanka that killed 300 Christians and wounded more than 500.
Muslim ministers condemn terror attacks; reiterate Islam doesn't endorse violence
Shameless, lying scum.
Assures Muslim community's fullest cooperation to bring terrorism to an end
Claims colossal failure in intelligence unit, dissemination of information among stakeholders
By Charumini de Silva
Expressing deepest condolences to all Catholic and Christians in the country, Sri Lanka Muslim Congress (SLMC) Leader Rauff Hakeem and All Ceylon Makkal Congress (ACMC) Leader Rishad Bathiudeen yesterday stressed that neither Islam nor Muslims by no means will ever endorse such heinous crimes and condemned the coward attacks on Easter Sunday in the strongest possible terms.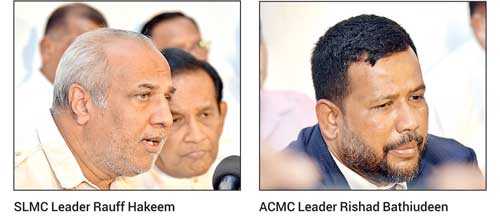 Addressing media at Temple Trees yesterday the Ministers assured Muslim community's fullest cooperation to bring the terrorism to an end.
"We are outraged and deeply saddened by the lives lost by Catholic and Christian brothers and injured. While we are shocked and dismayed at the scale of these incidents, it shows that those were deliberate, well-planned and sophisticated bomb blasts in every occasion. We are demanding proper answers must be given by all those who are responsible for what has happened and we will fully corporate to assist in these investigations and bring this to an end," Hakeem said.
In other news:
That shows you the level of infiltration of the DHS, which still infested with Obamunists & Klintonistas, who gave out the narrative: Christians are "Easter worshipers". Were the luxury hotels that were blown up also "places of worship?"
"After defeating a three decade conflict, we will not allow terrorism to rise again at any cost. It was a very sad day for all citizens of Sri Lanka and our reconciliation process that we are striving to accomplish despite many obstacles. We have the capacity to eradicate terrorism and we will," Bathiudeen stressed.
Both Ministers also claimed that there was a colossal failure in intelligence unit and dissemination of information among the responsible stakeholders who should have been notified in time. "We want our security agencies to take all responsibility and whatever assistance that is necessary from us as the leaders and religious fraternity will be given in full measure which we have been giving throughout. What is unfortunate is more than six months, names have been known, people have been identified; but no one was apprehended before they engaged in this heinous crimes," Hakeem said.
He said therefore it is a matter regarding in which the Muslim communities and the leaders have to engage in introspection about what is happening within the community and called on all citizens to be vigilant at all times.
When asked if Muslim radicalisation has been going on for a period of time and what has been done by community and at Mosque level, Hakeem said that any extremism or any element that would profess such an ideology among the community would be looked at very seriously. "There had been many efforts for a very long time in addressing this issue. Muslim community as well as religious leaders, we have discussed this matter after the incident and before the incident also several times. We are addressing it in our Mosques and we have opened our Mosques to outsiders to come and interact with us," he added.
Pix by Ruwan Walpola