The motivation of three men accused of committing a terror attack on a Melbourne mosque was so clear, prosecutors claim, it was "written on the wall".
Abdullah Chaarani, Ahmed Mohmed and Hatim Moukhaiber are charged with committing a terrorist act against the mosque, substantially destroying it on December 11. …
The 1400-year old sunni-shiite divide has many expressions of Muslimness…
Mohamed and Moukhaiber both deny any involvement in the attacks and deny it's them in CCTV footage.
.
Is Islamophobia on the Rise?
"Islamophobia is rooted in racism and is a type of racism that targets expressions of Muslimness or perceived Muslimness."
.
Easter Sunday Jihad Brought Global Islamophobia To Sri Lanka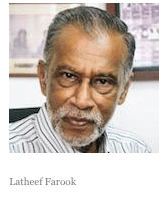 Not the mass-murder of Christians, not the bombing of Christian churches is the problem. You see, Islamo agitprop Lateef Farook is  shameless enough in Sri Lanka to blame "United States- European and Israeli war mongers' Islamophobia' in full force tearing apart communities causing political chaos and economic collapse."
This was expected in view of the government's hobnobbing with US-European- Israeli war mongers who are not interested in the welfare of Sri Lanka but hell bent on implementing their own evil agenda to destabilise the island. …
Why do Sri Lankan's put up with a POS like Lateef?