Sajid Javid's little brother Bas wins job to manage frontline policing as Commander at Scotland Yard
Javid is the winner! Not Home Secretary Sajid Javid, a leading candidate to succeed Theresa May as Prime Minister, but his brother Bas, who has won a key role at the Metropolitan Police.
Currently a Chief Superintendent at the West Midlands force, Bas has secured promotion to the role of Commander at Scotland Yard, in charge of frontline policing.
'After 12 years with West Midlands Police, I'll be sad to say goodbye next week,' 48-year-old Bas confirms.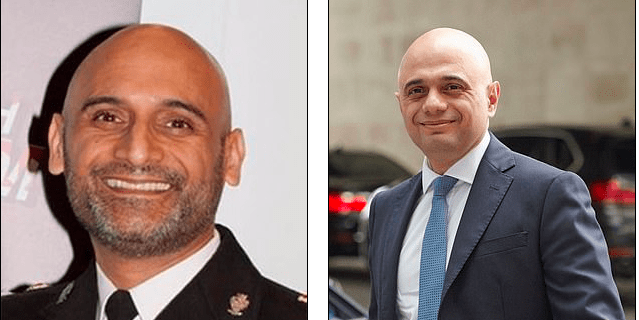 Sajid is much more closely involved at Scotland Yard than elsewhere. The Met is the only force where the Home Secretary has a role in choosing the chief and his deputy. Sajid is also involved in counter-terror policing, which is carried out nationally through the Met.
Beautiful. Mohammedans in charge of the chicken coop. Unbelievable!
However, there is no suggestion that Bas won his promotion through anything other than hard work. Sajid, 49, has pointed to the influence of his brother as he campaigns to win the keys to 10 Downing Street.
'Long before I became Home Secretary, I understood the vital role police played thanks to my brother Bas, a Chief Superintendent in the West Midlands,' he wrote.
'I've heard about the terrible situations he and his colleagues have found themselves in. And when we get together, it never takes him long to tell me how much harder his job has got — and how much of the blame for that lies at the door of well-meaning, but out-of-touch, politicians.'
The brothers were born in Rochdale, Lancashire, as two of five sons of Pakistani Muslim immigrant parents.
Their father, who arrived in Britain with £1 in his pocket, worked as a bus driver before moving to Bristol to run a shop. The family lived in a two-bedroom flat above it.
'When I was younger, I was in a gang,' Sajid has said. 'A gang of two. It involved me and my brother Bas. We called ourselves The Crime Busters.'