Pope Francis to Celebrate 'Mass for Migrants' in Vatican
Hypocrisy, thy name is Francis. A mass held for illegal African savages is NOT a sacred ritual — it is a Satanic rite.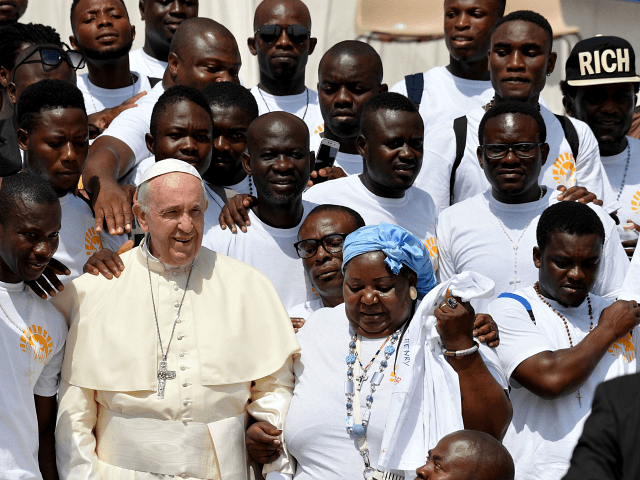 ROME — Pope Francis will celebrate a "Mass for Migrants" on Monday July 8 to commemorate the sixth anniversary of his visit to Lampedusa in 2013.
"In memory of the 6th anniversary of his visit to Lampedusa, on Monday, 8 July, the Holy Father Pope Francis, will celebrate a Mass for Migrants, at 11:00, in St Peter's Basilica," a Vatican communiqué said Monday.
The announcement of the pope's Mass comes just days after a major stand-off between the Italian populist government and the German NGO Sea-Watch, which illegally docked at Lampedusa to disembark the 42 African migrants it was carrying. The NGO vessel was subsequently impounded, and the ship's captain, Carola Rackete, arrested.
The world yawns, because the victims are Christians, and Christians are not classified among the political and media elites' favored victim groups. "Nigerians describe horrors of Fulani atrocities: 'There is a genocide going on,'" by Samuel Smith, Christian Post, June 14, 2019: WASHINGTON —
Note in this video the screams of "Death to America!" "Death to England" "Death to the hypocrites and the infidels!" "Death to Israel!" But remember: the Islamic Republic had been rendered benign and cuddly by Barack Obama, until Trump came along and ruined everything. Anyone who thinks otherwise is a racist, bigoted "Islamophobe."
Attack on Fulani village in central Mali kills 23: Local mayor
At least 23 civilians have been killed and 300 missing in the troubled region in the latest round of ethnic violence.
At least 23 people have been killed and 300 missing after an attack on Sunday on a village of Fulani herders in central Maliwhere communal violence has surged in recent months, a local mayor said.
More:
UK: Police identify 600 members of banned Muslim group involved in jihad massacres, prosecute none of them
ISIS in India Affirms Pledge to "Slay Enemies of Islam"…
Qatar Charity Promotes Hate, Sends Cash to Muslim Brotherhood
Cheap Islamoprop sucks:
"…it's really scary to be a Muslim right now. Super scary."
Not anywhere near as scary as being a Jew or a Christian in a Moslem country.