Londonistan:
After years of contesting the need for any definition of "Islamophobia", the government has now been brow-beaten into commissioning its own review to find a definition.
Muslims really don't want to enforce sharia blasphemy laws, but… they insist that once great Britain signs up to this:
"Islamophobia is rooted in racism and is a type of racism that targets expressions of Muslimness or perceived Muslimness"
Qatar Kills Bin Laden's Son
"Qatar killed Hamza bin Usama bin Laden as a gift to the U.S."
Curiously, we never get to see any evidence of these killings. Do you know anyone who's seen Osama bin Laden's cadaver?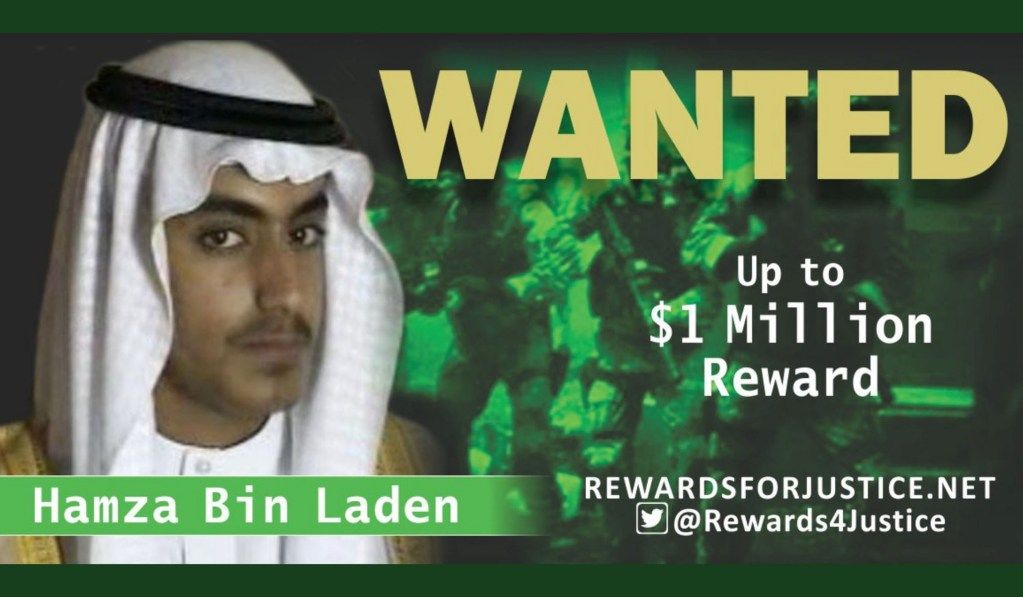 Why would Qatar, one of the world's top three state sponsors of terrorism, snuff out one of their key assets as a gift to the Trump administration?
The answer can be found in last week's arms deal between Trump and the Emir of Qatar. That was part of the price that Trump asked for in exchange for modern weapons. The rest of the price was, of course, the billions of dollars that will go into U.S. companies and the payrolls of U.S. workers.
A nice pre-election package. Money, and the elimination of Hamza bin Usama bin Laden. A win-win for Trump and the U.S. Right?
Not so fast.
The"homegrown Islamic terrorist" is the dumbest invention ever
UK counterterror top dog says jihad caused by lack of social mobility and Muslims shouldn't be forced to assimilate
"Don't forget that 70%-80% of the people we arrest, disrupt or commit an attack here, are born and raised here. Born or at least raised here. That has got to tell us something about our society."
No, it doesn't. It tells you something about Islamic doctrine and the contempt that is inculcated in all too many Muslims for non-Muslim society and law. But like so many other Western officials, Neil Basu assumes that if Muslims wage jihad and commit other crimes, it must somehow be our fault.
"He also said British Muslims should not be forced to 'assimilate', adding: 'Assimilation implies that I have to hide myself in order to get on. We should not be a society that accepts that.'"
Good luck with that, Basu. You will ultimately find that not requiring immigrants to adopt British values will lead to the break-up of that society into warring groups, but by then it will be far too late for you.
"Counter-terror chief Neil Basu says homegrown terrorism is caused by a lack of social mobility and British Muslims should not be forced to 'assimilate,'" by Amelia Clarke and Rory Tingle, Mailonline, August 6, 2019:
London:

LONDON OVERRIDDEN WITH INVADERS SUFFERS ANOTHER OUTRAGE

Muhammad Rodwan, 56, of no fixed address attacks police officer with machete Thursday.

The mayor of London is a liberal Muslim. He apparently likes this grotesque vortex for London.pic.twitter.com/K9PifRU4Iz

— Scotty McGuire (@McguireScotty) August 9, 2019
France Promised Not To Harm Palestinian Terrorists Who Killed Jews
"We entered a sort of verbal deal which tells them: I want no more attacks on French soil, but I will allow you to come to France and guarantee nothing will happen to you."
(JTA) — France agreed not to target Palestinian terrorists who killed French Jews in Paris in 1982 if they refrain from carrying out further attacks on French soil, a former top spy revealed.
Yves Bonnet, who headed the now-defunct DST service in the 1980s, said this in January to a judge investigating the 1982 attack in which six people were murdered and 22 injured at a kosher restaurant on Rosiers Street in Paris, Le Parisien reported Thursday.
The suspects in the attack on the Jo Goldberg deli are wanted for questioning as per a 2015 French arrest warrant. One of the suspects lives in Jordan, another near Ramallah in the West Bank and a third in Norway, according to the CRIF umbrella group of French Jewish communities.
None of the relevant governments have agreed to extradite the suspects, whom French investigators believe belonged to the Abu Nidal terrorist group affiliated with Fatah.
"We entered a sort of verbal deal which tells them: I want no more attacks on French soil, but I will allow you to come to France and guarantee nothing will happen to you."
French authorities allowed two of the alleged perpetrators to visit their brothers in arms in French prisons after the 1982 attack, in which the terrorists threw grenades into the packed restaurant, which became the scene of the bloodiest anti-Semitic attack in France since World War II.
"It worked, there were no further attacks from the end of 1983, throughout 1984 and until 1985," Bonnet said.