NGO Doctors Without Borders (MSF) looking For European Port to Dump Over 250 African Welfare Seekers
Revolting. They picked them up on the Libyan coast. Why not take them to Morocco or some other African country?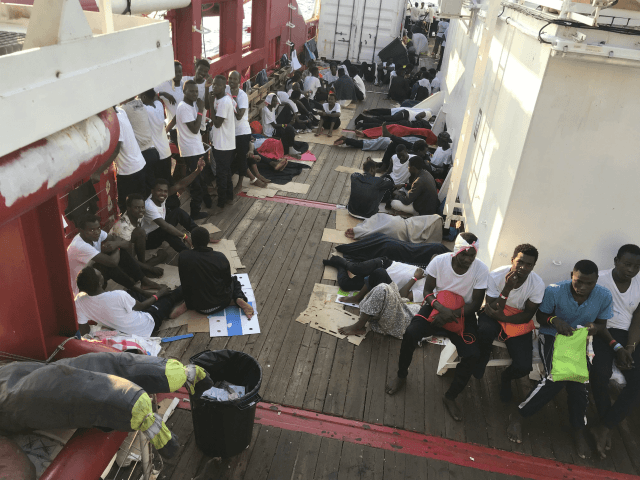 NGO Doctors Without Borders (MSF) says it is looking for a European port to land after picking up 251 migrants off the coast of Libya.
"We are in touch with the Libyan coastguards who designated us Tripoli as a landing port which we refused because the coast is not safe," he claimed.
EU migrant crisis: Greece pleads for sharing of burden after 'worst days' return
AN INCREASINGLY impatient Greece had called for a fairer sharing of the migrant burden in Europe amid concerns over an unexpected increase in new arrivals in recent weeks. Frontline EU states have complained for years they bear a disproportionate responsibility for arriving migrants – until now, their pleas have mostly fallen on deaf ears.
Lesbos, the main point of arrival during the 2015 migrant crisis, has experienced an increase of 44 percent compared with the same period last year, he continued.
He said: "August 9 was one of the worst days during the summer period for Lesbos, as six boats with 250 people arrived."
Mr Koumoutsakos also warned a new migrant "corridor" had been created by smugglers between the island of Samothraki and the northern mainland town of Alexandroupolis, located near the border with Turkey. 
For Greece, a "frontline country which also serves as part of the bloc's external border," the problem of migratory and refugee movements is a "very difficult equation" to solve, he added.
He stressed the debt-ridden country had "exhausted its capacity on this issue and is looking forward to efficient cooperation with the European Commission and member states". 
Mr Koutmoutsakos did, however, thank the Commission's incoming president, Germany's Ursula von der Leyen, for putting the migration problem "very high in her list of priorities".
He also called for a reform of Europe's asylum system, insisting any new mechanism should be based on "genuine and concrete solidarity".
"Greece is looking forward to transitional European mechanisms, on the one hand, for a fairer sharing of the burden, and on the other, for a more effective return policy towards third countries," Mr Koumoutsakos said.
In 2018, more asylum applications were filed on Lesbos and Samos than in Austria and Finland respectively, he said, adding there had been some 30,500 applications during the first half of this year alone.