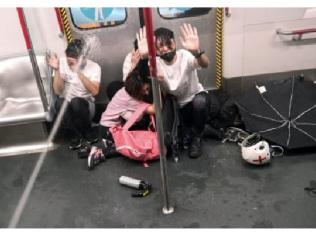 Hong Kong heads for the ultimate confrontation, with protesters outraged by video of police bashing people in a train: "Transport to and from Hong Kong International Airport was disrupted for hours as protesters barricaded roads… The protests… followed a night of violent clashes with police…, during which protesters threw petrol bombs."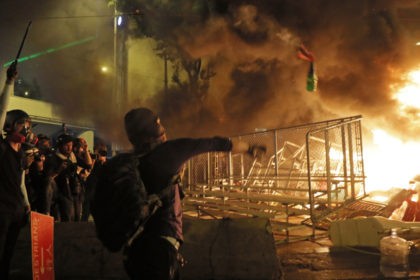 …Police Beat Demonstrators on Subway…
…Burning Barricades Block Airport Roads…
City Reels From Weeks of Clashes…
Mainland Chinese Joining Pro-Democracy Hong Kong Protesters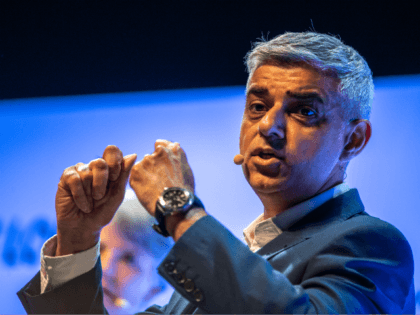 …Attacks Farage, Orban, & Salvini
This Paki POS is supposed to do the job of mayor of Londonistan. Not only is he a complete and utter failure, but he actually uses his office to play world politics.
Piers Akerman: Vain acts in the name of climate change are irrelevant to the planet
It's difficult to determine which is the most vainglorious act — the crossing of the Atlantic by teen Greta Thunberg aboard a yacht, the purchase of vanity licence plate NOO O1L for a Tesla, or the Northern Beaches Council's vote to declare a climate emergency.
Each is entertaining but of utter irrelevance to the planet.
Ms Thunberg opted to travel by sea because she promotes herself as a carbon-neutral personality.
This belies the reality that the yacht (formerly Gitana16 when it was built for rich-lister Edmond de Rothschild in 2016) and its sails are constructed of carbon fibre and other exotic synthetics fabricated from carbon derivatives after the application of massive amounts of energy sourced from nuclear and fossil fuels.
The fantasy of a carbon-neutral mission to spread the word on global warming at the United Nations — where doubtless a horde of gormless socialist politicians will queue to have their photos with the advocate posted on social media — is further eroded by the news various crew members are booked onto trans-Atlantic aircraft to assist in sailing the 18.2m craft (which carries a fossil fuel engine) onward.
Not to mention the array of solar panels and other hi-tech equipment aboard — radar, GPS, etc — not sourced from the local vegan supermarket.
Had Ms Thunberg opted for a vessel built from sustainable material such as wood and using sails made of cotton or other natural fibres, she would still be at sea — and perhaps she is. On reaching shore, she told her deluded fans that she had eaten cold canned food aboard the boat, which has no showers or toilets.
Her first meal ashore, she said, would be fresh food "not freeze-fried" and she would also clean herself — which must have been a relief to her shoreside hosts.
Fresh food, without carbon miles, in Manhattan will be a challenge unless the talented young orator intends to forage for weeds in Central Park. The squirrel population should be warned.
Nevertheless, there are sufficient numbers of schoolchildren in Australia, who, encouraged by GetUp! and other foreign-funded activist organisations, will seize upon her flawed example to attempt a walkout in support of the climate change farce in coming weeks.
The NOO O1L vanity-plated Tesla was nestled among a line of Mercedes and Audis in an eastern suburbs street this week and undoubtedly its owner thought a statement was being made.
It certainly was. The plate should have read STUPID.
The insane Zeitgeist was best captured, however, by the Northern Beaches Council, where Professor Tim Flannery — who has been unreliably predicting global climate catastrophes since Noah floated the ark — addressed an audience of Zali Steggall voters and enthralled Green councillors, who passed a motion that will inevitably mean a greater cost burden for local ratepayers — of which I am one.
Last week, Professor Flannery predicted the end of nuclear energy and said coal and nuclear would be unable to meet the demands of today's energy market.
The local paper, The Manly Daily, owes its readers a report on the current parliamentary inquiry into a nuclear power industry for Australia.
Liberal committee chairman Ted O'Brien says the inquiry must answer three main questions, beginning with whether nuclear was feasible, suitable and palatable.
"To be feasible, it would have to stack up on economic, technological and capability grounds," he said.
"To be suitable, it would have to make sense on environmental, safety and security grounds.
"And to be palatable, there would have to be an appetite among the Australian people."
We may have seen a trifecta of the vanities but we may get a triumph of the nuclear lambs.