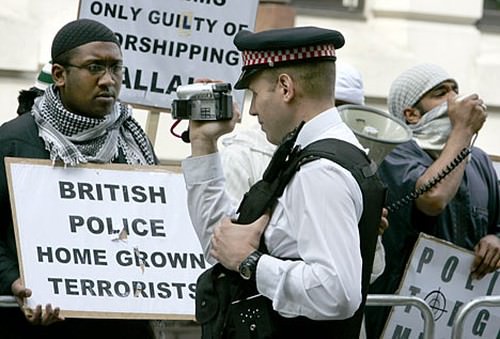 Ignore the usual expressions of Muslimness – bombings, shootings, stabbings, beheadings, acid attacks and vehicular attacks that are transforming 'Britain',  here's the real problem:
Muslims are facing a "new kind of terror" which is rooted in Islamophobia and white supremacist ideology
The European Islamophobia Report said nationalist, populist and far-right movements have increased their influence across the European continent.
It said that where they have achieved power, they have undermined the rights of minorities in general, and Muslims in particular. …
Meanwhile, somewhere in Iraq:
While President Trump has said that ISIS has been defeated, NBC News has learned that the terrorist group has already found a safe haven in an ungoverned part of Iraq, and has ambitious new plans.
Christian Leaders Say Turkish Invasion Of Syria Raises Risk Of 'Genocide'
Assyrian Christian fighters deploy against Turkey-backed jihadists. . Ethnic cleansing is feared as the jihadists are advancing on Christian areas.
A Kurd living in Cyprus shouts slogans in front of the U.S. Embassy in Nicosia, Cyprus, on Thursday to protest Turkey's offensive into Syria. The protesters chanted slogans condemning Turkey's military action and urging the withdrawal of Turkish forces.
Mexican president rejects Trump's offer to send the U.S. ARMY to help the country 'wipe drug cartels off the face of the earth'
President Trump offered military assistance to Mexico against the drug cartels. The President of Mexico declined his help.