Could this scandal be any bigger or any more grotesque?
Sarah Champion spoke out about grooming gangs, Jeremy Corbyn forced her to resign.
Naz Shah liked & shared posts telling girls to "shut their mouths for the good of diversity!" Jeremy Corbyn promoted her.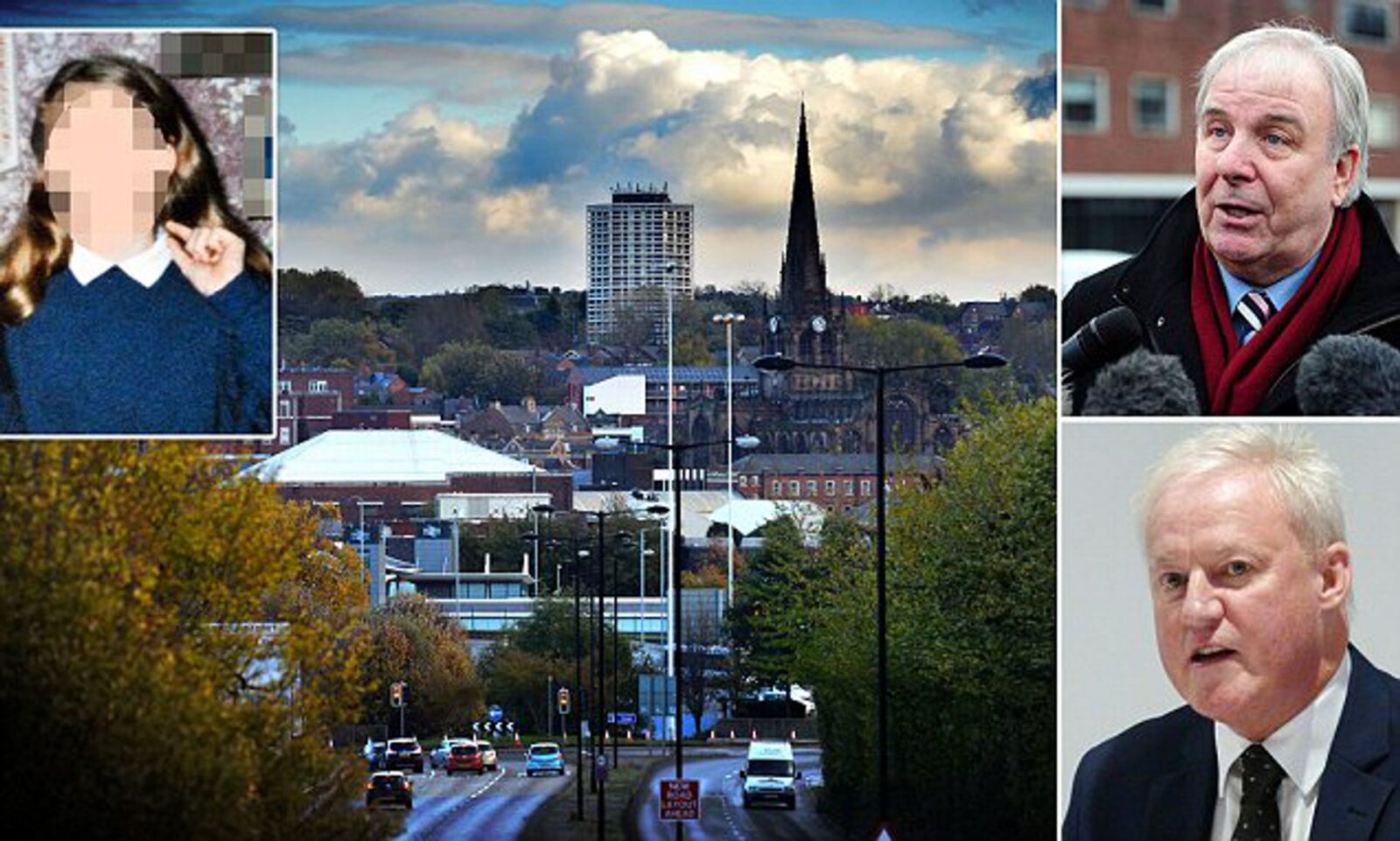 Shame of grooming cover-up: Cynical councillors could be going to jail after report says they systematically hid truth
A criminal investigation has been launched today after a damning new report found Rotherham Council is 'not fit for purpose' and still 'in denial' about the 1,400 young girls who were abused in the town over 16 years. 
Investigators concluded girls as young as 11 were left to be abused by mainly Asian men between 1997 and 2013 because the council's staff and politicians feared being labelled racist.
The council also had a 'deep-rooted' culture of sexism and bullying where it would 'shoot the messenger' and sought to force whistleblowers into silence or pay them off, it was said.
Inspectors also found the council 'goes to some lengths to cover up information' and said that children in the town were still at risk of abuse.
The report said South Yorkshire Police also failed in its role to protect victims, turning a blind eye to their plight and in many cases holding them responsible.
Police were said to be aware that a victim was 'raped with a broken bottle' and some girls were 'ordered to kiss perpetrators' feet at gunpoint' but never took any action.
In one case an officer told a victim: 'Don't worry- you aren't the first girl to be raped by XX and you won't be the last'.
Police covered up child sex abuse in Northern England – report.

Whistleblower and former police officer @MaggieOliverUK says one of the reasons why Operation Augusta was closed down was because 'the abusers were Pakistani men'. pic.twitter.com/7h9WsMMoWM

— RT UK (@RTUKnews) January 17, 2020
Here is more on this story. This makes it abundantly clear: not only were British authorities afraid of being called "racist" and "Islamophobic"; they also were told not to investigate Muslim rape gangs because they had an obligation to make Muslim communities look good. To that agenda, they sacrificed untold numbers of British girls.
This was sent to me by a friend who works at a local council.

Every council worker in the UK has to take this test, one question being "CSE Gangs are made up of predominantly Pakistani/Asian men", which it claims is FALSE due to media bias. A window into the deceit of this all. pic.twitter.com/53J0rjdcTR

— Theberton (@Theberton_) January 15, 2020
The council cabinet was forced to resign today after the shocking report laid bare their failings.
Now its disgraced former Labour leadership face the threat of serious criminal charges over claims in the report that evidence of abuse was deliberately obscured over a number of years.
Possible charges are understood to include misconduct in a public office and perverting the course of justice, both of which carry a maximum sentence of life imprisonment.
The National Crime Agency has said it will examine a number of potentially criminal matters identified in the report.
Today Communities Secretary Eric Pickles announced new elections in 2016 to replace the council's 'wholly dysfunctional' political leadership and so the town can have a 'fresh start'.
The devastating 160-page report by Louise Casey today revealed that:
Reports of abuse were ignored by the council because it was 'in denial' about the crimes
Staff and politicians failed to tackle abuse by Asian gangs 'for fear of being seen as racist'
Senior councillors bullied and suppressed staff who highlighted that the abusers were 'predominantly' Pakistani
Whistleblowers were silenced with pay-offs or 'bullied out of the organisation' if they refused to stay silent
Officers ignored warnings from a youth project in town about habitual abuse of children in the town and then shut it down
There was a 'a pervading culture of sexism, bullying and silencing debate' at the council
The council failed children and is still failing them and has 'taken more care of its reputation than it has its of its most needy'
Victims were denied support and justice as social services and police blamed each other for lack of action
Even after the grooming scandal was exposed, a serving councillor told the new inquiry he believed the Asian men accused of grooming girls for sex had in reality been 'fooled' by girls aged 14 and 15 whose clothing and make-up made them 'look more adult'
One whistleblower branded the council a 'machine' which 'simply exists to cover up and destroy'
In the hard-hitting report, she highlighted how serving councillors were still querying the mathematics behind the figure of abuse victims, with officials complaining the authority shouldn't 'roll over and accept the report'.
Branding its culture one of 'bullying, sexism, suppression and misplaced political correctness', she said the authority – which in the past eight years has never had fewer than 50 Labour members – had a 'deep-rooted' culture of 'suppressing bad news' and 'goes to some length to cover up information and to silence whistleblowers'.
Whistleblowers who tried to raise concerns lost their jobs, and the report also said police officers often did not seem to believe the girls, their families or those who reported problems, and did not treat them as victims.
One former police officer said: 'They were running scared of the race issue… there is no doubt that in Rotherham, this has been a problem with Pakistani men for years and years. People were scared of being called racist.'
But it was Mrs Casey's finding that Rotherham Council remained 'in denial' over the scandal – and the description of the 1,400 figure as a 'conservative' estimate – which spread political shockwaves yesterday and prompted a dramatic Commons statement in which Mr Pickles said ministers were effectively taking over the troubled authority.