The US embassy in Iraq was attacked by Islamic terrorists from Iran today. Guess what? – No Americans hurt – Full Air support – Hundreds of Marines deployed – Mob dispersed
Lefturds from the NYT call the attacking Iranian Revolutionary Guards in Iraq "mourners".  
What a disgraceful, demented POS would post something like this:
As Trump's Benghazi unfolds in Iraq… https://t.co/X8FsJpt6Au

— Joy-Ann Pro-Democracy & Masks Reid 😷 (@JoyAnnReid) December 31, 2019
How does such a dumb b*tch get a gig on TV?
https://twitter.com/YupItsMeElaine/status/1212356962152833024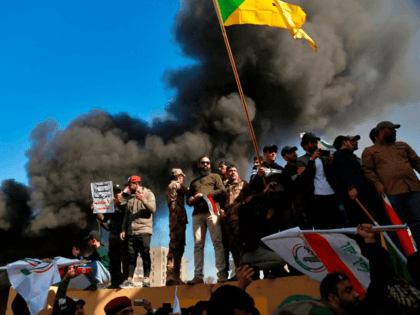 https://twitter.com/EddieDonovan/status/1212512345240551429
Sweden enjoys the enrichment:
Happy New Year from Sharia Sweden…

'Gang criminals' fired on cars, barricaded roads and attacked the police with rockets in Helsingborg.

In Sweden, violent 'gang crime' (jihad) is an epidemic but no one in Sweden can talk about WHO is behind the crimes without being arrested! pic.twitter.com/9EtfOlVMXZ

— Amy Mek (@AmyMek) January 1, 2020
"Killing Jews is worship to allah"
Note that:

55 yrs ago, in 1964 Fatah took over from PLO & blew an Israeli water station.

Later, in 1967 Six Day War. Israel shellacked Arabs trying to kill her & then took over Golan, etc.

Palestinians' fight has never been about the #westbank but about killing all Jews. https://t.co/atlEDHMvEI

— 🇺🇸 Gren ✡️ (@Graenni) December 31, 2019
This Pope is a Nasty Piece of Work:
https://twitter.com/TommyRommel92/status/1212443885542264833
Reverse Racism: