An orthodox church on the Greek island of Lesbos was trashed by refugees Mohammedans, according to local media reports.
But the post-Cristian Europe shares nothing with Mohammedans. There is no obligation whatsoever to provide for the soldiers of allah, especially not in light of the fact that the rich Arabs are religiously obliged to assist their suffering brethren. It is sheer lunacy to take them in when their wealthy Muslim brothers in Soddy Barbaria refuse to support them.
SBS.COM.AU
https://twitter.com/BasedPoland/status/1234833907348013060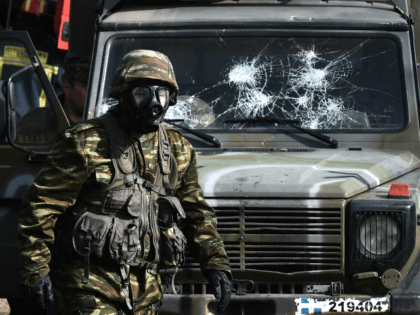 Tensions on Europe's borders with Turkey are rising as thousands of migrants are brought to the frontier on unmarked buses and state-owned railways. The border is at breaking point and the EU has no plan to resolve it.. https://t.co/sZ8v2y28jB

— Richard James (@skisidjames) March 3, 2020
German Moonbat Journaille Attacked by Local Greeks
The majority of journalists in Germany are activists, far left Antifa supporters. German media are  (still) spreading fairytales about cultural enrichment and the benefits of diversity. They advocate self-hatred and guilt complexes to the German people. They are also responsible for the current situation.
German leftists are more pro-Moslem than the Moslems themselves. Too bad they don't have any Moslem friends.
https://twitter.com/BasedPoland/status/1234818305103400960
https://twitter.com/EM_KA_17/status/1234804620091895810
https://twitter.com/McguireScotty/status/1234855430469431297