Guterres is just a commie parasite in a suit, but his demands are no different from those of the looters in Minnesota.
Use of funds would include contraception and 'reproductive health.'
Soros paying savages to burn down Minnesota.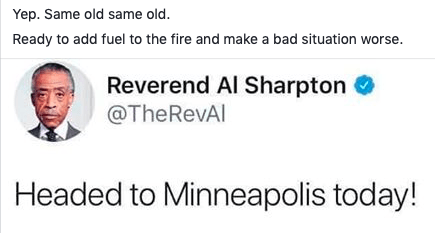 May 15, 2020 (LifeSiteNews) – Left-wing billionaire George Soros has indicated that the coronavirus pandemic paves the way for societal changes previously thought impossible, calling it "the crisis of my lifetime." Soros had lived through the Second World War as a youth.
"Even before the pandemic hit, I realized that we were in a revolutionary moment where what would be impossible or even inconceivable in normal times had become not only possible, but probably absolutely necessary," he said during an interview on May 11.
DemRat governors are deceiving &  scaring their electorate to keep economic activity shut down & to prevent Trump's reelection.
The lack of evidence lockdowns actually worked is a world scandal
We have detonated the global economy to pursue a lockdown experiment that may not have worked, according to the latest evidence. This diabolical revelation should be a world scandal. It should also be a sobering moment of enlightenment for Britain, as we seek to salvage our economy while learning lessons on how to better protect the vulnerable. Instead the Covid narrative becomes ever more surreal.
The broadcast media is more interested in scalping lockdown flouters than questioning whether shutdowns have served any useful purpose. World-class studies that suggest lockdown did not alter the pandemic's course are mysteriously vanishing into internet obscurity on first contact with the official narrative.