The Italian government has seized the migrant-ferry vessel Sea-Watch 3, which has been docked under quarantine in Sicily at Port Empedocle since it offloaded more than 200 migrants, some of them infected with COVID-19. Meanwhile, migrants who have been under quarantine in Sicily have been able to leave their residence and roam the town of Siculiana at will, because police have been ordered not to forcibly return them.  (GoV)
On February 27, Erdoğan's government was on the threshold of executing its threat to flood Europe with millions of (mostly Syrian) migrants … Hundreds of thousands of migrants began flocking to the border. By the next day, Greece was not only operating 52 Navy ships to guard its islands close to Turkey; it had also mobilized additional troops on land. Its security forces were able to block 10,000 migrants from entering Greece by way of the Turkish land border.
The new blackmail will not work for a number of reasons. First, because many migrants in Turkey have learned from experience that the Turkish-Greek border can no longer easily be crossed. And second, because the Greek security forces are now better equipped and better prepared to confront a new wave of migrants.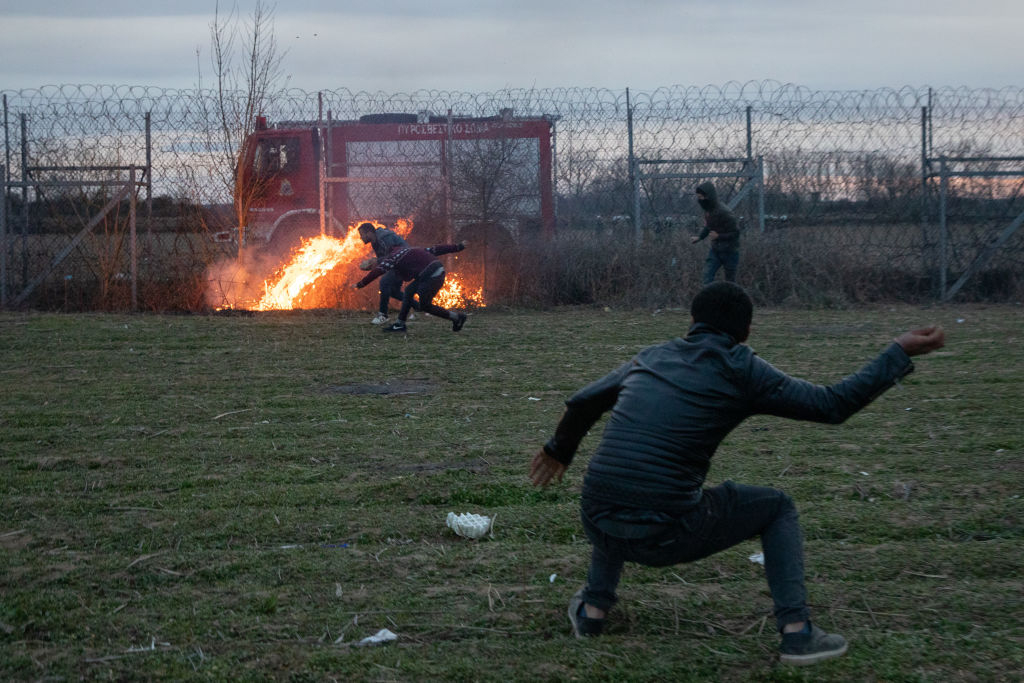 Turkish President Recep Tayyip Erdoğan's threats to send hundreds of thousands of migrants over the border and into the EU will no longer work, because Greece's security forces are now better equipped and better prepared to confront a new wave of migrants by land or sea. Pictured: Migrants in Turkey throw rocks at a Greek firetruck after they set a fire at the border fence near Pazarkulke Border crossing, on March 6, 2020. (Photo by Chris McGrath/Getty Images)
The world's most notorious genocide denier, Erdogan, is also infamous for imprisoning journalists and public intellectuals. Turkey's egregious human-rights violations also include the ethno-sectarian expulsion of Syriacs in northern Syria and the destruction of more than 500 Greek Orthodox churches in Turkish-occupied areas of Cyprus.
.