But in this instance, as in so many others, Muslim groups are claiming victim status, with the eager assistance of the international media. "The Prophet said, 'War is deceit.'" (Bukhari 4.52.269) "Fact-finding report on Bengaluru riots: Survivors claim Hindus were selectively hunted and targeted during the pre-planned riots,"
"When we ask Allah to destroy and eliminate what we believe to be perhaps one of the greatest threats to humanity, we are accused of hate speech."
Not really. In reality, Mr. Kathrada, when you preach this hatred and incitement, those who call attention to what you are saying are accused of "hate speech."
"Canadian Islamic Scholar Younus Kathrada: When Islam's Opponents Insult The Prophet Muhammad, It Is Worse Than Police Killings Of Black People; We Should Not Accept The Argument That This Is Free Speech," MEMRI, September 11, 2020:
Pakistan: Police torture imprisoned Christians, tell them they'll be released if they convert to Islam
If the roles were reversed here, which they would not be and should not be, this would be screaming international news. But this will get no notice.
"Pakistan: 'Police said, if we didn't convert to Islam we'd face prison,'" by Fionn Shiner, ICN, September 1, 2020:
A man, who spent nearly five years in prison in Pakistan, has described how police tortured him and fellow Christians, threw their rosary beads on the floor and told them they would escape jail if they converted to Islam.
Speaking to Catholic charity Aid to the Church in Need (ACN), Amjad Arif, a rickshaw driver in Lahore, said the police's alleged mistreatment took place after he and dozens of other Christians were arrested in connection with the lynching of two Muslims.
Mr Arif, who denies the accusation, said: "At the police station, officers abused, slapped and tortured us with batons, charging us with burning Muslims.
"If we report these cases, the offenders get away with it by apologising and saying that they did it in an unconscious way. Should a Christian do something similar, he is immediately accused of blasphemy and the local Christian community is guilty by association. They rape our women, kill our people, destroy or burn our properties…. [All] we want is for our constitution and the law to treat us as equals, with justice, and for the guilty to be put on trial." — Rev. Irfan James of Peshawar, AsiaNews.it, August 25, 2020, Pakistan.
"You get so disappointed when you see immigrants do that. I'm an immigrant myself. And I don't get it. Sweden has given them everything they want." — Naem Sufan, sputniknews.com, August 2020, Sweden.
Maira Shahbaz, a 14-year-old Christian girl, escaped from the home of Mohamad Nakash—her kidnapper, whom the Lahore High Court had recently ruled is her legitimate husband despite her objections—and fled to a police station, where she gave testimony, including on how she was being "forced into prostitution" and "filmed while by being raped," with threats that the tape would be published unless she complies with the demands of her rapist/husband and friends… — churchinneed.org; August 26, 2020, Pakistan.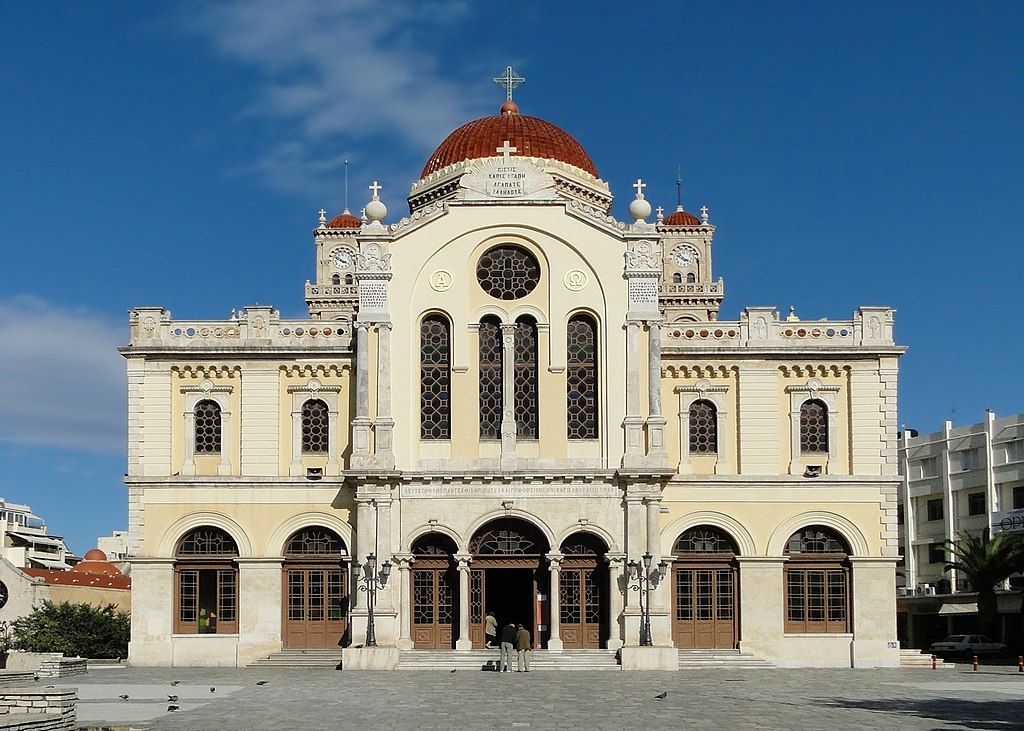 In Greece, a 38-year-old migrant from Algeria attacked the Agios Minas Cathedral in Heraklion, Crete twice in less than a week. (Image source: Bernard Gagnon/Wikimedia Commons)
.
Rape and Forced Conversions of Christians in Pakistan
In late August, Maira Shahbaz, a 14-year-old Christian girl, escaped from the home of Mohamad Nakash—her kidnapper, whom the Lahore High Court had recently ruled is her legitimate husband despite her objections—and fled to a police station, where she gave testimony, including on how she was being "forced into prostitution" and "filmed while by being raped," with threats that the tape would be published unless she complies with the demands of her rapist/husband and friends. "They threatened to murder my whole family," the girl said. "My life was at stake in the hands of the accused and Nakash repeatedly raped me forcefully." In an interview, a friend of Maira's family described how the family is in hiding and constantly on the run, adding:
Continue Reading Article