Australian Imam: COVID-19 and 9/11 'Orchestrated by Zionists'…
Koranimals say the dumbest shiite. Because they can. There are never any consequences.

Australian Imam Sufyaan Khalifa: Both COVID-19 And 9/11 Were Orchestrated By Global Zionism, Freemasonry As Part Of A Plan To Take Over The World
"9/11 and COVID-19 are the products of a single laboratory – the laboratory of global Zionism, the Freemasonry that rules the world. The events of 9/11 were nothing but a global event that had been planned for years before it took place. It wasn't Bin Laden, Al-Qaeda, or all that empty talk – it was global Freemasonry. Those events were a global turning point between a period of conflict called the 'Cold War' – the socialist Soviet conflict with Liberalism, or what is called 'Global Imperialism.'
Abdul Nacer Benbrika is now the first person to be stripped of his citizenship while still in Australia….
We have lots more just like him who are not being deported. And no one asks if he will be allowed to leave his wive(s) and his brood behind.
SOME NOTHING-TO-DO-WITH-ISLAM EVENTS
Sulawesi: Christians killed, church burned by ISIS terrorists
One victim was beheaded and another was nearly decapitated.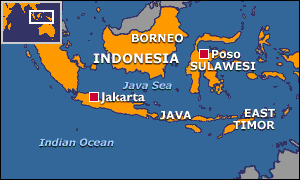 A manhunt is under way after a group of sword and gun-wielding attackers killed four people in a remote part of the Indonesian island of Sulawesi, including one who was beheaded and one burned to death.
The imam changed the adhan  "ḥayya ʿalā ṣ-ṣalāh" (hasten to the prayer) to "ḥayya alāl jihad" (hasten to jihad).
The jihadists targeted "the Salvation Army's service post in central Sulawesi, before burning six houses of church members. Four Christians were murdered, with three being butchered."
Authorities blamed Sulawesi-based East Indonesia Mujahideen (MIT), one of the groups across the world's biggest Muslim-majority nation that have pledged allegiance to ISIL (ISIS).
The ambush took place in Lembantongoa village in Central Sulawesi province on Friday morning. Authorities said the victims were members of a Christian community but a police official said the assault was not religiously motivated. The attackers also torched half a dozen homes, including one used for regular prayers and services, police said.