The error rate on the machines is normally around one percent. For the 2020 election it was 68% error rate….
We had one billionaire, Mark Zuckerberg, put in more money to run the election than the federal government did. Now we have to pause and make sure that the election was conducted lawfully, which it was not, and also whether we can have faith in the result.
Oh really, now?? @realDonaldTrump pic.twitter.com/vQDYcJfnp8

— 𝐃𝐨𝐧𝐢 "𝐓𝐡𝐞 𝐃𝐨𝐧"™ (@DoniTheDon_) December 25, 2020
— Donald J. Trump (@realDonaldTrump) December 23, 2020
"Where the hell is the Durham Report?" he said. "They spied on my campaign, colluded with Russia (and others), and got caught. Read the Horowitz Reports about Comey & McCabe. Even the Fake News [New York Times] said 'bad'. They tried it all, and failed, so now they are trying to steal the election!"
The "Justice" Department and the FBI have done nothing about the 2020 Presidential Election Voter Fraud, the biggest SCAM in our nation's history, despite overwhelming evidence. They should be ashamed. History will remember. Never give up. See everyone in D.C. on January 6th.

— Donald J. Trump (@realDonaldTrump) December 26, 2020
He turned his attention to the stimulus negotiations in Congress. Both parties agreed to a massive spending and coronavirus aid package, which Trump said he wouldn't sign at the eleventh hour. Trump's contention with the bill was that it included billions of dollars to foreign countries while only providing $600 to people for economic relief. The president demanded foreign spending get cut and the funding for those in the U.S. get raised to $2,000 a person. Congress has yet to come up with a solution.
Trump said, "I simply want to get our great people $2000, rather than the measly $600 that is now in the bill. Also, stop the billions of dollars in 'pork.'"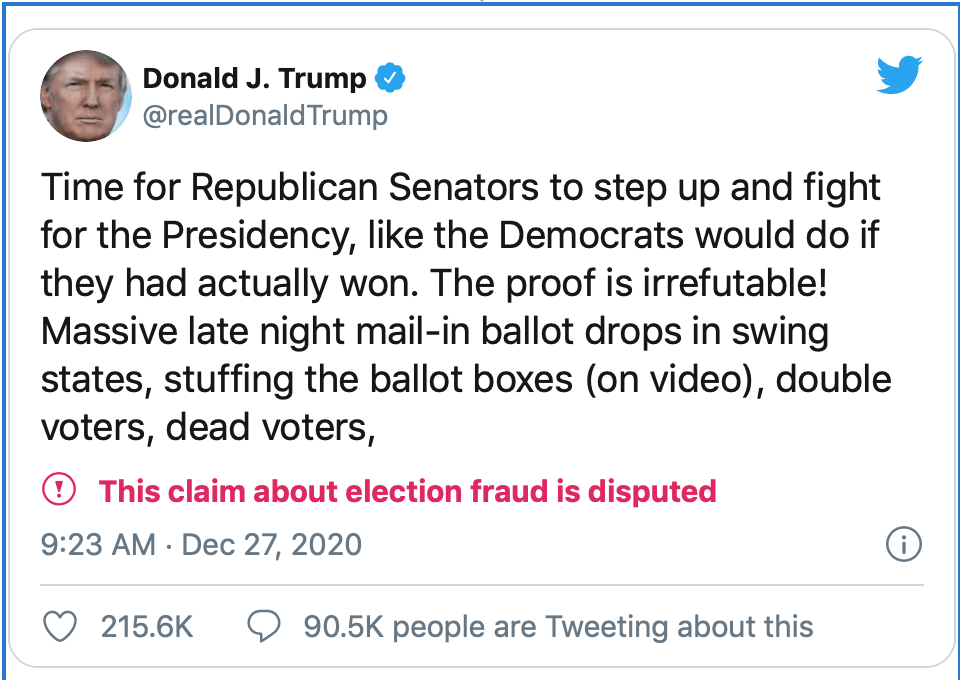 I saved at least 8 Republican Senators, including Mitch, from losing in the last Rigged (for President) Election. Now they (almost all) sit back and watch me fight against a crooked and vicious foe, the Radical Left Democrats. I will NEVER FORGET!

— Donald J. Trump (@realDonaldTrump) December 24, 2020