Only in a totalitarian system is the press not allowed to ask questions to the president or leader of government. The U.S. has become a country where we the citizens can't ask questions about how the government operates.
JULY FOURTH: President Biden: "If we do this together, by July the Fourth there's a good chance you, your families and friends, will be able to get together in your backyard or in your neighborhood and have a cookout or a barbecue and celebrate Independence Day." pic.twitter.com/HrYB9Fb8mV

— Forbes (@Forbes) March 12, 2021
Biden is going to tell you what you "can and cannot do" unless you've been vaccinated?
Free people get together whenever & wherever they are. They don't need permission from Quid Pro Joe.
If we leave it to the W.H.O. we will never know, because they have clearly sold out to the ChiComs. Now they're back to the "wet market" nonsense.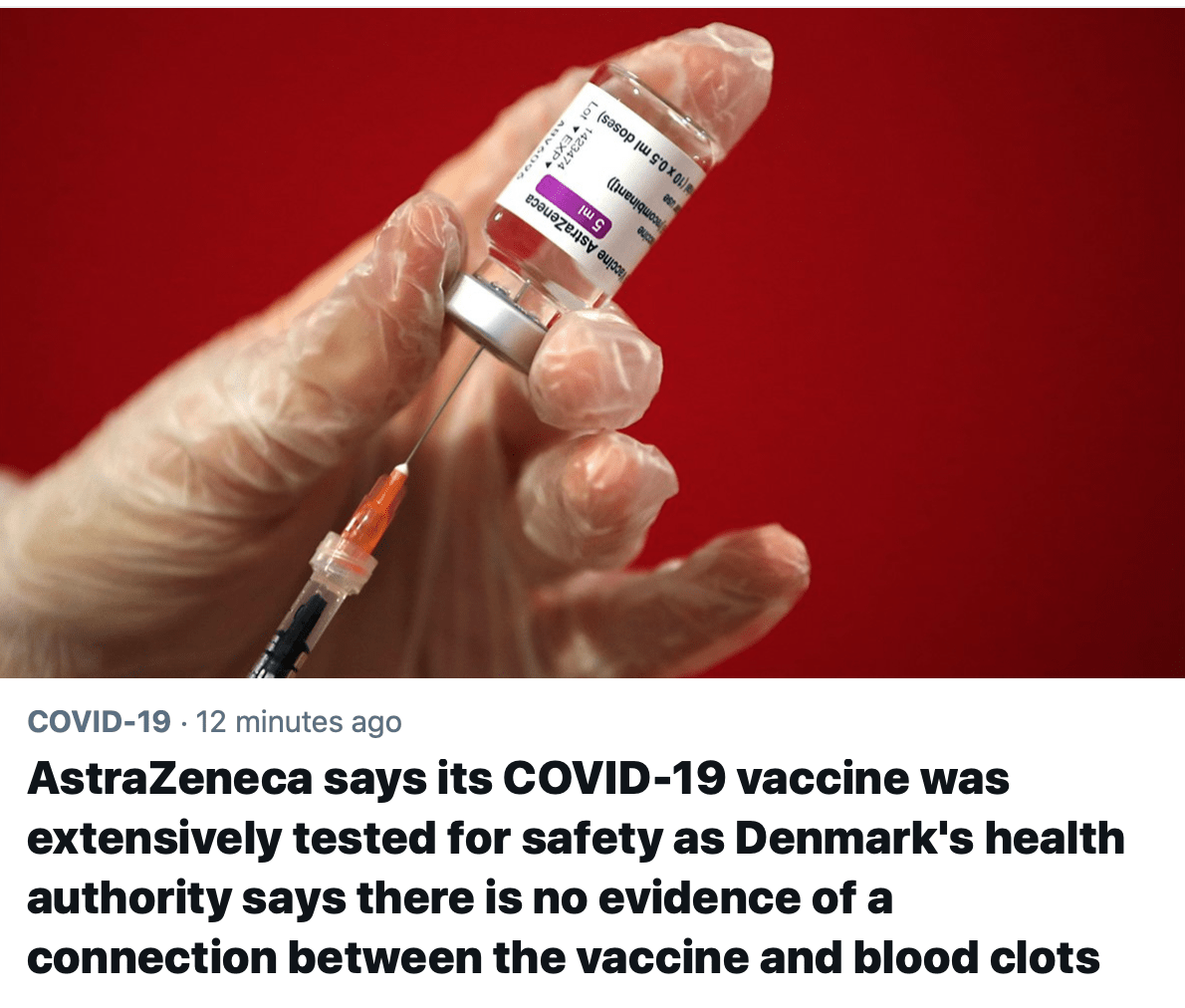 There will never be any "evidence" or any "connections" unless the bodies pile up. And after that, they can't be sued because they indemnified themselves.
The Danish Health Authority, the European Medicines Agency and health authorities in Canada have all stated there is no evidence that AstraZeneca's COVID-19 vaccine was responsible for blood clots that developed in some people who had received the shot. At least nine European countries have temporarily suspended the use of the AstraZeneca vaccine. Following news of the suspension, a spokesperson for AstraZeneca said "the safety of the vaccine has been extensively studied in Phase III clinical trials and Peer-reviewed data confirms the vaccine is generally well tolerated."
Seven European countries suspend use of Astra Zeneca Covid vaccine after blood clot deaths.
I will not be taking a 'Covid vaccine'.https://t.co/eJRymMFx36

— David Kurten (@davidkurten) March 11, 2021
POLL: 47% Of Trump Supporters Will Not Take Coronavirus Vaccine https://t.co/L1z8QrOL7U

— Daily Caller (@DailyCaller) March 12, 2021
Because of #Trump we have had the opportunity to witness the level of total corruption in our Government and the media that supports it. Just in case there was any doubt. It isn't pretty. It's disgusting and disheartening actually.
(Video) Doctor who mocked "anti-vaxxers" & "Covidiots" as he had Covid Jab dies just days later
Australia:
The cost of Victoria's suspended hotel quarantine has been revealed – $377M to run a program that's currently housing ZERO returned travellers. Meanwhile the Minister responsible is on sick leave, chugging down grog at Port Douglas with another Labor MP https://t.co/1w7d0fTKXS

— Tim Smith MP (@TimSmithMP) March 12, 2021
Sky News host @RitaPanahi says Australia simply cannot afford to remain a "prison island" cut off from the rest of the world, calling for a speedier vaccine rollout to ensure the removal of international borders.https://t.co/beK0QZehhF

— Sky News Australia (@SkyNewsAust) March 12, 2021