Italian Premier Brands Turkey's Erdogan a 'Dictator' After Perceived Seating Snub of Top EU Official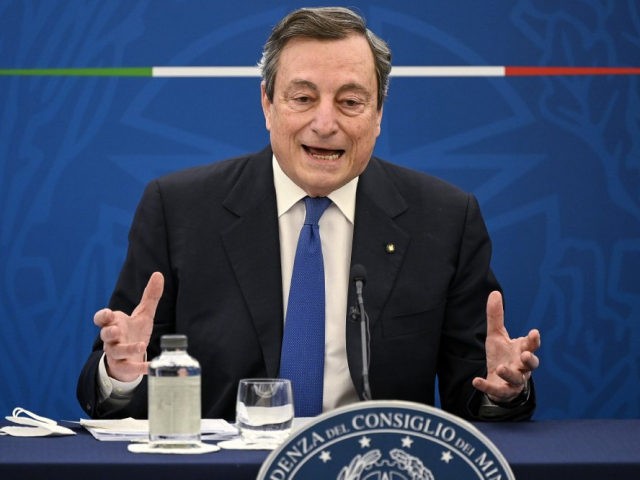 BREITBART LONDON
ROME (AP) — Turkey demanded an apology Friday from Italy's premier for having called President Recep Tayyip Erdogan a "dictator," a comment that added fuel to a dispute over a perceived seating snub involving a top European Union official.
The comment also deepened an EU-Turkey rift at a time when the two sides had hoped for a rapprochement.
Turkey didn't simply refuse to cooperate with U.S. and German authorities in their intelligence gathering on Turkish jihadists who were recruited to the Islamic Jihad Union, a Turkish group operating in Europe, Pakistan and Afghanistan, and affiliated with al-Qaeda and the Taliban.  Turkish President Recep Tayyip Erdogan went on an aggressive campaign to target the investigators, signifying that he supported the Turkish jihadists and claiming that U.S. and German authorities were getting in the way.
Considering that Turkey is a member of NATO, its actions are particularly a matter of concern.
One example of the jihadist activity in Turkey:
The investigation revealed how Mullah Muhammed had asked his followers to build bombs and mortars in their homes, urged the decapitation of Americans, claiming that the religion allowed such practices. "I'm telling you to take up your guns and kill them," he said in recorded sermons, adding, "If the sword is not used, then this is not Islam." According to Mullah, all Muslims were obligated to respond to then-al-Qaeda leader Osama bin Laden's armed fight.
This was Turkey's reaction to Muhammad being investigated:
An article tried to portray Mullah Muhammed as a victim. The government claimed that Mullah Muhammed was framed by the Gülen movement, a group that is highly critical of Erdoğan on a range of issues from corruption to Turkey's arming of jihadist groups in Syria and Libya.
Turkey was also influential in fueling the rise of the Islamic State, so its protection of those engaging in jihad terror activity within its borders is consistent. A report late last month indicated that Turkey protected a "Turkish al-Qaeda group that sent fighters, money" to a "jihadist campaign in Afghanistan, Pakistan."
Jihad, throughout history, is the foremost tool of Islamic conquest. Turkeys support for violent jihad is consistent with this history.
Erdogan's hatred for the West, his unceasing propaganda, and his ambitions for a revived Ottoman Empire make Turkey a foremost threat to Western interests. Turkey does not belong in NATO.
"Erdoğan gov't trashed German and US intelligence on Turkish jihadists in Afghanistan, Pakistan," by Abdullah Bozkurt, Nordic Monitor, April 7, 2021:
As part of a vindictive campaign to punish investigators who played a crucial role in cracking down on radical groups in Turkey, the Islamist government of President Recep Tayyip Erdoğan targeted police chiefs who had acted on US and German intelligence on Turkish jihadists in Afghanistan and Pakistan.

The intelligence that was shared with Turkey back in 2009 concerned Turkish militants who were recruited to the Islamic Jihad Union (IJU) from Turkey and the Turkish diaspora in Europe. The IJU emerged in North Waziristan in northwest Pakistan, bordering Afghanistan, and was affiliated with both al-Qaeda and the Taliban. It was a splinter group from the Islamic Movement of Uzbekistan (IBU) and attracted many Turkish jihadists including some in the diaspora communities in Europe.

According to secret government documents, the Erdoğan government identified all police chiefs and officers whose signatures appeared on papers that ordered the monitoring and investigating of IJU cells that had connections to European countries, especially Germany. Ahmet Manavbaşı (aka Selahattin al Turki), a Turkish national who was a key propagandist for the IJU, and his network in Turkey were the subject of a criminal investigation as police scrambled to decode its network, identify operatives and discover methods used by the IJU in Turkey.

The orders, in line with Turkish law and the criminal code, were presented as criminal evidence against the police chiefs by the government in a bizarre and twisted move.

The first document submitted against the police chiefs was dated April 10, 2010 and indicated that the Istanbul counterterrorism department received intelligence on December 12, 2019 from Turkish intelligence agency MIT, coded as "Institution IV." The intelligence, passed from the German and US intelligence services, stated that "financial and in-kind fundraising activities are organized by individuals belonging to radical religious organizations operating in the tribal regions of Pakistan in order to finance military articles and basic living supplies needed in the Afghanistan/Pakistan field."

The police, under orders from the prosecutor's office, launched a criminal investigation to uncover the network and looked into phone numbers, emails and names mentioned in the intelligence, which was apparently picked up from the notebook of Manavbaşı, who was killed in Pakistan. More than 30 phone numbers were found on Manavbaşı's contact list, and they were transmitted Turkey for investigation.

The investigation revealed dozens of Turkish jihadists, many already known to Turkish authorities. One identified person was Mahsum Yeşilırmak from Muş province who was operating in connection with the now-defunct jihadist website www.diriliszamani.com. The site openly promoted armed jihad and functioned as a meeting and communications forum for Turkish jihadists. Banners advertising the Afghanistan Islamic Emirate and reports from jihadist regions were posted on the site.

There was an interesting figure on the list. Retired professional football player Candan Sayın (aka Ebu Seyfullah or Hamza), who was in contact with Manavbaşı, was listed in Manavbaşı's notebook. Police put Sayın and his brother Sinan under surveillance and monitored their movements and communications. Sayın was detained at the airport on April 8, 2010 as he was about to get on a flight to Tehran and from there to Afghanistan. His brother was also detained at his home in Istanbul.

In the police interrogation, Sayın admitted that he wanted to go to Afghanistan for armed jihad, denied the charges of terrorism and said Islam obligated him to join the jihad. He added that he would try again when he was released from detention. He also admitted to his communications with Manavbaşı, whom he knew by his code name, Selahattin el-Turki, who had referred him to a man named Özek Azzam (assumed name). He tried several times to go to Afghanistan with the help of Azzam but failed before his detention at the airport.

The jihadist web site http://www.sehadetzamani.com/ and http://www.takva.com, now both defunct, helped Sayın radicalize with jihadist videos and news from around the world.

The people who were identified by Turkish police based on the phone numbers listed in the notebook were Ertuğrul Gazi Türker, Zekeriya Çiftçi, Muhammed Şerbetçi, Bekir Gültekin, Emin Aydemir, Soner Kazan, lbrahim Kayagil, Hakkı Yıldız, Kemal Durakoglugil, Bülent Sönmez (aka Bekir), Yakup Erdal, Mustafa Ürkmez, Bulut Güç and Mehmet Aydoğdu.

Police also found their associates and added their names to the report: Levent Ureyil, Amkhad Umaroc (aka Vaha), Osman Akyıldız, Serkan Öztürk, Sultan Çakar, İsmail Duru (he was already in the jihadist regions of Afghanistan/Pakistan), Talip Tekin, Mücahid Kemal Elverdi, Furkan İlbar, Haydar Kaya, Özcan Savucu, Emrah İçigen, Mehmet Toprak and Abdulhamit Doğrusözlü.

Another Turkish jihadist website sehadetzamani.com, now defunct, promoted jihadist ideology in Turkey.
While the German and US intelligence services informed Turkey about the Turkish jihadists, the police in Turkey and prosecutors were already investigating some of the names on the list as part of a separate investigation into an al-Qaeda-linked group known as Tahşiyeciler in Turkish. The group, also referred as Molla Muhammetçiler, was a radical jihadist group led by Mehmet Doğan (aka Mullah Muhammed el-Kesri), who openly declared his admiration for Osama bin Laden and called for armed jihad in Turkey.

Yeşilırmak, whose name was passed by Turkey's allies under an intelligence sharing scheme, was also among the members of Tahşiyeciler, which was raising funds and sending jihadists to Afghanistan and Pakistan as well. Some of the cells run by Tahşiyeciler were also active in Germany, the Netherlands and other European countries. Many members of the group were rounded up by the police in 2010, indicted by the prosecutor on terrorism charges and tried in court.

The investigation revealed how Mullah Muhammed had asked his followers to build bombs and mortars in their homes, urged the decapitation of Americans, claiming that the religion allowed such practices. "I'm telling you to take up your guns and kill them," he said in recorded sermons, adding, "If the sword is not used, then this is not Islam." According to Mullah, all Muslims were obligated to respond to then-al-Qaeda leader Osama bin Laden's armed fight….

The government also went after journalists who criticized the Tahşiyeciler group and even hired a lawyer to file a civil suit in the US against Muslim scholar Fethullah Gülen, who has been an outspoken critic of radical and jihadist groups, for defaming this fanatic. The case was dismissed by a US judge…..

Previous blog entries:
What a coincidence! Celebrate diversity! "Muslim Mayor of Hanover imposes a curfew because of Corona, which starts at the Christian Easter and ends at the beginning of the Muslim Ramadan," Medforth, April 4, 2021:
Zerohedge:  Spain Passes Law Mandating Face Masks Even While Swimming In The Sea
Too stupid for my shirt. Seriously, how could anyone come up with such idiocy?
The legislation, which came into effect on Wednesday, mandates face coverings for children as young as six, with refusniks facing fines of €100 euros.