Austria gov't agrees to preventive arrests, ban 'political Islam'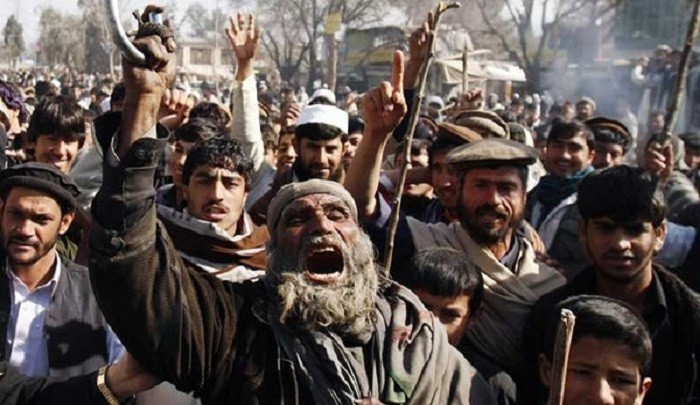 Austrian Muslims to sue government over 'Islam map'
Austrian Muslim groups slam the government over map identifying locations of mosques and Islamic associations around the country.
A leading Muslim group The Muslim Brotherhood in Austria has said it plans to file a lawsuit against the government of Chancellor Sebastian Kurz for unveiling a controversial "Islam map", according to Austrian media reports.
Muslim Youth Austria lambasted the government for publishing a "political Islam map", which identifies the locations of mosques and Muslim associations around the country.
Once your enemy has taken over large parts of your country, little can be done to reverse that. But knowing where the 'no go zones' are would be the first step in protecting legit citizens. The Austrian gov't is doing that now, and the Mohammedans are squeaking. They always do.
The court ruled that the law, which prevented girls younger than 10 from wearing the headscarf, was 'discriminatory'.
Leftist judges have a lot to answer for. 
Muslim Youth Austria (Just another name for the MuBros) lambasted the government for publishing a "political Islam map", which identifies the locations of mosques and Muslim associations around the country.
"The chief weapon in the quiver of all Islamist expansionist movements is the absolute necessity to keep victims largely unaware of the actual theology plotting their demise. To complete this deception, a large body of 'moderates' continue to spew such ridiculous claims as "Islam means Peace" thereby keeping non-Muslims from actually reading the Qur'an, the Sira, the Hadith, or actually looking into the past 1400 years of history. Moslem agitprops also deny or dismiss the concept of 'abrogation', which is the universal intra-Islamic method of replacing slightly more tolerable aspects of the religion in favor of more violent demands for Muslims to slay and subdue infidels"- Hugh Fitzgerald
Continued:
"The publication of all names, functions and addresses of Muslim institutions and institutions that have been read as Muslim represents an unprecedented crossing of boundaries," the group was quoted as saying on Saturday.
It is not for Mohammedans to draw boundaries on what infidels can do to protect themselves.
Integration Minister Susanne Raab launched a website on Thursday, called the National Map of Islam, with the names and locations of more than 620 mosques, associations, and officials and their possible connections abroad.
The group Islamic Religious Community in Austria (IGGOE) warned against stigmatising all Muslims living in Austria "as a potential danger to society and the democratic legal order in the country".
All Moslems in the West are a potential danger to society.
This campaign is fuelling racism and "exposes Muslim citizens to a massive security risk", the IGGOE added.
No Moslem has been harmed. Many infidels have been murdered by Moslems.
The Austrian chancellor has repeatedly lashed out at what he calls "political Islam".
According to the integration minister, the map was not aimed at "placing Muslims in general under suspicion".
The objective was "to fight political ideologies, not religion", she said.
Islam is a political ideology in the guise of religion.
Reports of anti-Muslim attacks in Austria have increased since a deadly attack in Vienna last November.
Fake news & fake reports.
The map has raised tensions between Kurz's conservative Austrian People's Party and its coalition partner, the Green Party.
The Austrian Green Party's spokeswoman for integration and diversity Faika El-Nagashi wrote on Twitter on Thursday that no member of the party was involved in it or informed about it in advance.
A Mohammedan female is spokesturd for the communist Greens?
She added the project "is contrary to what integration policy and dialogue should look like".
Mohammedans do not integrate. All dialogue is useless.
In a statement posted on Twitter on Saturday, Turkey's foreign ministry said Austria's "xenophobic, racist and anti-Islam policies poison social cohesion and participation".
Gibberish.
"It is important for Austria to stop targeting immigrants and Muslims by labelling them and to adopt a responsible policy," it said.
It is irresponsible to allow Mohammedans to settle among infidel Austrians.
Germany's Evangelical Lutheran Bishop Michael Chalupka also expressed concern and called on Raab to take the website down.
Another useful idiot.
Read also:
"The evidence is irrefutable. Migrants in general, and in every country in Europe, make greater fiscal contributions than they take in benefits."–Peter Sutherland, U.N. Secretary-General Ban Ki-moon's special representative for international migration, told a news conference in Geneva.