Covid is the excuse for the speech police:
Amazing how that smug little milquetoast sells the most draconic speech policing just to "keep us safe". We are in a bad spot here
Australian media.
pic.twitter.com/dHHWYitsUG

— Caldron Pool (@CaldronPool) July 27, 2021
Globalist hypocrisy on steroids: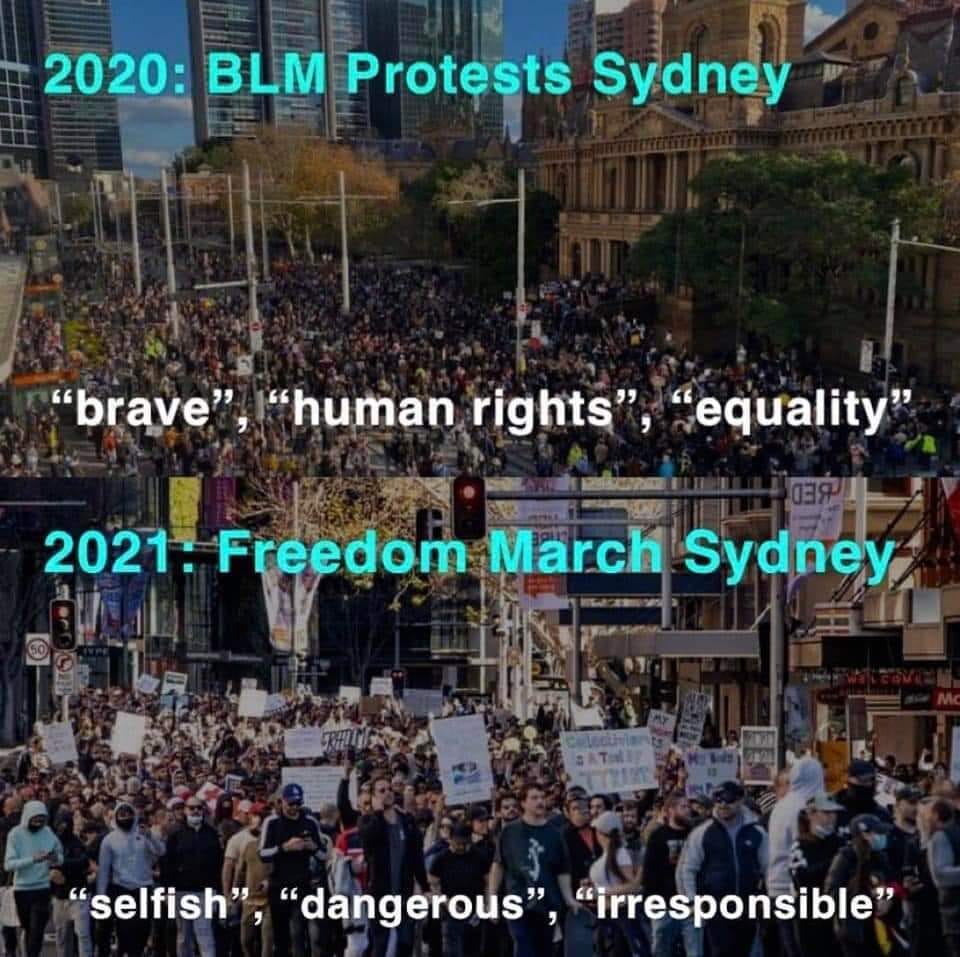 Rally exposed police for selectively applying the law
Rita Panahi Herald Sun July 26, 2021
.
It's curious how the media and political class who fell over themselves to justify the BLM marches during the pandemic cannot comprehend why people whose livelihoods, liberties and quality of life has been destroyed would protest against lockdowns.
.
Take Greens senator Sarah "Sea Patrol" Hanson-Young who posted in June, 2020: "South Australian police have given an exemption to allow the
#blacklivesmatteraustralia
rally in Adelaide tomorrow to go ahead. Meanwhile in NSW the Government is taking its own citizens to court to stop peaceful protest. What the?!".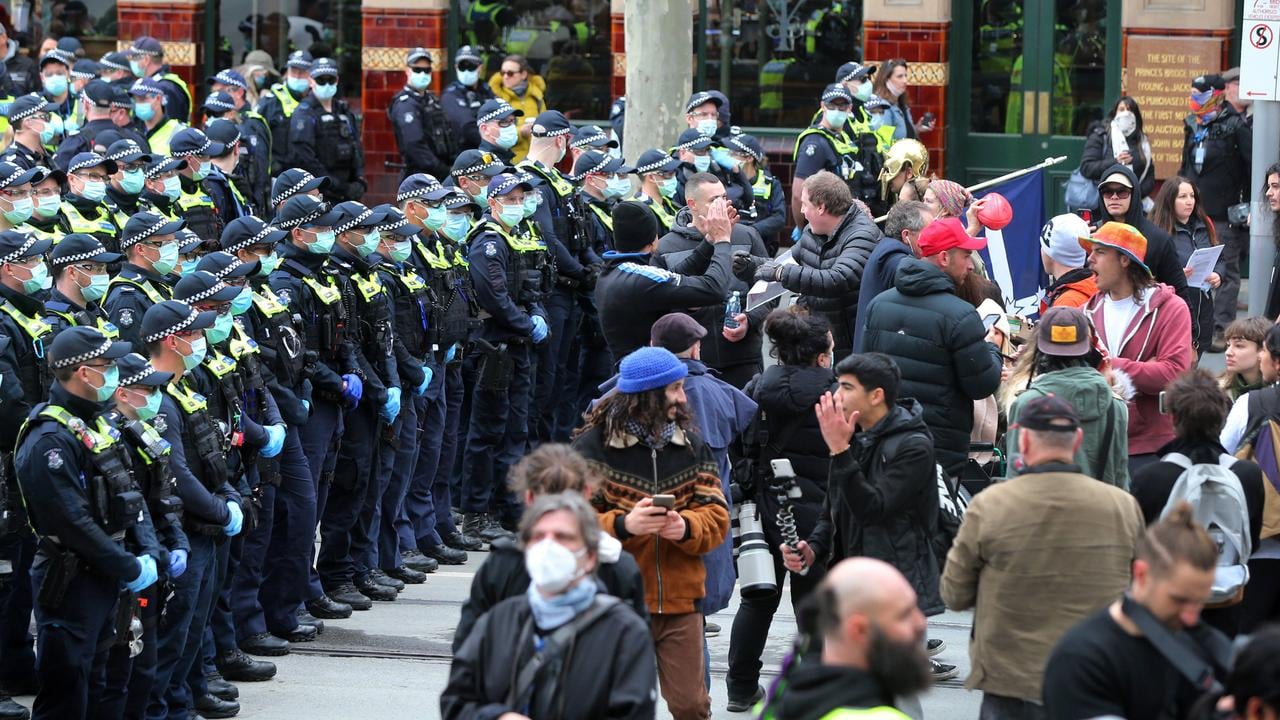 Protesters front police on Flinders St. 
The US-inspired protests were neither peaceful nor necessary but Hanson-Young did her bit to boost numbers by posting links to rally sites around the country.
Contrast that with her commentary of Saturday's anti-lockdown protesters: "The selfish idiots who put everybody else's health at risk yesterday did so in an environment where their anti-vax and aggro attitudes against the Covid health response are promoted regularly on Sky News. The Murdoch media again legitimising dangerous anti-science whack jobs," she posted on Sunday.
.
The chutzpah of Hanson-Young referring to "anti-science whack jobs" is adorable given the wackadoodle worldview of the Greens.
.
Just ask them how many genders there are if you want to check their belief in scientific facts.
.
The ABC's Patricia Karvelas also rationalised BLM protesters defying health orders during a pandemic: "Because you don't get many chances to elevate an issue like this," she said on Insiders in June, 2020.
.
On Saturday she could find no reason why people who were told in March 2020 that we need two weeks of lockdown to flatten the curve and safeguard our hospital system were aggrieved to still be locked down in July 2021.
.
She tweeted: "I'm genuinely shocked that there are that many people stupid enough to protest and spread a virus that might kill them. My brain hurts."
To be fair it's not like any politicians, public health bureaucrats or ABC employees have lost a cent of their taxpayer funded income throughout this crisis.
.
Not to be outdone in the hypocrisy stakes is Victoria Police.
Contrast Assistant Commissioner Luke Cornelius' rhetoric on Monday describing anti-lockdown protesters' behaviour as "batshit crazy" to his words on the BLM protesters.
.
"We absolutely understand the sentiment and the anger that lies behind that and we are very keen to support the community in giving a voice to their concerns," Cornelius said in June 2020.
.
"We do respect the right everyone has to protest peacefully and lawfully."
For reasons that defy logic Chief Wiggum was eager to express solidarity with BLM protesters marching in the name of a neo-Marxist group that want to defund the police.
.
In NSW police sought to stop the BLM protest from occurring but Victoria took a figurative knee.
.
Consequently, the BLM protesters got the kid glove treatment; there was no attempt to arrest or fine the thousands breaking the rules with police admitting, some months later, they declined to intervene fearing a violent response.
.
But there's been no such considerations when dealing with anti-lockdown protesters who have been fined, arrested and met with officers in full riot gear.
We expect the activist class to indulge in double standards but it's disturbing when authorities choose to selectively apply the law.