Despots Rule Australia
Why are our premiers behaving like marauding mullahs?
Rebecca Weisser The Spectator Australia 28 August 2021
.
Armed forces on the streets. Helicopters overhead. Sullen people unable to leave. Is it Saigon or Sydney? Kabul or Melbourne?Australians have been incarcerated in their continental prison for eighteen months. Sydneysiders are in their ninth week of home detention. Melburnians have clocked up 200 days in lockdown. Yet almost everywhere Delta is rising. Queensland, Canberra, even New Zealand, the home of the Covid elimination strategy, is battling an outbreak.
.
More below the fold.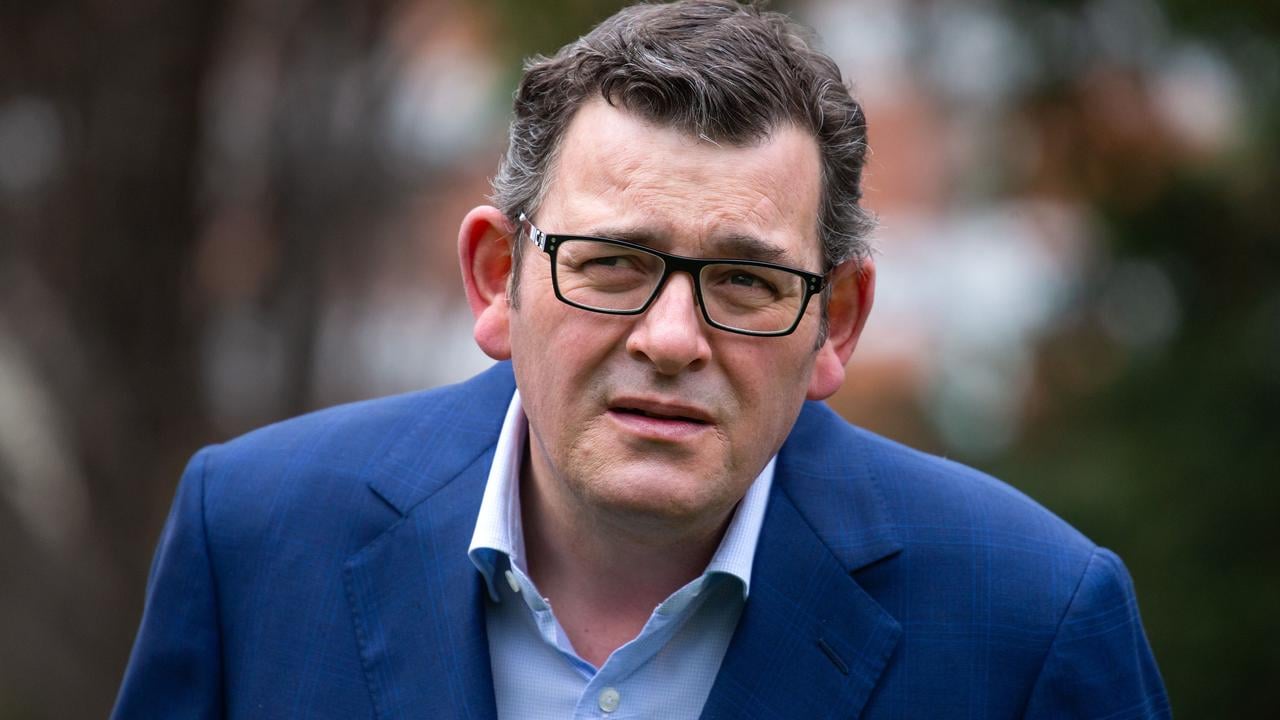 Ludicrous restrictions no longer tolerated by the masses
Rita Panahi Herald Sun August 31, 2021
.
Finally, the tide is turning. People are waking up to the reality that the Covid-19 "cure" favoured by state governments inflicts more harm than good. Restrictions with no basis in science, from curfews to playground bans, are no longer being tolerated silently by the masses. "No Plan Dan" can't scold his way out of this crisis. Victoria needs a clear road map out of Lockdown Six.
.
We need to know when schools will re-open, what freedoms will be restored at 70 per cent vaccinated and when, if ever, the Premier will develop a targeted response.
.
.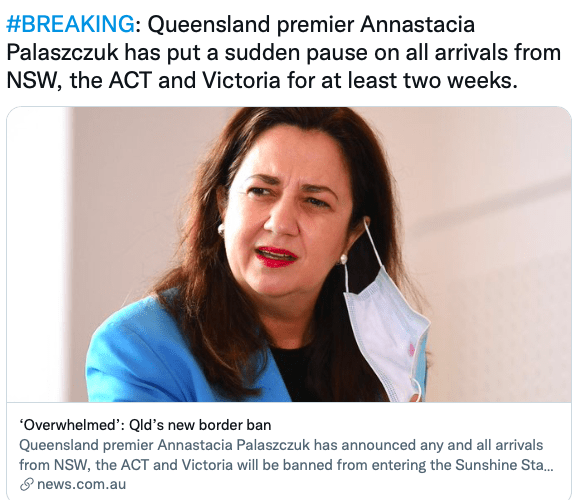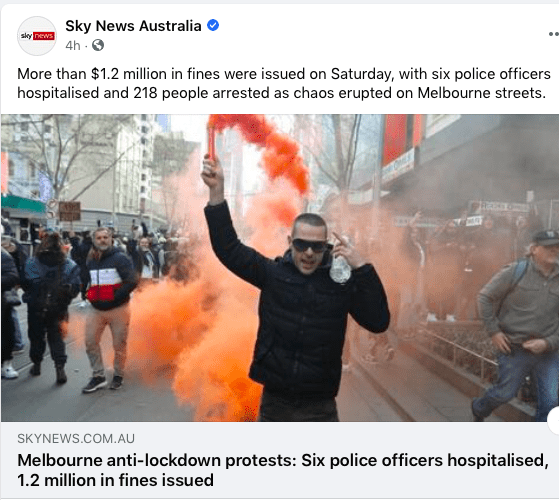 Whether Islam or WuFlu, to cast fear in the hearts of unbelievers is the first & foremost priority of our rulers: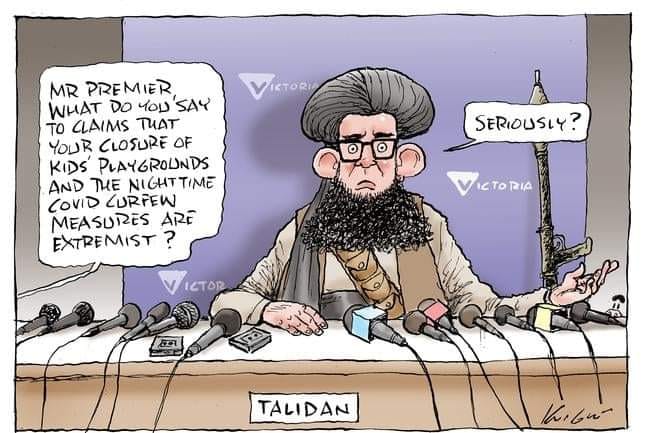 It's a strange way of preserving life to say that people need to stop living.
NSW Premier Gladys Berejiklian has extended the lockdown for Greater Sydney until the end of September following NSW recording 642 local COVID cases and four deaths on Friday.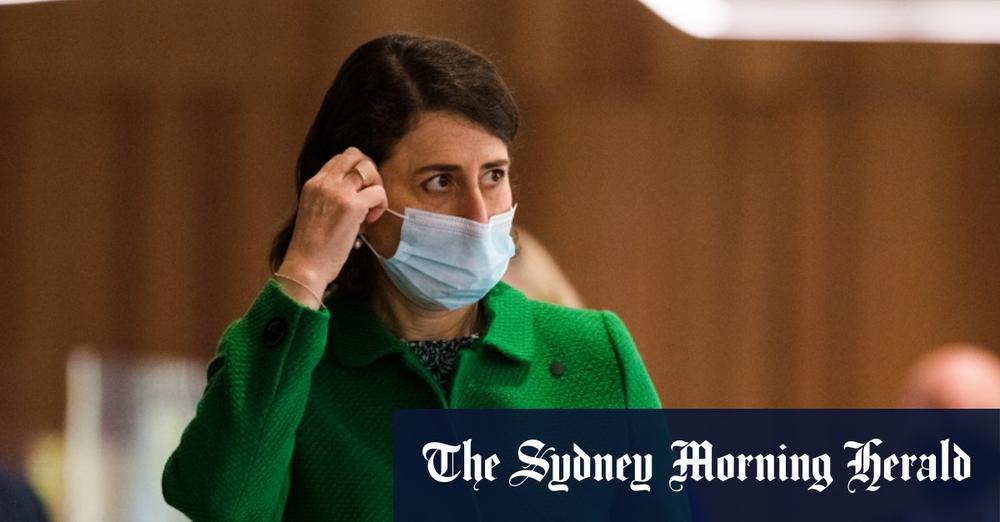 Australia 2021:
Yesterday, police arrested and charged a 29-year-old man for his involvement in organising "unauthorised protests" against the NSW government. Today he was sentenced to eight months in prison. ALL WITHIN 24 HOURS
Continued:
Polling released on Monday shows that Australians are more concerned about the effect of the Covid-19 response on mental health, jobs and businesses than they are about the virus itself.
.
The nationwide YouGov poll, commissioned by News Corp Australia, revealed that most respondents in locked-down NSW and Victoria said their family's emotional wellbeing had suffered in the past three months.
.
Only one in five people in Australia, even fewer in NSW and Victoria, believe schools should remain closed once everyone has had the opportunity to be vaccinated.
.
And only 16 per cent – a frightfully ignorant 16 per cent – want restrictions and lockdowns to continue until Covid-19 is eliminated.
.
Here's a newsflash for the 16 per cent: Covid-19 will never be eliminated.
It is a coronavirus and just like the common cold (also a coronavirus), it will be endemic.
.
The poll also reveals 66 per cent of Victorian parents say homeschooling will have a long-term "negative" effect on their child.
.
The change in public sentiment follows devastating data from the Victorian Agency for Health Information, Kids Helpline, Victoria's chief psychiatrist and other medical experts detailing soaring numbers of children suffering serious mental health issues.
.
Lockdowns are not, and never were, a cure – they were only a costly delaying tactic.
.
There are now calls, from the usual taxpayer-funded suspects, for lockdowns and restrictions even once we reach ambitious vaccination targets.
.
The Covid-crazies are welcome to stay home, self-isolate and mask indefinitely, but the rest of us want to get on with living.
.
Australian Despots Rule
.
Having gloated over zero Covid cases only three weeks ago, Victorian Premier Dan Andrews was back in lockdown only a day later, finding the Delta genie more difficult to put back in the bottle. Exasperated, he ranted that he would 'send (Delta) back to Sydney, where it came from', as if the New South Wales capital, not the Wuhan Institute of Virology, was responsible for the pandemic.
As hopes of returning to zero Covid cases fade, Australia's increasingly unhinged premiers try to outdo each other in a bizarre state-of-origin competition to impose the most nonsensical restrictions on their constituents.
.
Victorian Premier Dan Andrews is taking his lead from Afghanistan. A curfew was imposed in Kabul. Tali-Dan imposes a curfew. Outraged at people drinking cocktails in pop-up beer gardens, this Mullah of Melbourne decreed it unlawful to remove masks to consume alcohol outdoors. Intolerant of those worshipping anything other than the cult of Covid, religious broadcasts can only be produced by the same team of people. No sick leave for the God-fearing. Even the watching of sunsets has been banned because it is 'not in the spirit or in the letter' of Dan's increasingly deranged diktats. What next? Operation Sunset Blocker, a ring of steel around Melbourne 800 metres high to hide the offending orb?
.
Chief health officer Brett Sutton played Kindergarten Cop closing playgrounds because the state was teetering and 'on the brink' of losing control of the virus, and stopping tiny tots from teetering on the teeter-totter might deter the demon Delta.
.
Old-fashioned antisemitism is on the march. Identity politics is permitted so long as the targets are kosher. In a further turn of the 'screw', Victorian Covid Response Commander Jeroen Weimar sounded like he was reworking Christopher Isherwood's Goodbye to Berlin into a bad joke when he announced that a sex worker was not 'the missing link' between an accountant, an architect, a pizza guy and some Orthodox Jews, calling on all those who had 'employed' a sex worker in the Jewish heartland of St. Kilda to get tested. Only once people called for Jews who broke 'the rules' to be 'sent to the gas chambers' did he apologise for his 'poor choice of words'.
.
In NSW where citizens prided themselves on having a government that tried not to be gratuitously punitive, the Premier has imposed increasingly irrational restrictions. A mask is required outside unless exercising, but dog walkers have been fined for not wearing their own muzzles if the activity isn't 'strenuous enough'. Police patrol parks look for groups of more than two eating and drinking, who are not 'nicked' but 'picnicked' for breaching the ever changing regulations. In hotspots, outdoor exercise is limited to an hour a day even though it is safer than being inside, exercising helps to lose weight and sunshine builds up Vitamin D, all deemed critical in surviving Covid. Who cares? It's not about health.
.
There is a strange disconnect between what is happening in the real world and the policies being implemented in Australia, as if it was still necessary to wait six months for news of Mother England. In the UK, Delta is continuing to prove to be milder than its predecessors, with a case fatality rate of about 0.3 per cent, about half that of the Asian flu pandemic of 1957. Just over 60 per cent of people are fully vaccinated and 70 per cent of people are fully or partially vaccinated, yet fully and partially vaccinated also make up 70 per cent of all deaths.
.
The reality that the vaccinated can infect each other and indeed die of Covid is only just starting to dawn on Australians, even though twenty per cent of Covid-related deaths in NSW this year were incurred in public hospitals with vaccinated healthcare staff and patients part of the chains of transmission. This shouldn't come as a surprise. A study published in the the Lancet this month showed that the viral loads in fully vaccinated healthcare workers with breakthrough Delta infection were 251 times higher than those of cases infected with the strains circulating in March-April 2020.
.
The logic of vaccine passes makes no sense when you are more likely to catch Covid from a vaccinated super-spreader than from an unvaccinated person who shows symptoms more quickly, but vaccine passes are more about coercing people into vaccination than preventing infection.
.
The Doherty Institute has declared that Australia will only be safe to open once 70-80 per cent of the population has been immunised. Berejiklian noted for the first time this week that the rate of hospitalisation is around 5 per cent. In other words 95 per cent of people get over Covid at home. Yet no one questions why so many people need to get vaccinated when so few are at risk even of hospitalisation.
.
NSW has got on board with the target with alacrity reaching 6 million jabs by the end of August, a week early. Premier Gladys Berejiklian hinted that one of the first privileges the fully vaccinated might enjoy is a trip to the hairdresser – a trip to dye for. People weep just watching Qantas ads. One journo sadly confessed she'd settle for just being able to go 10km from home again, exposing the twisted logic of the strategy – take away that which is most treasured and refuse to give it back to bend people to your will.
.
Yet it is Delta that is bending the premiers, and even federal opposition leader Anthony Albanese, to recognise that eliminating the virus is an increasingly expensive folly. There are still hardcore lockdown enthusiasts. 'Report a traitor, save Australia', tweeted one. But almost a million people in NSW have gone to Centrelink for financial help since the lockdown began in June. Lifeline had their biggest day in almost 60 years last week with more than 3,500 calls in one day.
As well paid police fire rubber bullets at unarmed protesters what we are flattening is not the virus but more the very notion of 'Australia fair'.